Are you feeling like 2017 is the most blink-and-miss-year ever in the history of blink-and-miss-year? Touché, pals! Feelings are mutual. It may have seemed like a short year, but trust me when I say this, A LOT happened (and is yet to happen) in 2017.
Amid everything, transformations are something that left our jaws hitting the floor and left our eyes wide-open. We have seen a host of people get into their desired shape and shed those kilos like we loose hair during winter (don't know why, I said that).
Anyhoo! Handing out massive inspo are these amazing people whose astounding transformations are making us drag our lazy bums to the gym, right this minute. Have a look!
1. Kareena Kapoor Khan
What can be said for our very own Bebo? She's always been a body-weight chameleon. From size zero to flaunting 'em curves, trust Kareena to lead the way. But, after having eugenically gorgeous baby Taimur, Choti Begum took her own sweet time to shed the pregnancy weight. As you can see, she's a vision.
2. Saqib Saleem
The guy who stole his dad's maruti on the silver screen, Huma Qureshi's baby bro, in 3 and a half months got 8-pack abs. Woah! Saqib! That was something!
3. Shekhar Suman
Our host and dost of the days when comedy shows were free of political drama , Shekhar Suman "moved" everyone with his shedding-kilos-and-gaining-muscles act at the age of 54. Yep! That's some serious inspo, right there.
4. Rajkummar Rao
The brilliant actor garners applauses and praises for his exceptional acting and for his skill of getting under the skin of any character, but in order to do so, Rajkummar has had fluctuating weight. His dedication to his craft is beyond words of awe.
5. Ram Kapoor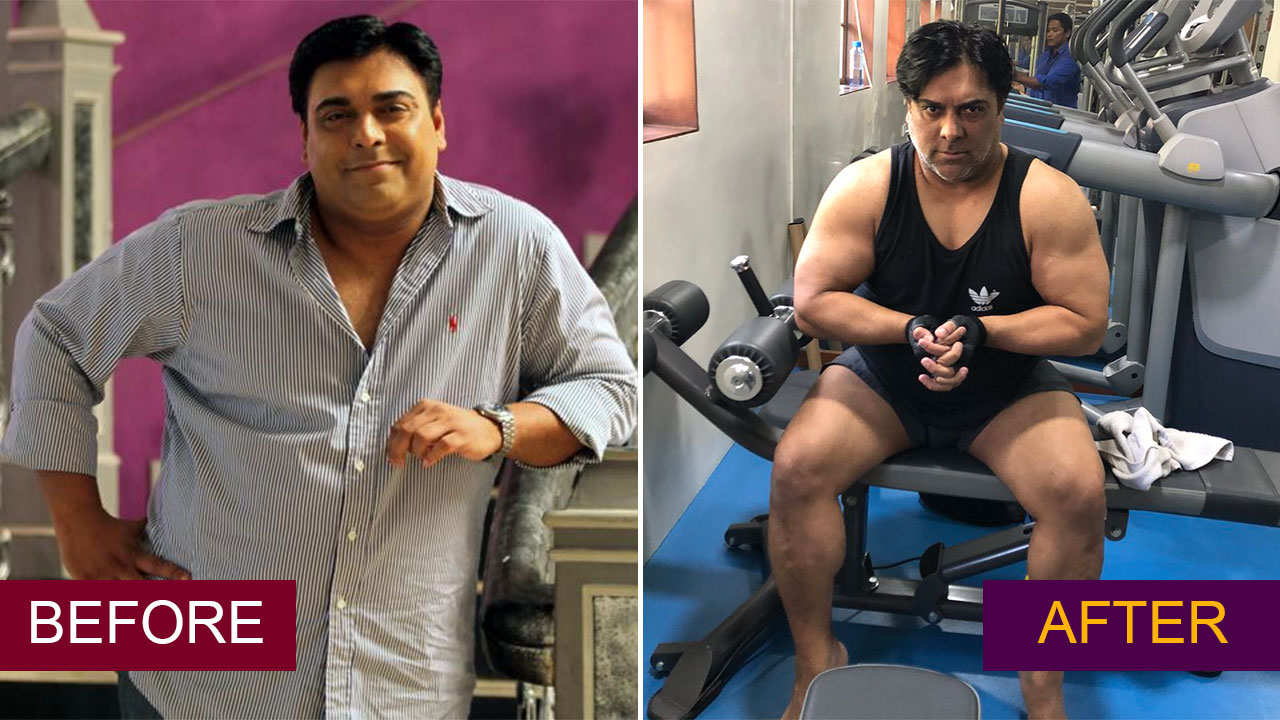 When his on-screen son Saqib underwent an amazing transformation, why not his on-screen dad? But, Ram Kapoor did a month before Saleem. Winning hearts with his charm since Ghar ek Mandir days, Ram showcased a brill beefed-up transformation and we are floored, Kasam Se!
6. Ali Zafar
*sings Tu Hi Hai while typing* I mean, it's Ali after all. Ali, who's already got 'em ladies' hearts, packed and flaunts those abs like this. Haaye Allah! Now, if that's not inspiring then, what is?
7. Sunaina Roshan
Hrithik Roshan's sister took on a not-so-easy task and underwent a massive transformation. She lost a really good amount of kilos and has embraced her fitter self. Proud brother Hrithik can't stop raving about his didi's amazing change.
8. Kunal Kapoor
Umm, we've been ogling the hell outta him, and now we ogle tad bit extra at Kunal Kapoor. The man with a pot belly, turned into a man-beast and we are having troubles breathing. He did it for a film, after going through extensive training. And, you can see for yourself, how amazing that is!
9. Bobby Deol
He is racing towards a film yet again, but Bobby Deol has always been one good-looker. His fans would agree. And, now with the kaafi garam bod, Dharam Paaji's son has upped the ante.
10. Sanjay Gupta
The Kaante man, with his Jazbaa hit the gym and result is something you can see for yourself. In just six months, Sanjay has shown great a great change. Well done, Sanjay!
11. Ganesh Acharya
You all remember the talented and agile choreographer who despite being on the heavier side danced like a pro. In the 1.5 years, Ganesh has shed over 85 kg and our jaws have hit the floor.
12. Suneil Shetty
What can we say about Anna? Just look at him! Like, who would say he is a 55-year-old man? He's giving youngies a run for their money. Look at the beefed up Shetty and we can't even get our eyes off him.
13. Sushant Singh Rajput
Can you imagine 8 packs in 8 weeks? While people were dreaming about it, Sushant Singh Rajput already done it. Sushant's been transforming throughout the span of his career. But this was just, WOW!
14. Vadodara Man
Nainesh Chainani wanted to lose that weight and it didn't happen overnight, but after perseverance and serious dollops of dedication. From 2006 to present, he has gone from 136 kg to 64.5 kg. And in last 24 months knocked off 71 kg. I MEAN, WUT?!
15. 170 kg couple
If this isn't couple goals, then I don't know what is. Like for real, Alexis and hubby Danny lost 170 kilos combined in the last one year. And, they even recreated their old photoshoot with a lot of pride and we have never felt this driven by a couple. A couple that works out together, stays together. Hell, yeah!
How motivated are you feeling? Cuz, I feel like hitting the gym, right this minute. And, then I would share my flab-to-fit story too. 😀