According to statistics, there's a one in 135 chance to find our doppelganger roaming around in this world. And a Gram Panchayat candidate did it by finding Virat Kohli's double and he used him to his fullest potential.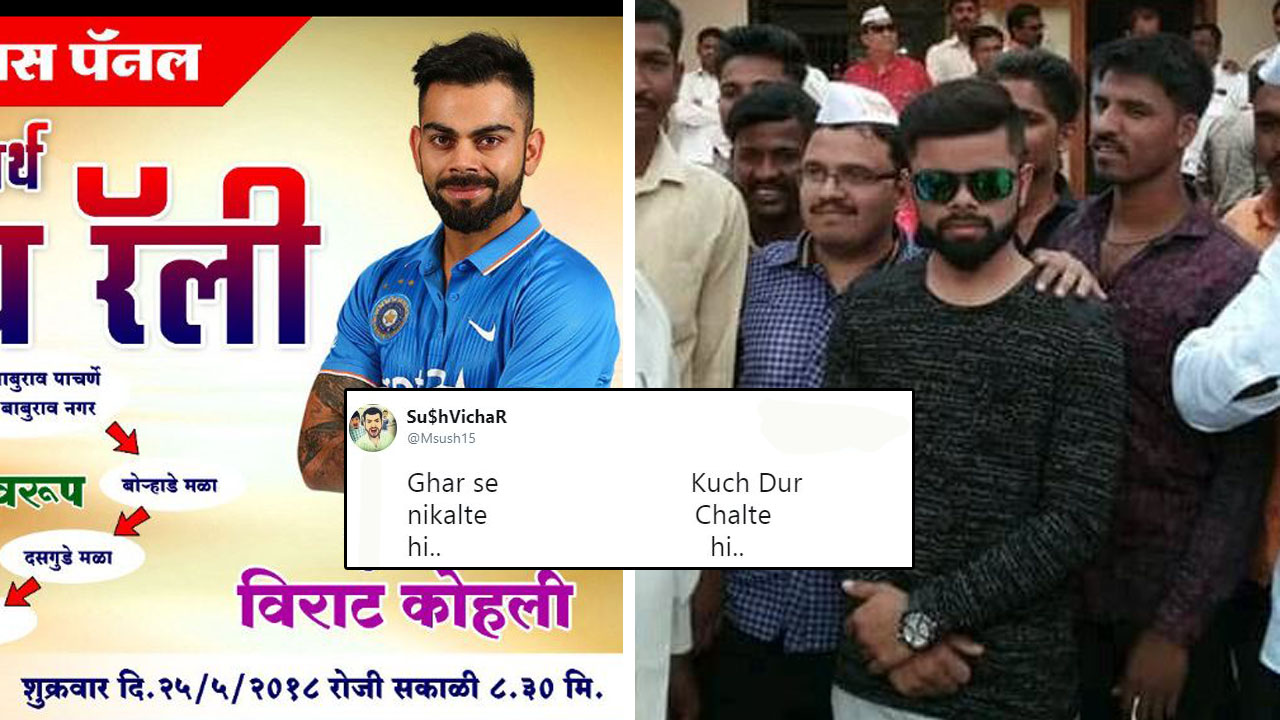 Now, the internet has graduated from the Indian men's team's captain to their coach, Ravi Shastri.
Nobody knows where he came from or who he actually is. The only thing the internet knew that he looked exactly like a disgruntled Ravi Shastri. That's why they decided to crack some jokes at his expense.
1. That's understandable.
When BCCI refuse to pay your travel allowances pic.twitter.com/MdgZl71925

— DJ 🎧 (@djaywalebabu) November 4, 2018
2. Why you do this, Virat?
Reaction of RaviShastri when it's match day and Virat kohli isn't playing #INDvWi pic.twitter.com/LTp7FNfc7a

— @muthayyab_ali (@immali14) November 4, 2018
3. That's a bummer.
When they don't give you 🥃 in dressing room! pic.twitter.com/ZZPwEfzpy4

— Shivam Aks (@AksShivam) November 4, 2018
4. Hey, go easy now.
When you realized indian cricket team is very good even without you.. pic.twitter.com/n0fWIdB7Qf

— Faizan Hamid (@TheSRKExpress) November 4, 2018
5. *triple saas-bahu serial reactions*
Ravi Shastri's reaction when he heard the entire stock of Old Monks in his hotel is finished.. pic.twitter.com/A9vUtpv93G

— NSK (@nandanskulkarn1) November 4, 2018
6. Ye kya se kya ho gaya?
Ravi Shastri before Worldcup2019
Ravi Shastri after Worldcup2019. pic.twitter.com/cq0K4pwf7W

— 🐿 (@theesmaarkhan) November 4, 2018
7. Ye bandhan toh, pyaar ka bandhan hai!
Ravi shastri if rohit becomes permanent captain 😂😂😂#MakeRohitIndianCaptain pic.twitter.com/iKP5WOjCJL

— R E B E L (@Gadhvilaxman) November 4, 2018
8. It's Diwali season, man.
Virat se bottle manga tha, chilla diya mujhpe

Areh rocket ke liye chahiye tha. pic.twitter.com/oFWYPBcBK8

— Thain Thain Chikna (@Madan_Chikna) November 4, 2018
9. They've more important things to worry about.
when bcci refused to pay your liquor bills. pic.twitter.com/0PtrOQ0HFX

— capt. (@thephukdi) November 4, 2018
10. The burn!
The tall stature of a man can only be judged by the fact how grounded he is.

Here is Ravi Shastri Ji, travelling in Mumbai local train.

Still you doubt his character.

😁😀#IndvWI #HappyBirthdayVirat #happydhanteras pic.twitter.com/sB0J8Dkscf

— Baklol Bhoora (@BaklolBhoora) November 5, 2018
11. Arre sir, aap ja kaha rahe ho?
When you get a window seat but later realize that you got a wrong Mumbai Local. pic.twitter.com/ww7i3OjeJO

— Thain Thain Chikna (@Madan_Chikna) November 4, 2018
12. Old people, dude.
When you "got window" seat in local train and unknown aunty saying "Beta muje window seat par bath jane do" you be like:- pic.twitter.com/xYjTP9tvVd

— Pranjul Sharma 🌞 (@Pranjultweet) November 4, 2018
So, how closely do you think this man resemble Ravi Shastri? Or is it actually Ravi Shastri who decided to shave off his mustache and take a ride on a local train? So many questions!