This village is considered as the Black Magic capital of India.
Over the years the little village of Mayong in Assam has become a popular tourist spot. What makes this otherwise quite and popular is its black magic and witchcraft.
Although Indian society never accepts black magic and witchcraft, in this little village it is not only accepted but even celebrated.
According to the locals, the place got its name from the Sanskrit word Maya, which means illusion.
There are many stories about how this place got its name. Many people also believe that earlier people from the Maibong clan used to live in this area and place might have got its name from them. While some other people claim that the place is actually a part of a Goddess called 'Maa-er-ongo'. The name comes from this term.
This place also celebrates a unique festival called the Mayong-Pobitora, which celebrates the fusion of magic and wildlife.
No one knows much about this place's history. But the stories of this place has been a part of the local folklore for many years.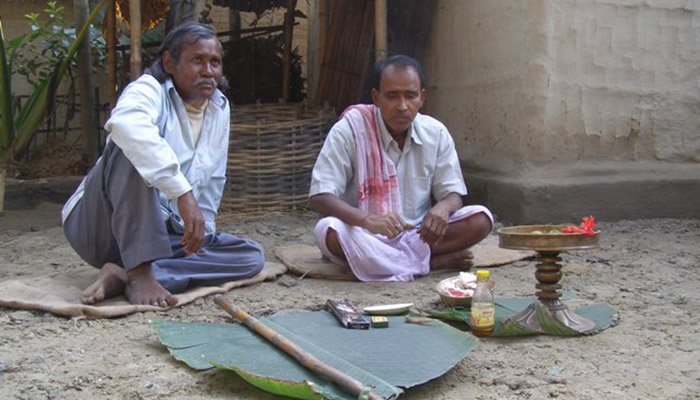 Interestingly, people don't actually know how this magic came to this little place or how black magic became so popular in this place or who was the first person to practice it. But still, much like our mythical stories, the art and craft of black magic have been passed down over generations.
If you ever visit this village, you would hear a lot of weird and unbelievable stories about people turning to birds or animals been made out of nothing. According to most of the people in the village, these stories are actually true.
The village is 40 km away from Guwahati and is situated near the Probitora Wildlife sanctuary, the place also has a museum called the  Mayong central Museum, where many old relics related to black magic are kept.
Many old scriptures have been discovered which also talk about this place as the land of Black Magic and Witchcraft. It is believed that there are some scriptures which contain mantras that can make someone absolutely invincible. But unfortunately, till date, no one has been able to decode these scriptures.
It is believed that once upon a time people from far off places used to come here to learn the dark secrets of black magic.
Today, the village still has a community of 100-odd magicians, but most of them are forced to work on the farm because of lack of resources and poor economy.
Veteran magician P.C. Sorkar has also acknowledged the importance and impact of this place on his life and performances. 
People who practice these dark acts are referred to as Bez or Ojaa, and it is often believed that these people often keep ghosts as assistants.
In this area, people who have the knowledge about the black arts use to serve the people by using their magic to treat the diseases. These people not only have a fair knowledge about magic but they also know quite a bit about Ayurveda as well.
Right from palmistry to curing your back pain, these people can do it all. These people can cure your back pain with minutes by just placing a copper plate on your back and chanting some magic mantras.
Today if you visit Mayong you would find a lot of a lot of people who have the ability to perform some unbelievable magic tricks. These people believe that through these mantras one can achieve almost everything. It is said that if one can master all the mantras, then one can turn a person into an animal, turn a leaf into fish and even fly and vanish. 
Sadly, this town has failed to receive the kind of attention that it should have received. And often due to lack of funds and opportunities this art is slowly losing its popularity and if no attention is paid then the day is not far when might lose the very thing that makes it special.