An incident has emerged from a cooperative housing society in Margao, Goa that has raised serious issues amongst the medical fraternity and civil society. The society's chairman has raised an objection to doctors and nurses staying in the apartments of the residential complex owned by her.
As per a report in TOI, she wrote a letter to one of the resident doctors stating that the medical staff staying in the flats are treating COVID-19 patients without any intimation to the society, "thereby violating the society's bylaws". The letter added that other society members have also raised objections to them staying in the building fearing the spread of infection, and requested that they stop staying in the complex during the pandemic.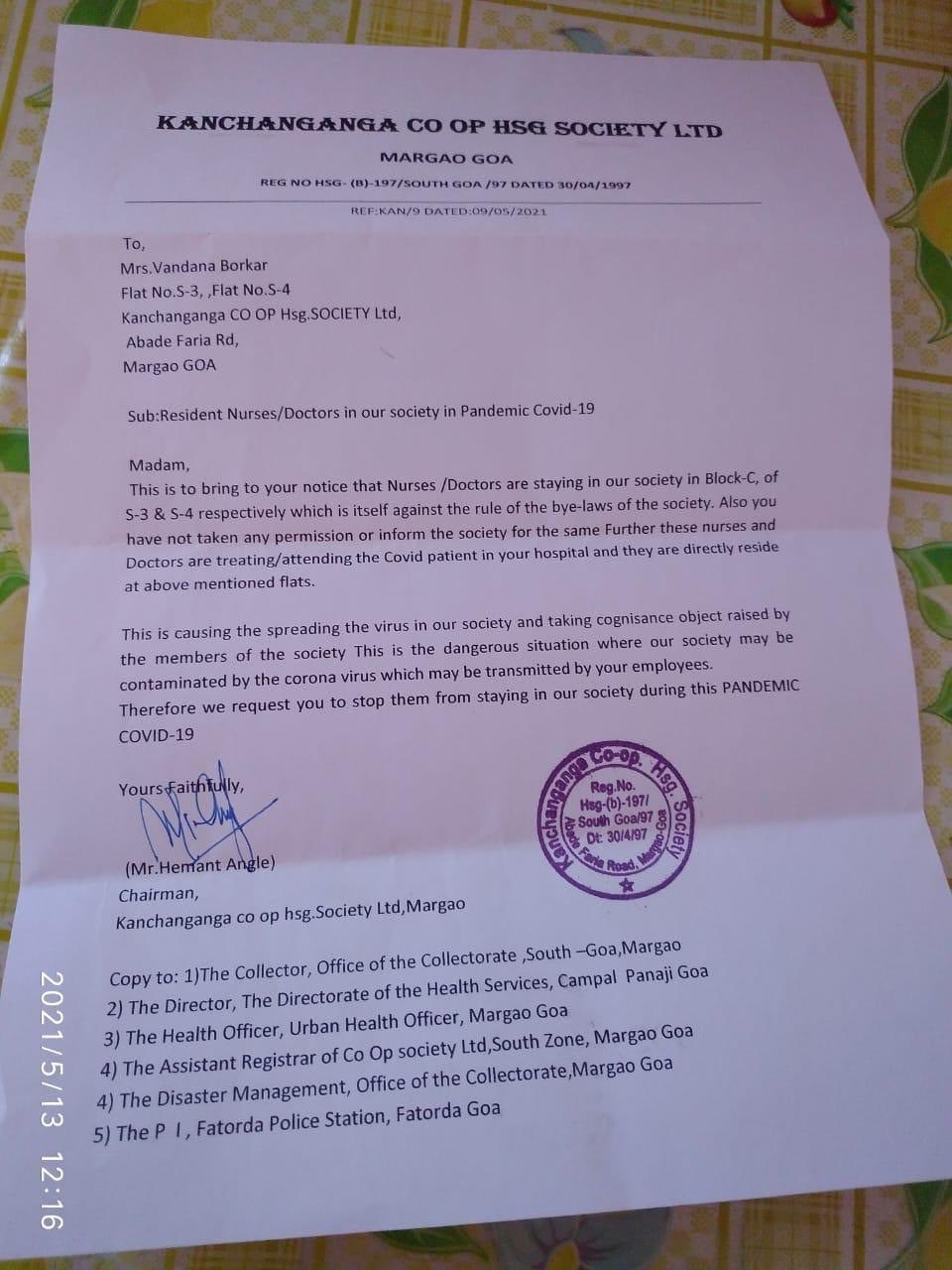 The statement got heated reactions from people online who felt that our frontline warriors should not be disrespected like this:
यह गोवा के पढ़े लिखे अपार्टमेंट सोसाइटी में एक मां को सोसाइटी की ओर से लिखा गया लेटर है कि उसका 2 डॉक्टर बेटा इलाज कर अपने घर में रहने क्यों आता है। मतलब डॉक्टर/नर्स सड़क पर रहें? ऐसे देंगे इन्हें सम्मान? pic.twitter.com/Wto02TxxAv

— Narendra nath mishra (@iamnarendranath) May 14, 2021
Goa..my Goa…
Resident doctors & nurses are being thrown out from their own house because they are treating covid?
Time when society should come forward to help HCW, they are going opposite way?@DHS_Goa @GoaGmc @DrPramodPSawant @visrane @digambarkamat @Coll_SouthGoa pic.twitter.com/rnozNIhaE4

— Prakash W. Kamat (@PrakashWKamatPK) May 14, 2021
This is absolutely atrocious. This form of harrasment must be dealt with strictly. https://t.co/SShG0WznCl

— FullMetalChomsky (@Chishiki_No_Umi) May 15, 2021
How shameful is this?? Whom will these people turn to if/when they actually contract Covid? Not the doctors and nurses? https://t.co/wit2wwIbY2

— Brian Pacheco (@BrianPacheco) May 15, 2021
What is wrong with people? 🤦🏻‍♀️ In times when we need to stand together and support each other, people are hell against our saviours!!! https://t.co/jYw55xIvaB

— Vritika Naik (@NaikVritika) May 14, 2021
Finally, an update was issued in response to a user's comment in the comments section. The issue is said to be resolved with the intervention of the Fatorda police.
The Fatorda police contacted both the parties. The matter has been sorted out.

— Pankaj Kumar Singh (@pankajsinghips) May 14, 2021
What do you think of this incident? Tell us.
Cover Image Source- left