No matter how old we get, a few teachers from school will always remain etched in our hearts. In many cases, it is our English teachers. In the midst of teaching Shakespeare and Keats, they end up giving their students the most valuable life-lessons, survival strategies, and how to just be our genuine, creative selves!
Speaking of which, people online have been talking about how cool their English teachers were back in school. Many shared funny memories and claimed that English teachers are not just supportive but also open-minded, understanding, and just the sweetest people ever!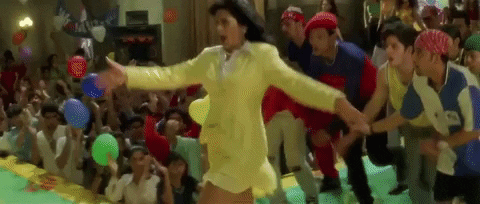 The conversation started when one Twitter user asked if people had a "deep emotional attachment" to their English teachers.
Did you develop a deep emotional attachment to your English teacher or are you normal ?

— Toxic by Britney Spears (@blahvya) August 11, 2020
Here's what people said:
I've always found my English teachers to be way more mature and having greater understanding of life than their counterparts. One of them used to say, "there's only two ways you can grow in life, by traveling and by reading", I've found that to be largely true.

— Prabhat Singh Tomar (@imsrkkk) August 13, 2020
She used to take sessions once in a week….just like therapists ✨🌼😌

— Riya (@aree_bansal) August 12, 2020
bhai English teachers are the most open minded teachers I swear.

— m o o n c h i l d ♡ (@butter_kisses_) August 12, 2020
I feel like all my english teachers knew me better than even my parents did😭

— policy wonk (@sunny_vaibhav) August 12, 2020
Omg my english teacher in school used to write the loveliest notes on my essays. I hope you're doing well, madame Devi 💜 https://t.co/f1xw067Ull

— Medha (@thatbongette) August 12, 2020
In the very first class, we kind of had a dispute & I was so sure I'm never going to like this teacher But (after sometime) he has a huge impact on improving by class
performance
Idk without him, I might still have been the disturbed, unfocused & rebellious student,ThankYou Sir! https://t.co/I6riOrZ3A3

— as if! (@insane_birdie) August 12, 2020
English teacher was so good that she let me sleep in whole period and then after completing story or lesson . She says Swapnil are u done . Go and wash your face .
🔥🔥🙏. https://t.co/JmOk7eFcpb

— Binod (@Swapcasm7) August 12, 2020
Why is this so true?
I mean I'm now thinking of all the English teachers i had over the past!
And all the English teachers I had were so damn sweet!!!

— Zoooo 🔆 (@yaarzuhair) August 12, 2020
I don't know if I got attached to my english teachers because I liked English or if I liked English since I was attached to my english teachers

— Internet Explorer (@_varnikhaa_) August 13, 2020
For me it was my Biology teacher. She helped me change from 59% to 82%. She opened my thoughts. all thanks to her

— Technical Aajoba – 55 but young (@technicalaajoba) August 13, 2020
Aaah… so true! They were the only ones who cared about your well being (apart from academics). 😊

— Apratim Yadav (@apratim15yadav) August 13, 2020
THIS IS SO FUCKING RELATABLE😭 I MISS HER SO MUCH

— har 'shit' a (@decently_crazy_) August 12, 2020
Pyaar thi wo mera :/

— संdeep (@gyaani_baalak) August 13, 2020
In retrospect, i think i've been this way since Kindergarden 🥺 English teachers are actual angels https://t.co/BvdrhRrad6

— 𝕮𝖔𝖗 𝖈𝖔𝖗𝖉𝖎𝖚𝖒 🌗 (@IrulanCorrinos) August 12, 2020
Ah, how I wish I could go back to school and relive my Julius Caesar classes!