What do you do with your old newspapers? Use it to line your wardrobe, or wrap and throw things in it, or sell it out to raddiwalas? It's said that a newspaper loses all its value the very next day. So, I'm here today to prove that saying wrong.
There are so many things you can do with an old newspaper. So, before you throw the last month's bundle away, have a look at these points. This may convince you to change your mind and do something creative. Here are ways to reuse your old newspapers.
1. Newspaper Clock
Just some old newspapers, utility knife and a clock kit (with or without numbers) will do the trick. The design is unique and will look extremely sassy on your wall. Read the full instructions here.
2. Wordalicious Shoes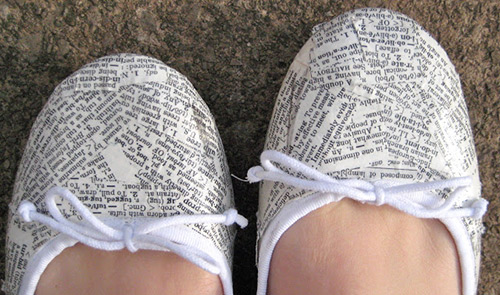 Pick out that old pair of shoes which you think are faded and cannot be used again. Then, cut small rectangles of newspaper and stick them all over your shoes using white glue. Then, once your shoes are completely covered with those small rectangles, put another layer of a mixture of glue and water over them. Leave it to dry and your wordalicious shoes are ready!
3. Wrap Gifts In Them
I now what you are thinking. It's old and looks boring. Well, then let's make it cool again. No one is stopping you from giving the wrapped box your special touch. Use jazzy ribbons or glitter tags! Go all out, and make your present look beautiful.
4. Vintage Suitcase
It's easy and looks fantastic. You can choose your side of the suitcase to line it with newspaper. Inner lining works awesome. Outer one looks more awesome. 😉 Just cover the area with the newspaper and put a coat of glue on that & let it dry.
5. Wallpaper
It will look more amazing that you are thinking it would. And the best part is, you can pick out your favourite articles and arrange them one after the other. It's inexpensive, and if you get bored, you can easily replace with some other newspaper.
6. Newspaper Envelopes
These nerdy envelopes are perfect for a theme party. You can add little quirks and make them stand out, but the plain newspaper envelopes will look equally good.
7. Newspaper Frames
It just requires some rolling skills and you can arrange them however you want. Then, put them around pictures, mirrors, your degree… absolutely anything.
8. Perky Coasters
All you have to do is roll these beauties and cover them with rubber cement. Leave them to dry and you'll have a beautiful set of coasters ready. A bunch of them on your coffee table will look fantastic & they make nice gifts too.
9. Paper Bags
This idea is pretty popular but then they look so good. You can learn how to make them here.
10. Newspaper Nail Art
It's super easy and looks so chic. Learn how to do it here.
11. Newspaper Earrings
Firstly, there is the popular style of quilling. But, if that is too hard for you, you can cut out your desired shape from a newspaper and then cover it in transparent tape to make it stable. Then, attach the earring hooks (which are easily available in market) and you are good to go.
Hope these were helpful. Until next time… 🙂