Chess Grandmaster Rameshbabu Praggnanandhaa scripted history after he became India's youngest player to reach the FIDE World Cup Final, 2023, and emerged as the runner-up. His mother, Nagalakshmi, gained a lot of attention after she was spotted standing like a pillar beside his son and looking at him with eyes filled with pride.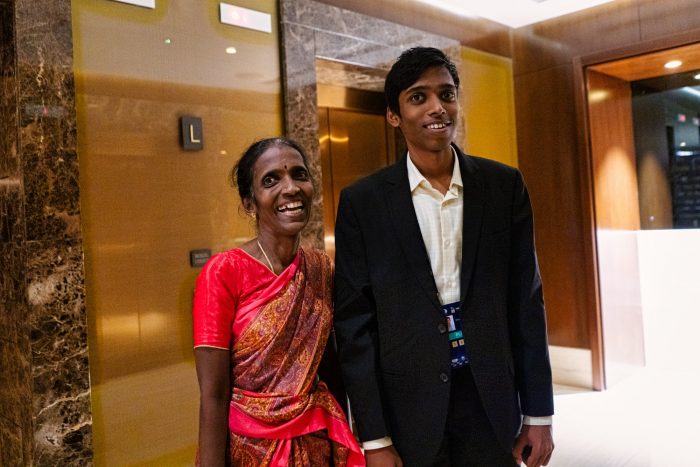 Praggnanandhaa's mother and his sister Vaishali, a Woman Grandmaster herself, can be called the force behind his achievements. According to Indian Express, he opened up about the kind of role his mother and sister play in his life and how their presence has helped him move forward in the world of chess.
"My mother can tell if I have a good position or a bad one on the board just by looking at my face or body language. Having her at my events has been a very huge support for me."
He went on to credit his sister for handling everything for him during tournaments.
"And for my sister as well. She not only takes care of everything for me during tournaments but also is a source of emotional support. I just have to prepare for games and play chess. I really cannot express in words how important she is."
"At Baku during the World Cup, the only thing I had to do was prepare and play chess. If I had gone alone, I would have to do many other things. It's very hard to manage by yourself at such a long tournament. Without my family, I wouldn't be here," he expressed.
Praggnanandhaa revealed a very interesting detail – that he prefers eating home-cooked food before his matches. And his mother has taken it upon herself to provide him with that, even if it means travelling to foreign countries with a pressure cooker and masalas in her bag.
"Before a game I prefer eating Indian food. Preferably home-cooked food. So she cooks for me before games. It has been working out well for me. That's been my routine all throughout my journey."
Like it is said, behind every successful man, there is a woman. 🙂
Cover image source: left.