Chess prodigy Rameshbabu Praggnanandhaa made India proud after he emerged as the runner-up at the FIDE World Cup 2023. But if you have been following the 18-year-old's performance at the Chess World Cup, you would have definitely come across pictures of his mother, Nagalakshmi.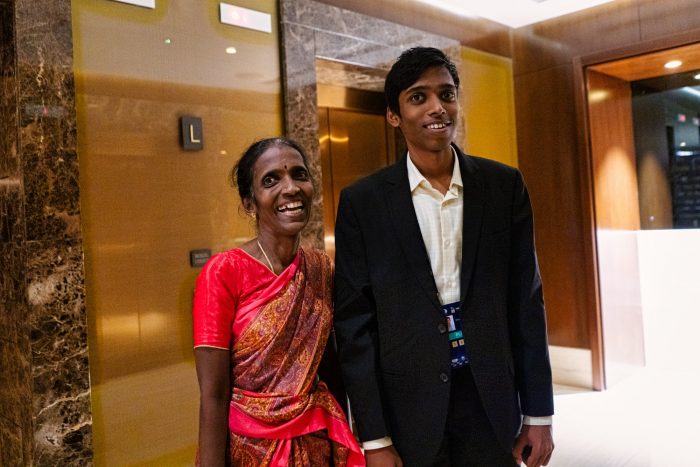 A photograph of Nagalakshmi smiling at his son after he won the semifinals of the FIDE World Cup in Baku, Azerbaijan, became one of the most beautiful moments in the tournament. There was also another picture where we could see Nagalakshmi wiping a possible tear from her eyes while sitting a bit away from her son during one of the matches.
THIS 🥹#FIDEWorldCup2023 pic.twitter.com/UgXwlWMeN1

— PhotoChess (@photochess) August 17, 2023
A significant amount of credit goes to Nagalakshmi, a homemaker, for her son's brilliant chess career. It is she who travels with him, makes sure he gets to eat home-cooked food while travelling abroad, and creates a conducive environment at home for him and his sister Vaishali, a Woman Grandmaster herself, to strengthen their chess acumen.
According to Moneycontrol, Nagalakshmi takes Praggnanandhaa to classes, carries a pressure cooker, induction cooker and masalas while travelling abroad and cooks rasam rice for his son even when they are thousands of miles away from home.
"I must credit my wife, who accompanies them to tournaments and is very supportive. She takes great care (of the two)," said Rameshbabu, Praggnanandhaa's father.
A very interesting detail has also been revealed. Vaishali and Praggnanandhaa were introduced to chess by their parents who only wanted them to focus on something else other than television!
"We had introduced Vaishali to chess so as to cut down on her TV viewing habits as a child. As it happened, the two children liked the game and decided to pursue it," the Tribune quoted Rameshbabu saying.
Selfie with the Legend and her son 😄 #praggnanandha #FIDEWorldCup #FIDEWorldCup2023 pic.twitter.com/mFsCMTMBVb

— PhotoChess (@photochess) August 24, 2023
Throughout the tournament, we see Nagalakshmi standing as a strong pillar of support beside her son, going on to prove how behind a lot of successful young athletes, there is always a mother. 🙂