"If my films don't show a profit, I know I am doing something right." -Woody Allen
Just like books, movies too take you into a world of its own. And good cinema should make you forget that you are sitting in a theater. Bollywood is blessed with a few courageous directors who have given us movies that are timeless and ingenious. And these movies will make a huge impact on your life; you certainly cannot ignore these! I hope the art of making such movies flourishes in our industry.
1. Matrubhoomi: A Nation without women
Like most offbeat movies, this one isn't very famous. The movie will hit you so hard that you cannot not be affected by it. You might love it, You might hate it because it will depress you, make you cry but there is no chance that you'll be unaffected. Tulip Joshi is so brilliant that you'll wonder why is she not approached by directors. The world created by the movie makers will take you in the grotesque, scary, hair-raising dystopian world as a result of female infanticide. Do yourself a favour and watch it.
2. Masaan
An offbeat movie that was watched and discussed by many. It's a story of how four lives intersect along the Ganges and that gives an insight into love, life and death. One of the finest movies of 2015, this movie will be a chilling experience. Beautifully written and directed, with top-notch performances by the actors, it's a do not miss movie!
3. The Blue Umbrella
Vishal Bharadwaj is the master of adaptations. Based on Ruskin Bond's short story, the story captures the simple life of a small hill-town and tells the story of a girl whose favourite blue umbrella gets stolen. The little girl is adorable and Pankaj Kapoor absolutely makes the film an extraordinary one.
4. Parzania
Based on the real life story of a Parsi family whose son goes missing during the Gujarat riots, the movie is deeply impactful. The director, the cinematographer, the story writer, the script writer, the actors, everyone is commendable. And it's a shame it was never released in Gujarat. It's a shame when people are left devoid of such movies.
5. Dor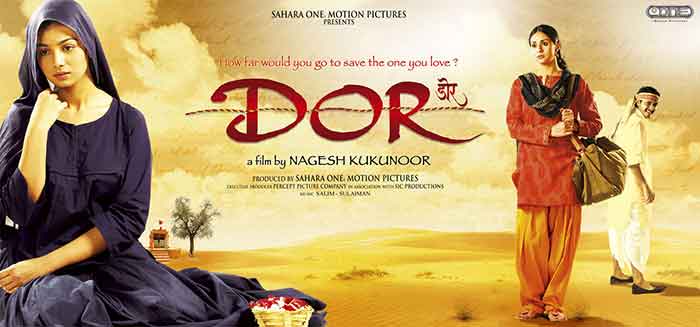 It's very hard to make a simple movie. A movie of two simple women, very different from each other, linked by a tragedy. Their budding friendship is so beautifully written and scripted. Dor is so much more than a story about their friendship. It's a story about the wide gap in how the women are treated in the urban and rural ares. It's about the struggle of a widow. Ayesha Takia and Gul Panag are pure brilliance.
6. Gulaal
Anurag Kashyap is the master-maker of offbeat movies. A huge fan, I simple cannot fathom how this man makes his movies. The story of a law student whose journey will leave you speechless. It is dark, moving, engrossing and brain consuming. The cast is awesome and Kay Kay Menon steals the show! Do, do watch it!
7. Black Friday
Another movie by Anurag Kashyap! Based on the investigations following the 1993 serial bomb blasts…this movie is raw, dark, real and brilliantly made. The performances, direction, background score, use of colours, light, effects, everything makes the movie mind blowing. Not everyone is as brave as Mr. Kashyap to take up the task of making such a movie and executing it so well.
8. Mumbai Meri Jaan
Nishikant Kamat is another director who'll stun you with his movies. The story of how the Mumbai serial bombings affected the lives of 5 people unrelated to each other. The story is beautifully written and the stories of the 5 different people blend in seamlessly. The cast is again just perfect and you'd missing a lot if you haven't watched this movie yet!
9. Lakshya
Very few offbeat movies cast a hero popular amongst the masses. This is one such movie which had established that Hrithik is a brilliant actor and more, that Farhan Akhtar is an even brilliant director. It's the story of a good-for-nothing jobless, grown man who joins the army and turns over a new leaf. Preity Zinta is flawless, too.
10. Udaan
Almost every cinephile would have watched this movie. For those who haven't, Udaan will leave you spellbound with it's brilliant story-telling. Nobody can play the character of an ultra-strict father better than Ronit Roy and Rohan's journey of freedom is something you'll have to witness to appreciate it!
11. The Lunchbox
What a brilliant work of art! The best of the movies are the ones that tell a simple tale. The story of two lives whose paths cross because of a wrong delivery is what the story is about. When there are actors like Irrfan Khan and Nawazuddin, you don't have to say much. But what's amazing is that Nimrat Kaur is at par and her work is just wonderful.
12. A Wednesday
The cast is so inviting: Anupam Kher, Naseeruddin Shah, Jimmy Shergill…you would want to watch the movie without further checking the IMDB. The movie is fantastic. A case that keeps haunting a retired police officer, the case of a man and a Wednesday. The dialogues will make you whistle and you'll fall in love with offbeat cinema!
13. Monsoon Wedding
Mira Nair is a woman I highly respect. And if I had a chance, I would love to learn the art of making movies from her. Monsoon Wedding is a 2001 film which talks about so many issues in the most subtle manner. There are many stories in this film. The story of a stressed father, the bride with a secret, the bride's cousin with a deeper, darker secret. It's an overwhelming ride of emotions and the beauty of relationships.
14. No Smoking
Another film from Anurag Kashyap. Watch this strange movie since it tells the tale of a man who is a chain smoker. The movie is not just about quitting smoking; it's about quitting any addiction. Welcome to realistic cinema. The theme is hard to make a movie on that's why Kashyap is pure genius.
15. Swades
Another offbeat, a brilliant movie starring a famous star! I can absolutely watch this movie over and over again. The story of a man who comes to India to take his nanny with him to the U.S.A. but instead falls in love with India. The movies will show the life of rural India and honestly, at the end will make you hopeful. Shahrukh Khan is wonderful and the movie is a must-watch.
16. Stanley ka Dabba
Soft, simple and a gem of a movie. If you think it's a movie for kids, please throw your preconceived notions out the window and watch this beautiful movie. It revolves around a teacher who forces students to share their tiffins with him and threatens one because he is unable to bring one. Very moving, very well written and amazingly executed!
17. Being Cyrus
Originally named 'Akoori', this movie is about a young man who enter the lives of the dysfunctional Sethna family. It is a dark, intense, comic urbane film and a movie well ahead of its time. Very intelligently written and well-directed, this movie should be on your bucket list.
18. Maqbool
It's extremely difficult to adapt a play and convert it into a movie that tells the story in an Indian way. So hats-off to Vishal Bharadwaj for his brilliant adaptation! The casting is superb and so is the characterization. The script is fantastic and Macbeth couldn't have reached the masses in a better way!
19. Aligarh
If you haven't seen this movie, you probably have missed out so much. The story of a professor expelled from his university because of his sexual orientation and his struggles is heart-wrenching and honestly, making a movie on a controversial topic is brave. The movie might seem slow at times but I love it. The scene where Manoj Bajpai sings a song along with the radio is so touching and moving and wonderfully executed. A brilliant movie that should definitely be watched.
20. The Namesake
Based on Jhumpa Lahiri's novel and directed by Mira Nair, the movie will take you into its world and leave you speechless! It gives you a look into family ties, clashing value and culture and all of it is so beautifully written and directed. Kudos to you, Mira Nair!
21. Manorama: Six Feet Under
This movie is intriguing, complex and gives you a thrilling ride. It's not a simple movie and it will weave the story into web and then untangle it slowly. Abhay Deol is obviously fantastic and will leave a deep impact on you. Gul Panag is amazing too! Watch it and see it for yourself!
22. Dasvidaniya
Vinay Pathak is one of my favorite actors and no one can do the protagonist's role better than him. This movie will leave you pleased, satisfied and wondering how you delayed watching it. The story about a man loves to make lists and makes a final one when he realizes he is about to die. The story is simple and the performances are brilliant.
23. Shahid
Based on the real-life story of controversial lawyer Shahid Azmi who was assassinated in 2010, this movie was very moving and had a deep impact. Rajkumar Rao is amazing and he'll leave you stunned by his performance. It is honest and very responsibly made. Do watch it if you have a love for cinema!
24. LSD
Three stories told through a camera which is a part of the story is amazing! The cast is new but very convincing. The director has tried something new in the movie and has succeeded to an extent. Watch the movie for its experience.
25. Mr. and Mrs. Iyer
Not really famous but a great movie that Indian cinema produced. The story about a devout Hindu woman who protects a Muslim man when communal riots break out. A very sensitive topic; the characters have been done justice and how couldn't they have been done when played by Rahul Bose and Konkana Sen Sharma. Wonderful movie and should definitely be watched.
26. I Am Kalam
Simple, sweet with perfect narration, it's the story of a boy who calls himself Kalam with the hope of becoming like Abdul Kalam someday. It depicts the story of poor India and the struggles of uneducated masses. It's a great watch!
27. Iqbal
Iqbal is one the movies that people watched and discussed. The story of a deaf and mute boy with a passion for cricket and his journey. Shreyas Talpade was so brilliant that he shocked us. The relationships are wonderfully portrayed the screenplay is very tight. If you haven't watched this, please do!
28. Dev D
One must think I am biased towards Anurag Kashyap but he owns the world of offbeat cinema. An unconventional interpretation and portrayal of Devdas, this movie is just superb. The music is fantastic and the performance will leave you reeling. So much talent in one movie, it overwhelms me.
29. Khosla Ka Ghosla
Offbeat and comedy. One of the very few comedy movies that'll leave your stomach hurting. The story of a middle-class man from Delhi who tries to get back his land from a property dealer with the help of his family and friends. It should be watched if you are looking for a movie one can related to and laugh at!
30. Sulemaani Keeda
A hilarious movie on two struggling 'bros' who knock on every door in Mumbai to realize their dream of becoming writers. Very realistic and honestly, you will see your story somewhere in them. If you are a struggler in the city of dreams, you'll be able to relate to it. And it'll be strange and weird if you do not like it!
31. Lootera
A movie I can watch and re-watch. Very rarely does one come across such beautiful, heart-warming and heart-wrenching love stories ever. Ranveer Singh is fabulous and Sonakshi Sinha leaves us surprised. The music again is so beautiful that you'll want to hear the songs on repeat. Please watch it and be lost in its world!
Let's encourage these movies and celebrate Bollywood!