Goodbyes are hard. To bid farewell to something that you've so passionately loved and spent a major part of your life doing is no easy feat.
Last night, at the Feroz Shah Kotla stadium in New Delhi, Ashish Nehra was doing exactly that. And it became a series of moments that no one who witnessed it is likely to forget.
Yesterday's match was landmark in more ways than one. We had never won an international T20 against New Zealand. But also, because winning it was a fitting farewell gift for one of the best bowlers Team India has seen!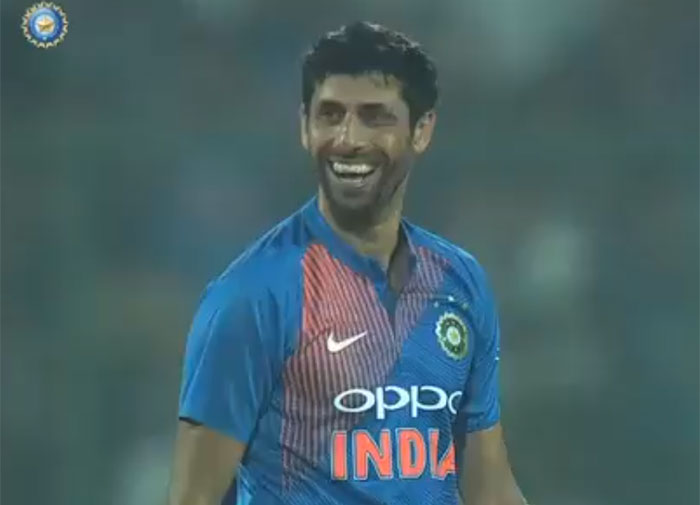 This being his last match, all eyes were on Ashish Nehra to showcase his magic one last time!
It was no iconic 6/23, one of his best against England in 2003, but he sure had his moments!
How's that for footy skills from our very own Nehraji? What do you make of that @YUVSTRONG12 😉 #INDvNZ pic.twitter.com/YaTeJk5d0t

— BCCI (@BCCI) November 1, 2017
We won the match. We lost a great player from our ranks. But amidst all these bittersweet moments, there was a particular memory involving Captain Virat Kohli and Ashish Nehra that stole everyone's hearts!
After the 2003 World Cup, which 26-year-old Nehra played in, Raj Kumar Sharma had invited him to his cricket academy. That is where Sharma's protégé, a 15-year-old Virat Kohli met Nehra and got a picture clicked with him!
After all these years, watching Nehra play one last time under the captaincy of Kohli, the young fanboy, lent quite a sentimental touch to the evening. Twitter's emotions were all over the place!
Both these Delhi boys have clearly come a long way since this photo. To have another milestone moment in their hometown is just life come in full circle!
Circle of Life. #Nehra #IndvNZ pic.twitter.com/3RMgSuoX62

— Sagar (@sagarcasm) November 1, 2017
In an interview with NDTV Sports, Virat Kohli spoke about Nehra's illustrious cricketing career and life after retirement.
"To have played 19 years is very hard for a fast bowler. I know how professional he's been and how hard he's worked. He deserved this kind of a farewell with the crowd cheering him. He can now spend time with his family, he's got a beautiful family. We'll stay in touch but we'll miss him and I wish him all the best."
Kohli even tweeted about the win and what an honour it had been to play alongside 'Ashish Bhaiya'!
Another good win and a complete team performance. 👌🏼😇
Wishing Ashish bhaiya all the luck for everything in the future. It's been an honor sharing the field and the dressing room with you. 🙏👏 @BCCI #INDvNZ #NehraJi pic.twitter.com/hfCTHfo8rP

— Virat Kohli (@imVkohli) November 1, 2017
The stadium too paid its respects to their homeboy Nehra by naming a stand after him.
Watching Nehra bowl one last time from Ashish Nehra end will always remain ingrained in our memories!
But it was the victory lap after the match, when Kohli and Shikhar Dhawan carried Nehra on their shoulders, and the photo ops after that finally got the feeling to sink in—Nehraji won't be wearing the Blue anymore….
BCCI's tweet, which is a video montage of how loved Nehraji is, by the nation, his teammates and opponents alike, sums up all of our feelings….
Farewell to the man of the moment – Ashish Nehra #ThankYouAshishNehra pic.twitter.com/onuPCxU4r6

— BCCI (@BCCI) November 1, 2017
Thank You Ashish Nehra for such a glorious 19-year-long inning! We'll miss you on the field!