There are so many couples in the world who cannot conceive. There are many reasons for this, but it leaves the pair disillusioned and distressed. Many then look at other alternatives to have kids, some choose adoption while others choose surrogacy.
This was a similar story.
29-year-old Kayla Jones from Texarkana, Arkansas desperately wanted to start a family with her husband, Cody. Sadly for the couple, she had undergone a partial hysterectomy at the age of 17 which made it very difficult to have kids.
Explaining the situation to Love What Matters, she said, "My ovaries did not have to be removed so I am still able to have a child biologically mine, but I am unable to carry the child myself. That's why my husband and I had to use a surrogate."
However, many of the surrogate options failed and the couple was forced to look closer to home to carry their baby. Kayla's mother-in-law had been joking that she would be their surrogate and they started taking her more seriously.
They tried once before but were unsuccessful, but decided to give it one last try. Finally, they got the news of being pregnant in May 2017.
They had a pregnancy photo shoot by Helms Photography and the pictures are so heartwarming that you'll be crying tears of joy.
1. Their bun in my oven!
2. What the mother-in-law, Patty did was pretty darn amazing.
3. The sweetest moment ever.
4. Little one with his tiny boots.
5. Family always has your back, no matter what.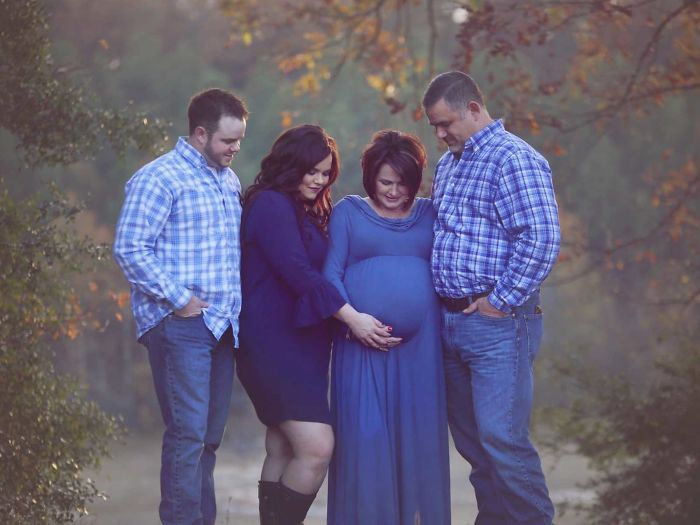 6. They really did.
7. Adorable, ammirite?!
8. The lady of the hour, Patty! You're a star.
This was so moving!
They made a point about infertility and showed everything they had to go through to get the tiny bundle of joy. Talking to Bored Panda, Kayla said,
"For the most part, we have had great reactions to our story. Some people find it 'weird' but if they understood the process it might not seem so weird to them."
However, their baby boy Kross Allen Jones was born, delivered by C-section. The new mommy, Kayla said, "I am so amazed at this sweet miracle. Having him via surrogacy was not always easy, and definitely not easy for Patty, but having him here makes all the hard days worth it."
Isn't cross just the sweetest bundle of joy?
A big kudos to grandma Patty, Kayla, and Cody, you really are blessed with the sweetest miracle.
What a story right? Just goes to show that miracles are just waiting to happen in the world. This touching story has my heart melting and I'm sure yours too. We send lots of love and wishes for the healthy little baby. He's precious! ❤