Some luxury brands have no chill. They can sell ridiculous heels which look like maggi, worn-out sneakers which look like they have been passed on for generations, and face-shields all at an exorbitant price!
In an addition to this list, Gucci recently launched "grass-stain" jeans for their autumn collection which look worn out with a tinge of green. According to Daily Mail, these jeans are called "Eco washed organic denim pants" which give the illusion of "fresh grass stains" around the knee area.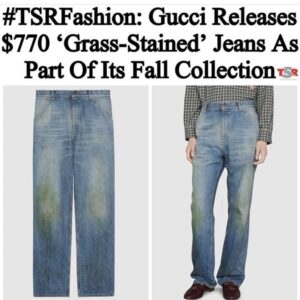 Gucci is selling the item for a whopping $1200, that is Rs 88,000 approximately, reports Times Now.
That's not it. According to the New York Post, the brand is also selling denim overalls with the same "grass stain" for $1400, that is Rs 1.02 lakhs approximately.
Gucci denim overalls with grass stains. No. Just, no. pic.twitter.com/hs1SIT7zuj

— Becky, Baroness of Bunzy (@BeckyBunzy) September 21, 2020
This has left people on the internet wondering if they have made a huge mistake by discarding their old, dirty, and worn-out jeans. Because if they would have kept them, they could sell them today for a fortune!
Gucci selling grass stained jeans for £600. They weren't Gucci but as a kid playing Football with mates I had many pairs of trousers that looked like that, at a fraction of the price. pic.twitter.com/CT012r5N86

— Andrew (@officialDB3K) September 22, 2020
With mud stained undies to match?

— Joey (@JoeyRainer) September 21, 2020
2020 just keeps on giving pic.twitter.com/ChuXoh8fnv

— Mike (@therawstitch) September 21, 2020
Could have made a fortune off me old jeans if my mother had kept hold of them 😑 https://t.co/IL8ulPLvCT

— There'sOnlyOneJL (@JLKondabeka) September 21, 2020
I will put grass stains in your jeans for a small $800 instead, saving you $400 and making sure you get that trendy look you rock so well. https://t.co/fPXmKNPbNp

— azlancat 🦁 (@azlancat) September 21, 2020
and this is called making money off of stupid people https://t.co/ykADT5JB0O

— liv🤠🤩🦋💞🌺✨ (@liivpezzulo) September 22, 2020
Pay me 400 and ill push someone down in the lawn to get you some stained jeans.

— Stephen Jacobson (@jacobssm01) September 22, 2020
All of my jeans looked like this when I was a kid.

Todays pacified soy boy generation has to fake playing outside. How pathetic.

— Joe Sunshine (@JoeSunshine6) September 22, 2020
For people who would never get a real grass stain

— Kyle Lacey (@klace32) September 22, 2020
Now im pissed at mom for throwing [email protected] mine away…. I bet they're even more valuable with holes

— Landon Mccoy (@lrmccoy3393) September 22, 2020
Back in the 90's I had like 20 pairs of these

— Grex (@Grex83168908) September 22, 2020
Wish my mom would keep my jeans when I was little 😂😂 https://t.co/a76zURLUeE

— ZBO 🤙🏽 (@zbodkins14) September 22, 2020
Because that makes total sense to pay for grass stains🤔 https://t.co/3uOLDpysxy

— lil bregs (@youngbreglls6) September 22, 2020
Throwing myself down a hill with some wranglers on is now considered fashion. I have officially become stylish https://t.co/nsXfu4YOWy

— Joe Paracsi (@JoeParacsi) September 22, 2020
I don't get it.

Grass-stained…?

Just go roll in some grass… you'll get it for free smh 😂 pic.twitter.com/8XyKhNNAXh

— Mehek🦋 (@mehek__butt) September 22, 2020
Remember how we thought that 2020 has shown us everything? I guess we were wrong!