Lack of chemistry, differing views, dishonesty, emotional unavailability, or lack of commitment – any of these could be reasons for rejection in relationships. Physical appearance also plays a role but body-shaming is definitely a red flag. Recently, Twitter user Max who had been on three dates was rejected over text due to his weight.
The guy in question said that he was only attracted to people who are in shape and added, "I think someone's physical state really says a lot about how they value and care for themselves."
There's cruelty, and then there's the guy who told me he just wanted to be friends after 3 dates because there was no physical attraction, and went on to further explain with this: pic.twitter.com/h6qGWDcUXY

— Max B. (@MaxBenesi) February 6, 2021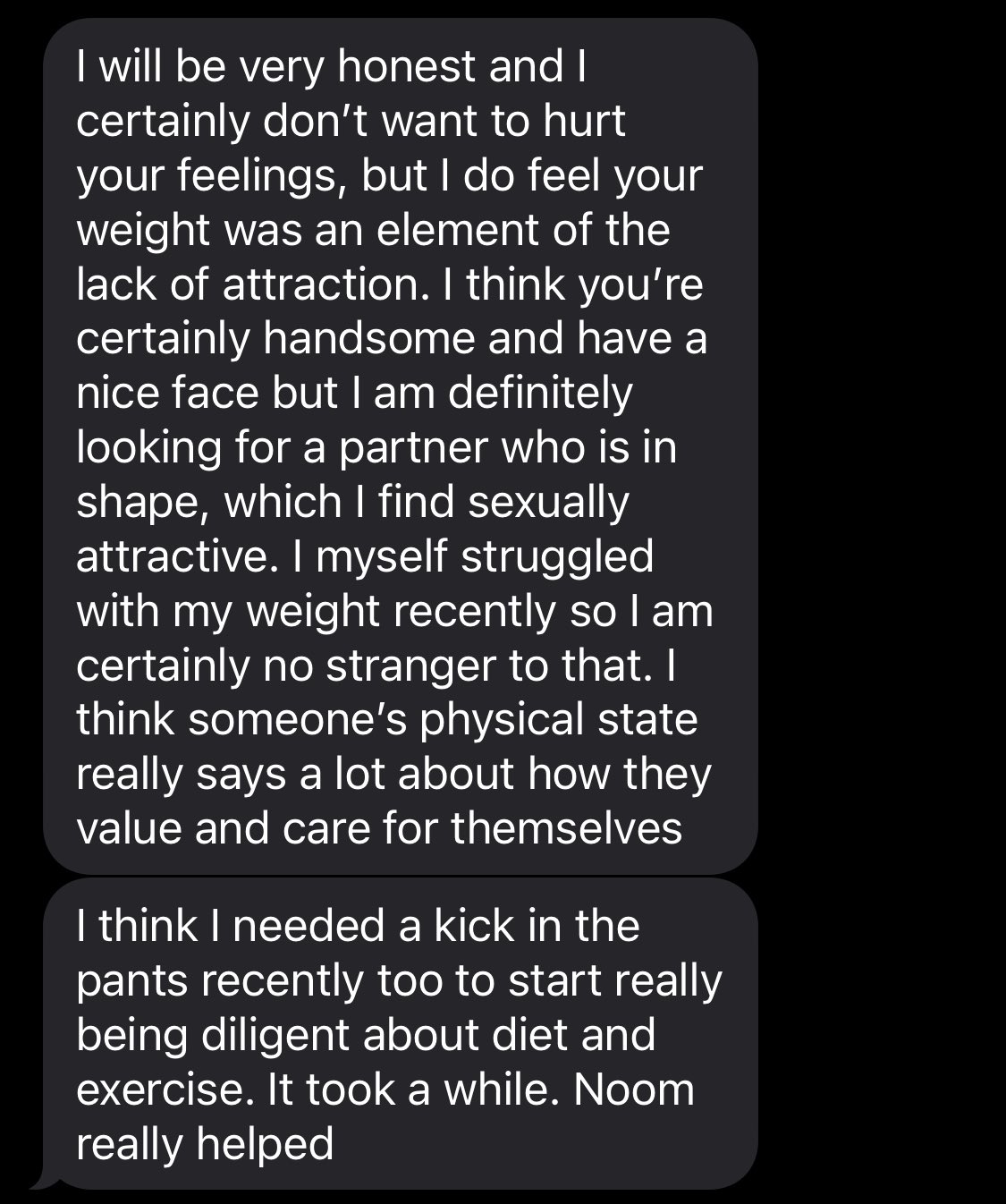 I literally had to tell him to stop texting because I saw the little ellipses bubble pop up after these! pic.twitter.com/LFujPiaqEo

— Max B. (@MaxBenesi) February 7, 2021
People slammed the guy for being unnecessarily rude and projecting his own insecurities through his unsolicited comments.
— Unassuming Local Guy (@BionicSlingshot) February 7, 2021
Wow, uh rude really. Who gave him the idea he has any permission/right to tell you you should loose weight and that weight/appearance said jack shit about a persons value as a human. What a jerk. On a side note, I think you're super cute. 😉

— Glenn (@GQ_Bear) February 7, 2021
Such a condescending message. He's doing some major projection about his issues. We all struggle with self esteem. But the people who say that if we're not a certain body type…aka ripped with muscles…we don't value ourselves or have self worth, can just f*uck off.

— Jeffrey Reddick 🌈 (@JeffreyaReddick) February 7, 2021
Buuut you looked the same way on date 1 vs 3… so why even continue ? No one asked him for his advice or anecdotal weight loss journey story. Unnecessary unsolicited feedback

— Kiana (@BooYaKaH_K) February 7, 2021
I'm happy for you that this person won't be in your life anymore (I hope.) You deserve to be treated with compassion and respect. Shame on this person for talking to you this way, if he had all those crusty dusty thoughts he should have kept them to himself.

— Capt. Spike 2099 (@spikepoint) February 7, 2021
Like.. he could have just said "I think we'd be better off as friends, I'm just not feeling the romantic/physical connection between us." And left it at that! Like wtf?! 😬 you dodged a whole ass bullet with that one! Plenty of kinder men out there 🥰

— Abby Lynn (@aisforabbyx3) February 7, 2021
Some Twitter users shared their own experiences of being fat-shamed as well as skinny-shamed by former partners and how they were better off without them.
I received this corker in my dating days.

I keep it on my phone as a reminder-
As a reminder that some people are just not worth the time of day. pic.twitter.com/MtbJRiGEAf

— Hayzel💙 (@Hayzeltrickey) February 7, 2021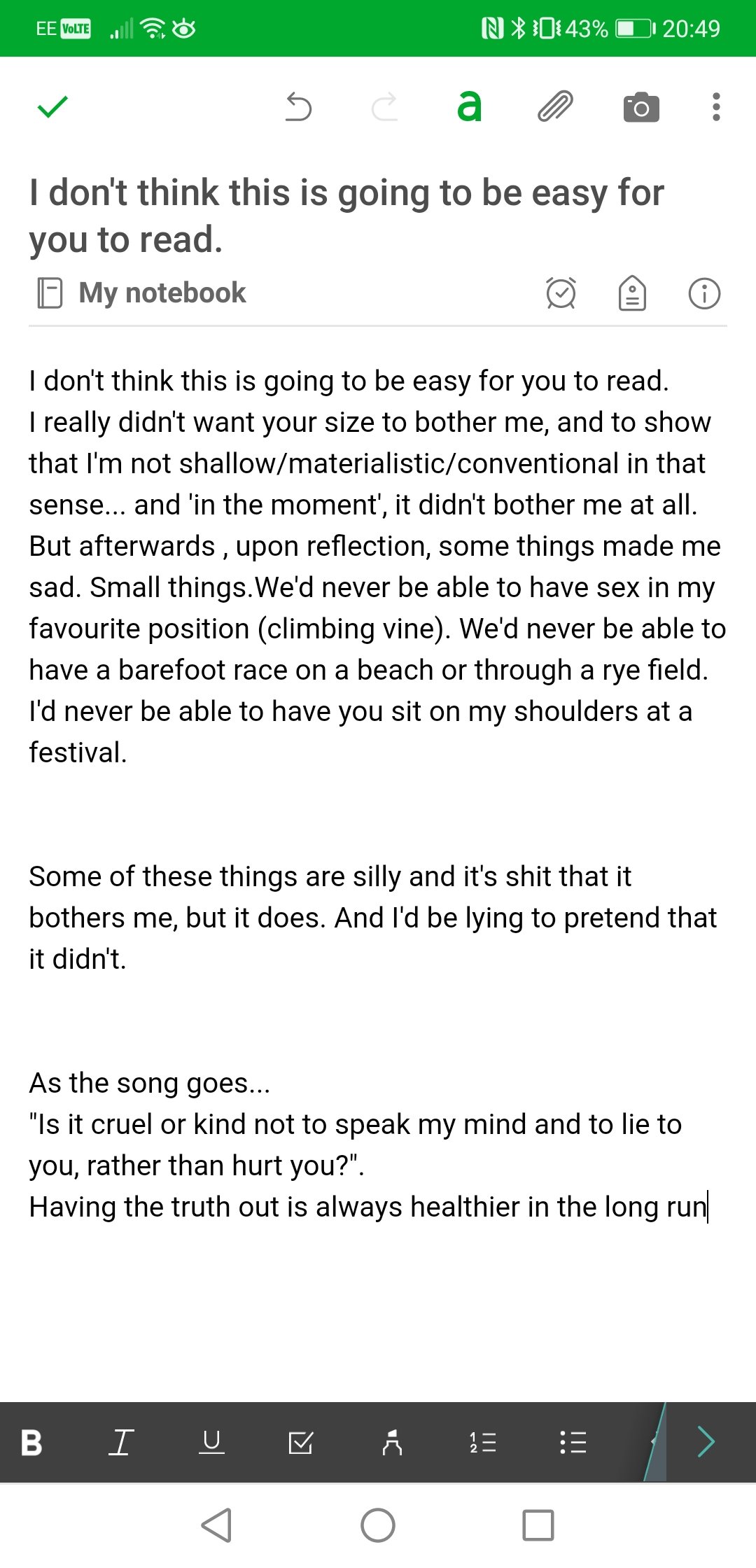 I dated some of those too. For several years, I got quite depressed and gave up — skipping meals, going on weird diets, trying to meet some ridiculous standard. Then, I met my husband who didn't care about all that. I hope the next one treats you better!

— James Kicklighter (@jameskick) February 6, 2021
I totally feel this. I've had so many guys tell me they didn't want to talk because I'm too skinny. (Skinny shaming is a totally real thing as well). I'm so sorry you had to endure this. Someone out there will love you exactly as you are, as you do yourself! 💚💚

— Soul (@SoulWeltallwolf) February 7, 2021
Omg wow. So it's not just me lol pic.twitter.com/RQEb49ZpGR

— Frost Koveal's Precious Little Life (@iheartfrosty) February 7, 2021
Omg this is taking me back to the guy I got close to online once who informed me as soon as he saw a full length pic that he wasn't interested because he was a bit thin and 'needed a girl he could easily lift up to feel like a strong guy'.

F*ck weight-shaming.

— Jenna Rose G. (@Azure129) February 7, 2021
Now this gives me flashbacks. I used to date a guy who was obsessed with being fit and "good looking". He made me feel like shit by saying that he is not sexually attracted to me. He just fell in love with my personality. I dumped him and it was the best decision of my life.

— Dula Pepa (@BlueMichu) February 7, 2021
No one is allowed to make us feel inferior without our permission. If we ever come across such a person we know to say, 'Thank you, next!'