Photographs are the archive of moments you spent with your dear ones at different points of time in your life.
They keep reminding you of the best, the most amazing, the greatest, the most amusing and sometimes the worst moments which make you laugh and bring a tear to your eyes at the same time.
So why not use them into making the most memorable gifts ever! 😀
Here are a few DIY ideas to fashion your pictures into stuff  one would never want to part with.
1. Photo Phone Case
If there is a photo you want someone to always remember, create a phone case with your memories together.
2.Photo Bookmarks with Tassels
This a quirky way of remembering childhood!
3. Photos to Coloring Pages
Children would love this!
4. Silly Picture Puzzle Blocks
Life is a puzzle and memories are the pieces. 🙂
5. Family Photo Throw Pillows
To fall back on them when in need of support. 🙂
6. Photo Coasters
Revive life every morning with a cup of tea.
7. Photo Memory Jar
A priceless collection.
8. PVC Pipe Photo Vases
So that memories remain as fresh as the flowers.
9. Photo Pendants
So that they stay close to your heart!
10. Pull-Out Photo Album
A box full of treasure. 🙂
11. Polaroid Charm Necklace
When the love for photography extends to jewellery.
12. Glowing picture Houses
When you picture your dream house…
13. Polaroid Pop-Up Cards
Polaroid love.
14. Photo Lollipops
A bit to the weird side, but still amazing!
15. Glowing Photo Spheres
The heart aches most in the night.
16. Polaroid Postcards
Personalized picture postcards.
17. Memory Candles
The fire of life burns slow.
18. Photo Pencils
Fun with pictures!
19. Fabric Photo
Wear your memories.
20. Photo Star
A sky full of stars.
21. Gift Tags
A personal touch to any gift you give.
22. Tiny Polaroid Magnets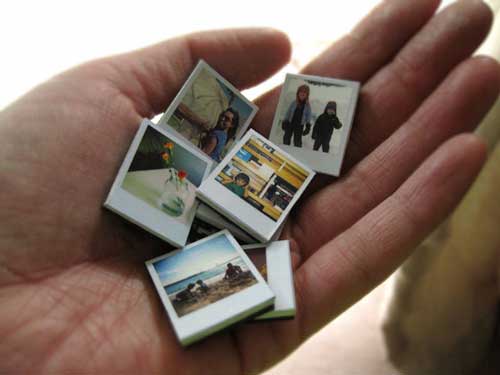 Make the fridge your canvas.
23. Felt Polaroids
This winter, keep your memories warm. 🙂
24. Photo Clock
Every time I see, I only see "we".
25. Picture Lampshade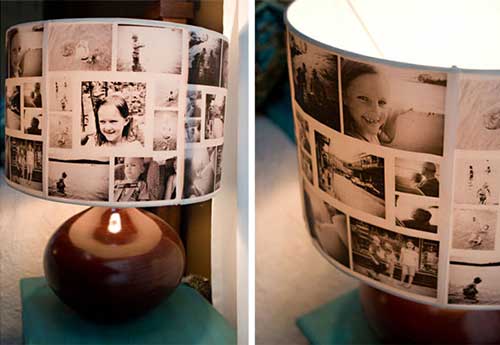 The things that make you glow.
26. Chocolate memories
When food and pictures evoke the same emotion. 😛
Did you find any of these useful?
Let us know in the comment section!