Long distance relationships are hard. People say they don't work, but there are thousands of couples who live thousands of miles away but are making it work. Ask someone who is in a long-distance relationship, that what is their favourite part about this love entwined arrangement. They'll say that it is when they see each other after a long period of time.
Now, ask them what is their second favourite moment. It is when they receive something from their partner. It buries the fact that they are away for the moment and you feel a bit closer to them. It is somewhat like a wormhole concept which bends space and time through general relativity and you are able to travel great distances in seconds. 😛
But, isn't everyone sick of those old scrapbooks and photo collage ideas? We have compiled some interesting gift ideas for your long distance partner, that will give them a little part of you! ?
1. The Countdown Candy Jar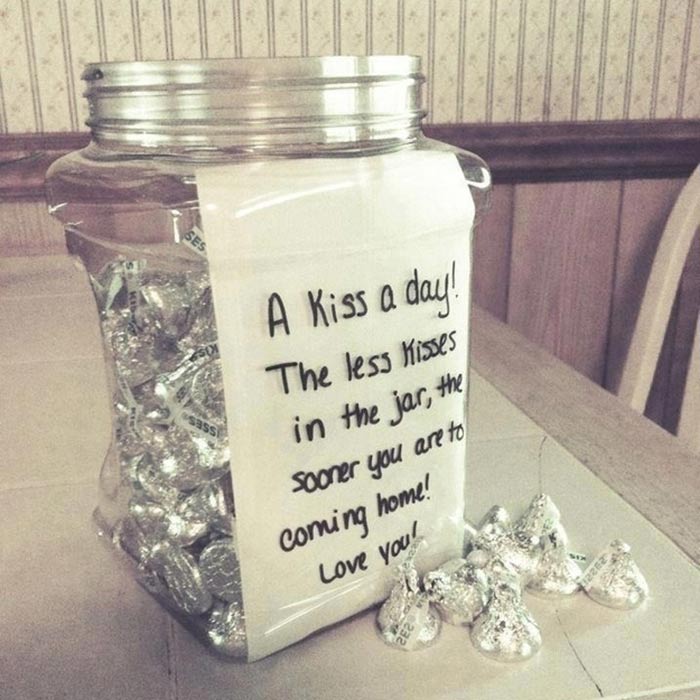 Send them a jar full of their favourite candies. But, there is going to be a slight twist. Count the number of days left for them to see you next and put the exact amount of candies in the jar, from which they'll eat one candy a day. Now, unlike most people who get sad when the candy is about to finish, they'll be delighted because those many days will be remaining to see you.
2. 'Open When' Letters
Make one for every occasion and include their little quirks in them. For example: if your partner is trying to quit smoking, make one which says 'Open when you feel you can't hold it anymore without a smoke'. Or, if they collect coins, then make one which says, 'Open when you finally complete your dream collection'. They always help and they will perfectly comfort your love.
3. 'Remember When?' Jar
Take a pretty little jar and some fancy coloured papers. Then write your fondest memories on those little paper pieces and lock them in the jar. Seal it and decorate it with a ribbon or glitter. The gift will make your partner drift back in nostalgia and make them fall in love all over again.
4. The Ultimate Care Package
Take a cardboard box or a fancy little suitcase and fill it with their favourite things. You can put candy, t-shirts, cute letters and notebooks, photographs, small toys, cupcakes etc. To make it even more awesome, you can hide your big expensive gift (watch, sunglasses, ring etc.) under the small gift.
5. Your Love Life In A Jar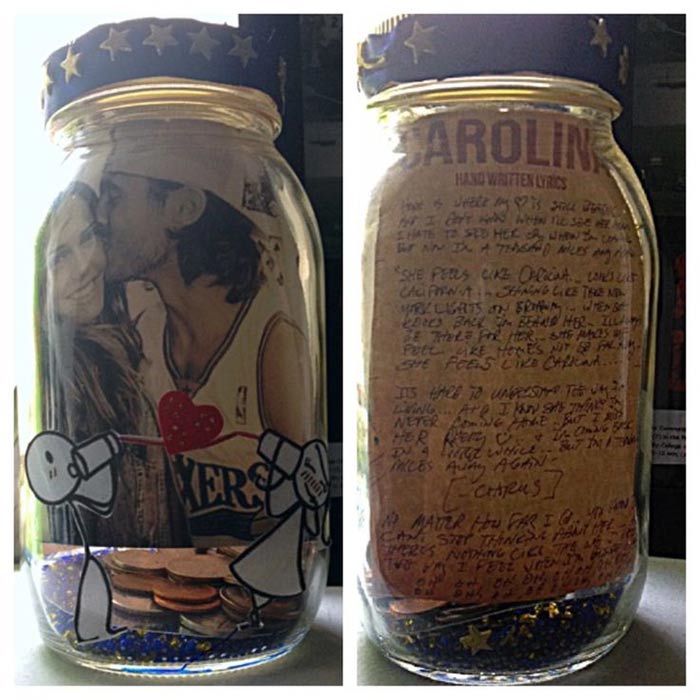 It will be like a snow globe, but showing your entire love life. You can stick your picture inside and then decorate the insides of the jar with the milestones in your relationship. For example: if you guys took a trip to Paris, then put a small Eiffel Tower in there. And, if you guys got a tattoo together, then put that design in there. Fill it up with things that define you both, and you'll have a wonderful gift ready.
6. My Thousand Kisses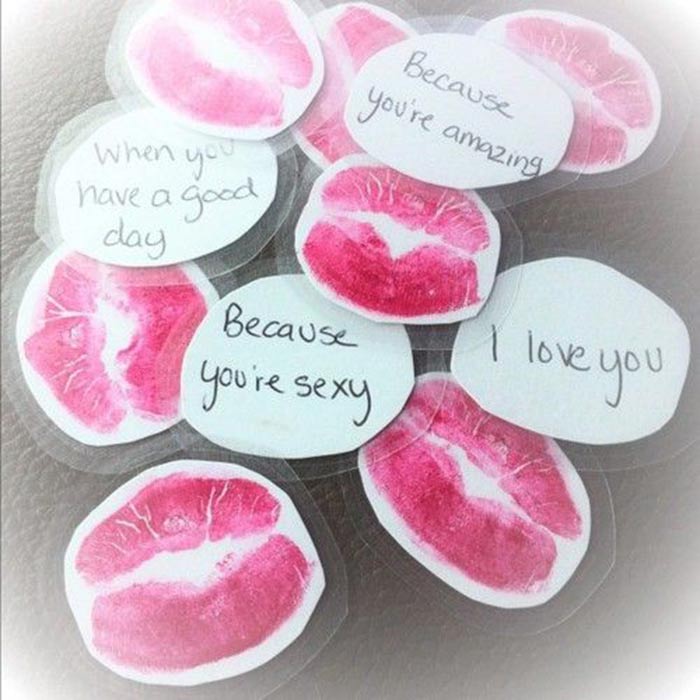 This one is specifically meant to be given by girlfriends. Put on your darkest lipstick and make prints of your lips on paper. Then, write why you are kissing them behind every kiss and laminate each one separately. After that, you can put them in a cute basket and send it to them.
7. 'Miles Don't Matter' Pillow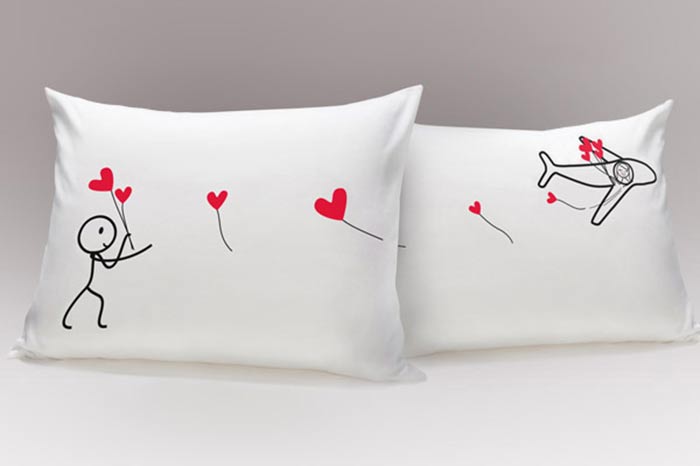 You paint on it, or put your hand print, or put a cute little drawing and split one pillow case each. So, every time they go to bed, it will remind them of you.
8. Homemade Candles & Potpourri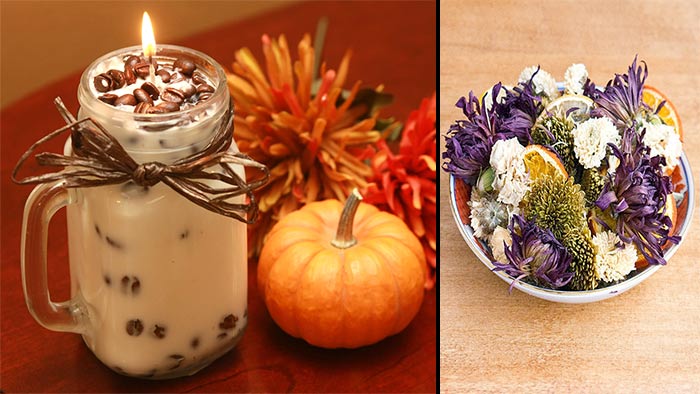 Anything that smells nice is always a nice gift. Plus, it will have a personal touch because you will make them yourself. You can learn how to make candles here, and easy steps for making potpourri are here.
9. A Carved Postcard
People hardly send postcards these days. You can send a customised one, which will stay with them forever. A wooden postcard can be hung on walls or set on a nightstand. It's a brilliant gift.
10. Homemade Soaps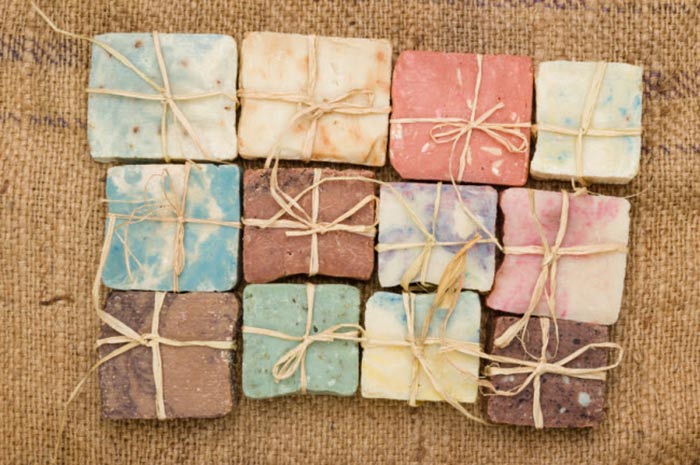 They are creative and pretty to look at, plus they will be very useful. You can make them yourself so that it reminds them of you when they are ahem… showering! Learn how to make handmade soaps here.
11. Customized Deck Of Cards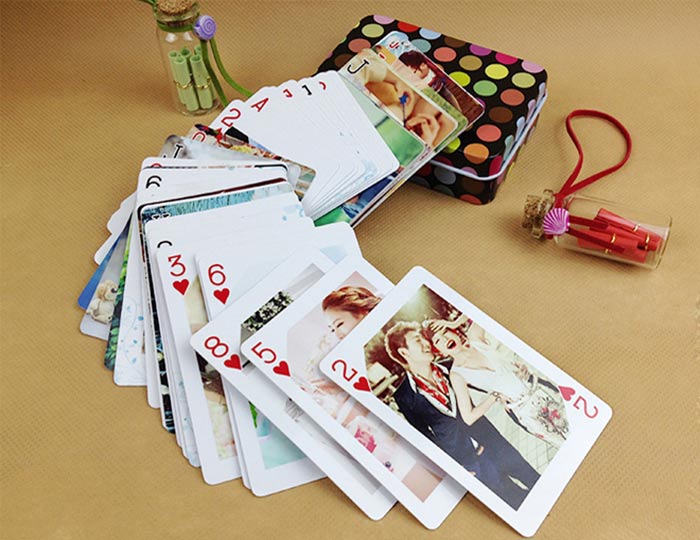 Pick 52 of your best images and put each on every card in the deck. You can put your picture on a queen card, his picture on a king card, and other pictures accordingly.
12. Love Crossword
Make a special crossword puzzle with all the spicy questions which they will have to answer. It will be a fun trivia gift and your partner will love it. Plus, you will get to know how much the other person knows you. 😉
Hope these were helpful!
I know how hard it can be to stay apart and still keep the love alive. But we know what we are doing it for, and we know that the other person is worth all the wait. ?