Out of all the beautiful movies that 2016 offered, Dear Zindagi is my favourite. Not just because Shah Rukh Khan and Alia Bhatt played their parts, as central characters, beyond expectations but also because it gave every viewer a personal chord to connect with.
The film even got rave reviews from critics who adulated the fact that the slice-of-life-movie threw the much-needed light on mental health. And God knows how relevant it is, especially in today's time and date. I'm sure every viewer had his/her own takeaway but I, for one, learnt with Kaira. But if you ask me what is the one thing that has stayed with me after all this time- it's the life-lessons it imparted.
And what time is not a good time for some soul-searching? So, here goes…10 heart-touching quotes that Dear Zindagi that gave us a new outlook towards life! 
1. WORD
2. You hear that? NEVER.
3. Duly noted.
4. The ordeal of every broken heart…
5. You're the creator of your destiny!
6. SIGH.
7. Something to ponder about…
8. Now, you know.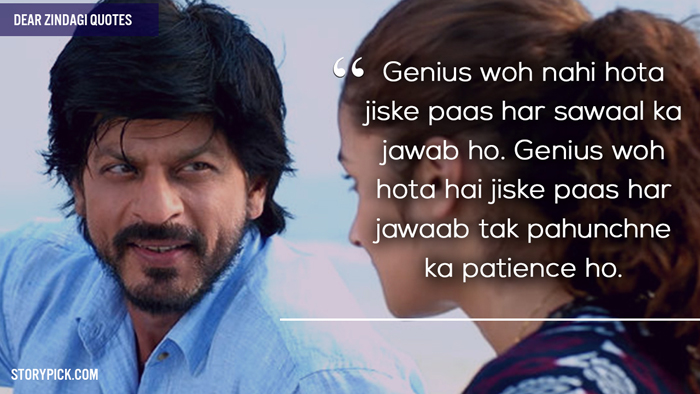 9. 'Haan, main pagal hoon.' 😉
10. Only if…
Like I said, the movie has not only made us love the characters we saw on the screen but it has made us embrace our imperfections. And that my friend, is all we ever need.
*goes back to singing Love you, zindagi*
Image Courtesy: Red Chillies Entertainment