Have you heard about gender-reveal parties? It's an event or celebration where a soon-to-be-born baby's sex is revealed to the expecting parents and their family and friends. However, even though such parties can't possibly happen in India, the internet is full of gender reveal videos from around the globe that make your heart melt.
Recently, a Dubai-based couple took gender reveal to a whole new height by celebrating at the world's tallest building. Anas and Asala Marwah, who are digital influencers, decided to reveal their second child's gender in an extravagant ceremony at the Burj Khalifa, reports Times Now.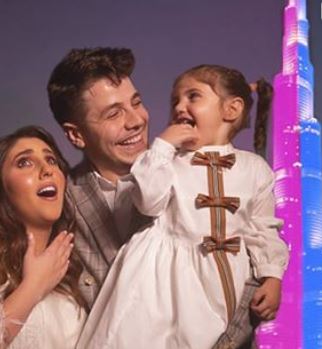 The couple along with their daughter and family looked in excitement as the 163-storey building lit up in blue and pink illustrations for their gender reveal. And then after an exhilarating countdown of 10, the tower turned completely blue. "It's a boy!" was projected on the 828-meter tower followed by a congratulatory message for the family.
Calling it the "biggest baby reveal ever", the couple said that they have been working on this unique project for over a month and a half. According to reports, in the video, Asala told viewers, "We wanted to do something unique and memorable so that we can all look at it in the future and remember what we built as a family." Her husband added, "I ask Asala every day, 'Who are we to be (reflected) on the Burj Khalifa? Why us and not anyone else?"
The couple has uploaded the entire video on their YouTube channel, the 'Anasala Family', showing all their preparations and the ultimate final reveal. The video of the epic moment has taken people globally by surprise. 
According to the Emirati newspaper, Al Bayan, the price of an advertisement on the entire facade of Burj Khalifa is 350 thousand dirhams (Approx. Rs.70 lakh) for 3 minutes.
Now, that's what we call taking gender reveal to a whole new height, quite literally! Congratulations to the happy couple!