Somehow news reporting has become funnier in recent times than it was before. And this is all thanks to people/ animals videobombing reporters. Last year we saw an aww-dorable video of a professor Live TV being interrupted by his two kids and once a journalist was even kicked by a horse! Ouch! That must have hurt.
And we now bring you an equally cute cum hilarious incident.
A BBC reporter, Alex Dunlop was trying to broadcast a piece on England's Banham Zoo's. He was talking about the zoo's animal count when he was attacked by lemurs.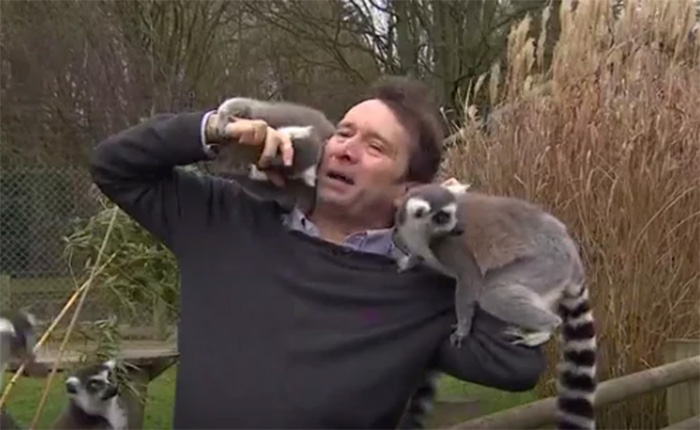 I mean isn't that just the best job in the world? Getting animal cuddles during work!
The journalist while reporting groaned "this could take some time". The creatures meanwhile were enjoying their time dance around him and tug on his sweater!
OMG! Look at all the cuties. They probably think they have a new playmate!
One lemur even bit the journalist. And even went in for a second bite of his hand. According to The Sun Alex jokingly said,
"Well, I think this is one of the more enjoyable parts of the job: counting lemurs."
Watch the video here:
You know what they say about working with animals… Lemurs 1-0 BBC Look East reporter @dunlopalex . 😆🙈🎥 pic.twitter.com/xowDC6NJn9

— BBC Look East (@BBCLookEast) January 8, 2018
Alex even hilariously tweeted about the incident saying "no lemurs were hurt in the making of this movie."
Give our BBC online team an inch and they'll take a country mile (no lemurs were hurt in the making of this movie @banhamzoo) https://t.co/Z7O17P1G5C

— Alexander Dunlop (@dunlopalex) January 8, 2018
Found the video cute? Well, internet absolutely agrees with you. The video has gone viral and people are floored by the amount of delight in it.
1. I'd watch that!
Lose the opts tonight and just put the full version of this on both programmes. And then repeat. Also cancel the One Show.

— Paul Scoins (@paulscoins) January 8, 2018
2. One user even asked if they finally managed to shoot the entire report.
Yes… just about!

— Alexander Dunlop (@dunlopalex) January 10, 2018
3. Me neither!
I've never been more jealous

— John Martin (@JMartinWRCB) January 9, 2018
4. Can I switch professions?
What I assume all fieldwork is like for lemur researchers. #biteysubjects #fieldworkprobs https://t.co/kepilApnPX cc @malcolmsramsay

— Ebeth Sawchuk (@palaeobeth) January 8, 2018
5. I want those "lively, bitey little bastards" too! *cries*
"As anyone who's encountered the Madagascan primate, the lemur, would attest, they can be right lively, bitey little bastards" https://t.co/bCuKFsoeL6

— Caitlin Collins (@CaitiCollins) January 9, 2018
Who wouldn't want this job? I'm here screaming, "Sign me up! I want to be mobbed by lemurs too!"