The coronavirus pandemic has taken a toll on marriages and social gatherings. While many weddings have been cancelled this year, some took place over video chat! While many believe that the virus is here to stay, people are coming up with modern solutions for this modern problem.
For example, a couple from Guwahati, Assam, recently got hitched and they decided on wearing gorgeous face masks matching their wedding attire. According to The Indian Express, the couple wore matching silk handloom face masks.
While the groom's mask was more simplistic, the bride's face mask was astonishing! It was made of Assam's 'Paat Silk' with the traditional 'Kingkhap' motif.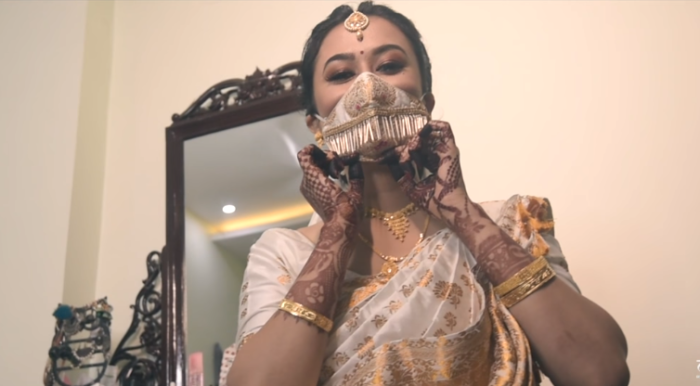 The designer of the mask, Nandini Borkakati, said:
"The idea was to leave the surgical approved protective masks for the medical staff and encourage the population to wear more fabric-made masks with unique and creative designs. We interpreted that idea and created this glamorous piece with the unique use of tassels."
Wedding videos of the couple were posted on Facebook and they soon got viral because of the beautiful masks. Have a look:
One of our ( DEEKAD STUDIOS) most awaited weddings of this year!! A brother from another mother,a very good friend with a kind heart and a very chilled out guy!! Bro you are amazing! And we feel very happy for a beautiful couple like you, God bless you both abundantly!! Nirmala you are fun and gorgeous!!You both are made for each other.. Well keeping in mind safety first, in this pandemic they chose to wear masks while getting married too and hence this pair of beautiful, gorgeous silk masks by PAGE 3 (Nandini Borkakati )making their day a little more special seeing these extreme conditions.. Hope everybody will take this positively and bless the couple.. #Pratyush_Weds_Nirmala…Cinematography – Deekad Studios ❤Make up & hair- Himadri Gogoi

Posted by Kakali Das on Saturday, May 23, 2020
Wearing mask is trending, all the way from the wardrobe @page3 by Nandini Borkakati baa #staysafe#himadrigogoimakeover#

Posted by Himadri Gogoi on Saturday, May 23, 2020
People on the internet love how beautiful the mask looks! Here's what they said:
I'm sure people wouldn't mind this gorgeous trend!