2016 was the year when it came to light that all has not been well in the Singh household. Yuvraj Singh's brother, Zorawar and his wife, Akanksha Sharma have had their differences and they came out in the open in the public eye when she filed for a divorce.
Akanksha and Zorawar married on February 27, 2014, and filed for a divorce on grounds of 'non-consummation of marriage'.
It's been a year since, Akanksha Sharma, the ex-Bigg Boss 10 contestant had made shocking revelations about how she was treated in the Singh household.
And, now news is rife that she has slapped a domestic violence case on her husband, Zorawar and her mother-in-law, Shabnam Singh. She has also slapped her brother-in-law, Yuvraj Singh with a notice. The complaint has been filed in Gurgaon.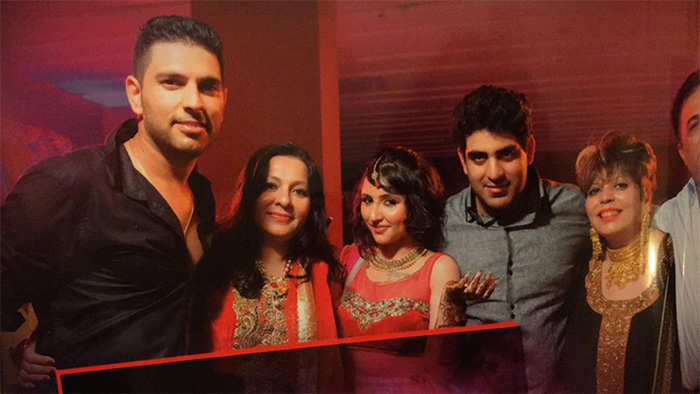 According to a SpotboyE report, while Akanksha is tight-lipped it's her lawyer who's doing the talking. Swati Singh Malik, her lawyer, confirmed that the Singhs were slapped with the case and said,
"Yes, Akanksha has filed a case of domestic violence against Yuvraj, her husband Zorawar and their mother Shabnam. Look, domestic violence does not mean just physical violence. It also means mental and financial torture, which can be attributed to Yuvraj. Yuvraj was a mute spectator to the suffering caused to my client by Zorawar and his mother."
Swati further said,
"When Yuvraj and Zorawar's mother was pressurising Akanksha to have a baby, Yuvraj too had joined in to do the same. He too told Akanksha 'to have a baby'. He was hand-in-glove with his mother. Yuvraj would even tell her that she should obey his mother because she was the most superior person in the house."
Adding how dominant Shabnam is, Swati further said,
"Really, that lady is extremely dominant. Zorawar and Akanksha were at her mercy for every decision."
She even alleged that Yuvraj told his bhabhi that if she didn't listen to his mum, who's the head of the family, then Akanksha had no place in that house.
Speaking of violence, Malik said that her client was not beaten up mercilessly by Zorawar but was slapped.
"Well, not black and blue but she was definitely slapped and pushed. There was domestic violence on emotional and financial grounds too. Let me elaborate. Akanksha was asked to get up at 5 am and make tea, when there were 3 cooks in that house."
Meanwhile, on the other hand, Malik also said that Shabnam had filed a suit against Akanksha for recovery which could be of some jewellery, if not money.
There have many citings on part of Akanksha in the Bigg Boss house which created ripples and she has spoken at length about her broken marriage in many of her interviews.
It was last year on Diwali that Akanksha was evicted from the Bigg Boss house. This Diwali she has slapped the Singhs with a domestic violence case.