I am the ultimate 90's kid plus a Disney fanatic. Therefore, terrific and praise-worthy movies may come and go but my all-time favourite has been and will always be 'The Lion King'. So you can understand my level of excitement when 'The Lion King's' trailer hit the internet last year!
I mean, forget SRK and Kajol. The romance between Simba and Nala while Can You Feel The Love Tonight plays in the background is the epitome of on-screen love. And the Amitabh-SRK father-son dynamic comes nowhere near Mufasa and Simba!
And now with the photorealistic Lion King remake hitting theatres today with amazing visual effects, I can't wait to watch it the 8927590th time!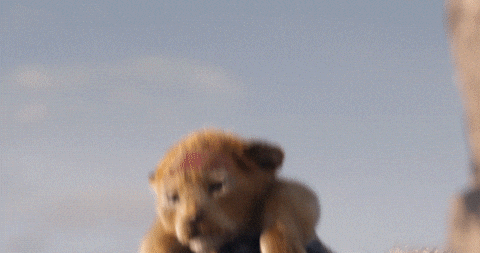 So if you're also planning to watch 'The Lion King' this weekend, here are some tweets you should read first!
1.
https://twitter.com/nyaaathreatt/status/1152062613188202496
2.
https://twitter.com/KoryLaFlora/status/1152039578703765504
3.
I cannot rave enough about the animation. It is amazing, I couldn't tell what's real and what's fake. From fur to grub, it was realistic. And the lighting!! Impeccable.

The music was moving and powerful.

Can't miss movie of the summer.

The Lion King is timeless. pic.twitter.com/F4xFh12ZOS

— ur avg Gen Z movie critic (@cinemara_) July 19, 2019
4.
Mufasa: SCAR HELP ME

Scar:

— Mid the Science Kid (@JaxIGuess) July 19, 2019
5.
Lion King was so good! The music moved me just as much as the timeless narrative did! Go stream #TheGiftAlbum! #TheLionKing

— ɴɪᴄᴏʟᴇ (@CVSTILLO_) July 19, 2019
6.
#TheLionKing Movie review:-
You know everything about the story ..so didn't review of the story

It's epic to watch in 3d ..
Cinematography just wow ..@iamsrk voice over MUFASA ..he gave his Shah-touch to the Jungle King..

Others also lives up to the expectations..

3.7*/5*

— Roshan Sahu (@jii_roshan) July 19, 2019
7.
https://twitter.com/Schaeff_4/status/1152013204953767936
8.
I saw last night. I did cry my eyeballs off!!! 😭💔😭😭💔😭😭 LOVE THIS

— Spuffy Latino 💗 (@SpuffyLatino) July 18, 2019
9.
Saw it today in Australia 🇦🇺 SO MANY FEELS. A total masterpiece of cinema. Kudos #JonFavreau for awakening my inner child and making me ugly cry with nostalgia. pic.twitter.com/8N7dsWJJoR

— just me (@AussieGrl90) July 18, 2019
10.
This movie is such a major flex. Please remake this again in VR in 25 years so we can attend the presentation of Simba in person.

— realpappiness (@realpappiness) July 19, 2019
11.
This new version was NOT needed, but I guess I'm okay with it being "remade." It was okay, but the original will always be solid gold. #TheLionKing

— Lex (@alexngonzalez) July 19, 2019
12.
All those "critics" that SLAMMED #TheLionKing are WRONG! The movie stayed true to the original, everyone in the theater was laughing and we all embarrassingly clapped at the end 😂 go watch it!!! ❤️🦁

— 🐝Daniel Camarillo (@indifferentuser) July 19, 2019
13.
I loved everything about #TheLionKing 😭
The music, the lighting, the scenes were all too real. Mufasa's death is a hundred times more painful in live action 😭😭, Scar was so dark, Timon and Pumba pretty much brought the life to the movie. Everything's so beautiful. 😭 Timeless! pic.twitter.com/cyCElsJlns

— zee base⁷ (@zygmaund) July 19, 2019
14.
https://twitter.com/RukhDesai/status/1152108655484915712
15.
MUFASA AND SIMBA RULE ALL OVER THE MOVIE.
Best Dub ever. Shah Rukh Khan's voice clearer than ever. Feels so good, in recent movies I felt his voice depth made some dialogues a little difficult to understand. But #TheLionKing gets the perfect blend of SHAH RUKH KHAN. Aryan 🙌🏻 wow

— Neel Joshi (@neeljoshiii) July 19, 2019
16.
Me watching the lion king at 8 years old back in '94 and also me watching the lion king at 32 in 2019 about an hour ago when mufasa died. #NotMuchHasChanged #TheLionKing pic.twitter.com/PHFEkuOgGh

— Koda💜🐍💛 (@koduhhhh) July 19, 2019
17.
Can't believe I had to watch Mufasa get murdered again thought I'd be easier the second time around it's not I'll never forgive Scar!! #Mufasa #LionKing #TheLionKing pic.twitter.com/QetWXoWbHv

— Bo Fisher (@bigboflexxx) July 19, 2019
18.
Hi, I just watched #TheLionKing and I cried, a lot.

I'm a 22 year old adult who'll never be over Mufasa's death.

— Nessa 🌙 (@vanekaiiri) July 19, 2019
Not sure if I am prepared for the emotional rollercoaster that is Mufasa's death scene!