Salma Hayek has achieved tremendous success in Hollywood. Often rated as one of the most beautiful women on Earth, Hayek is also an extremely talented actor. She has had the privilege to star in some of the most popular movies of all time.
Here is a look at some of her most popular films and the iconic roles she played in them.
1. Desperado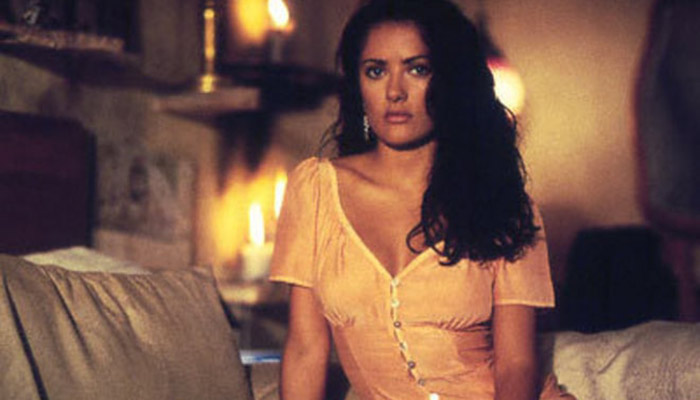 The film made Salma Hayek and Antonio Banderas overnight stars. Anyone who has heard about Salma Hayek must have heard of this film. Filled with music, action and drama the film is often rated as one of the best films of all time.
Her role of Carolina, a simple girl who falls for a dangerous yet mysterious guitar player won all our hearts. The film announced her arrival in a grand style. She showed the world the world that she was much more than a pretty face and if needed she could kick some serious ass.
2. Frida
The film was based on the life of the famous artist Frida Kahlo. Hayek brought the character to life in such a way that it now difficult to imagine anybody else apart from her for that role. Her intense portrayal of Frida takes the film to a whole new level.
Hayek beautifully paints the pain and struggles that haunted Kahlo throughout her life. The film is often considered as one of her best performance till date.
3. Puss in Boots
Although it was an animated film, Hayek's mesmerizing voice added magic to it.
This comedy adventure film showed us that Hayek can win our hearts even if she is not visible on-screen. So next time you find Kitty Softpaws sexy, remember it is because of Hayek's voice.
4. In the time of butterflies
This film received rave reviews from critics. The film was a historical drama, where Hayek played the role of a Dominican revolutionary activist. It captured the sufferings of the common people under the dictatorship of Rafael Trujillo.
5. Once Upon A Time In Mexico
It is often considered as one of the best gangster dramas ever made. The film once again showed that Hayek and action go hand in hand. It was a sequel to Hayek's famous film Desperado and was the third and final film in Rodriguez's Mexican Trilogy.
The film revolved around how Antonio Banderas avenges the murder of his wife, played by Hayek.
6. From Dusk Till Dawn
Nobody apart from Salma Hayek could have played the role of a stripper with such class. Her portrayal as a stripper changed the way people looked at them. She played the mysterious character of a Vampire Queen, who is the main attraction of the "Titty Twister" strip club.
Although the role was relatively small, yet the way she portrayed it, made it an iconic character.
7. Grown Ups
This film stars Salma Hayek and Adam Sandler. This comedy film proved that there is no genre where she doesn't fit in. Thanks to this film we had the privilege to see her excellent comic timing.
It was also a refreshing change from the kind of serious and action films we are used to seeing her in.
8. Everly
This action thriller had Salma Hayek in the lead role. Her jaw-dropping stunts and action sequences in this film could give any action hero a run for his money. The film proved once again that Hayek is in no way inferior to any of her male stars.
9. Dogma
Another film where Hayek plays the role of a stripper. This star-studded comedy film deals with the life of two fallen angels. Although Hayek did not play the lead yet her famous pole dance was one of the main highlights of the film.
10. After the Sunset
A film that has Pierce Brosman and Salma Hayek is expected to be action packed. Their sizzling chemistry and intimacy made the temperatures inside the theaters go up.
Salma Hayek played the role of Lola Cirillo, assistant and partner of a famous thief, played by Brosman.
11. Bandidas
Well, the film had Salma Hayek and Penelope Cruz, that itself is a good enough reason to watch it. The revolves around how both of them team up to take down an enforcer, who plans to take hold of their lands.
The film presents her in a totally badass avatar.
12. Fools Rush In
In this film, she plays the role of a free-spirited Mexican-American photographer who falls for an architect from New York. This Mathew Perry and Salma Hayek starter is roller coaster ride filled with fun, emotions, and drama. The film tells you how lust can be harmful.
These films made Salma Hayek, one of the most loved stars of all times.