From hunting down a missing goat via CCTV footage to working towards making the village open defecation free, 'Panchayat' has been a funny, exciting, and rather eye-opening series that gives us a glimpse of what it's like to live in rural India even today. Don't be fooled by the metropolitan cities. Much of our country still lives in a time where 'Pradhan-pati' is more powerful than the 'Pradhan'. If you know, you know.
Now, what is REALLY interesting is that people online have finally found out who the director of the series is. Even though his name popped up every now and then, many of us really couldn't connect the dots.
Remember this guy?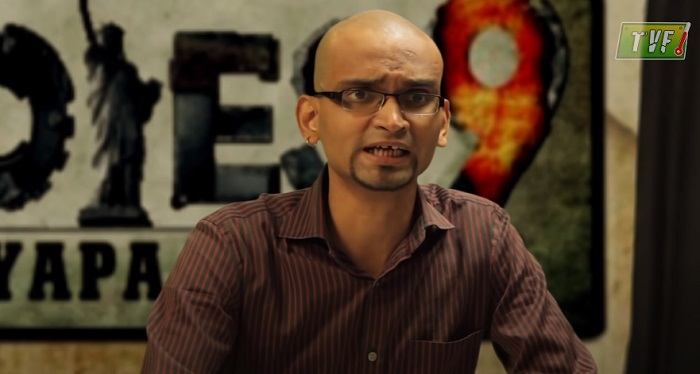 This person played the roles of Raghu Ram and Rajiv in the infamous 'Roadies' parody video by TVF called 'Rowdies' that was released a decade back.
This person is Deepak Kumar Mishra and turns out, he has many feathers on his cap.
Remember this guy? He's Deepak Kumar Mishra the director of Panchayat. #panchayat2 pic.twitter.com/YAr2tQa19p

— La Cinéphile (@TheCineprism) May 22, 2022
Yes thats our guy @StephenPoppins ❤️ pic.twitter.com/i3DtFQ9YtX

— La Cinéphile (@TheCineprism) May 22, 2022
He also worked in 'Permanent Roommates' and appeared in season 1 of 'Panchayat' and 'Kota Factory'.
Permanent roommates m b h orr S1 m tubelight lgane wale ka role b kiya h

— Priyanka (@Bunnysfan_pri) May 22, 2022
He also played the role of electrician in season 1 pic.twitter.com/NEsvCMz0j6

— Shub (@Sh_uub) May 22, 2022
It's safe to say that people online were left shook!
— Shashank singh (@chickensha2nk) May 22, 2022
Also directed second season of permanent roommates pic.twitter.com/hsuYRfMfKF

— Nikhil (@Nick_2310_) May 22, 2022
Also acted in Kota Factory S1E1 opening scene pic.twitter.com/fZ0iiojmpF

— Gareeb Joker (@badoombaa) May 22, 2022
Banaras se hai .. ekdam stud aadmi

— CAPM (@GaussianCopula) May 22, 2022
Tujhe pta nahi hai. Par tu hai.. Legend😂🤣

— Rajat (@Justly_unjust) May 23, 2022
What an incredibly talented guy!