Female sportspersons have always excelled in their game which has never failed to inspire all of us. For instance, last year, the Indian Sports Ministry only recommended women for the Padma Shri awards in a landmark move. But unfortunately, they still have to face discrimination and sexism of various degrees by being subjected to social prejudices time and again. Thankfully, these strong women have always stood their ground, like Indian cricket skipper Mithali Raj who hit a journalist's sexist question right out of the stadium! Another instance from across the border shows that powerful women on the field are here to stay.
As per a report in News18, 33-year old Marina Iqbal is Pakistan's first female commentator and ex-cricketer. She was recently questioned by a sports reporter named Qadir Khwaja for allegedly 'wearing heels' on the cricket stadium's pitch while reporting.
He took to Twitter to share two photographs from the cricket ground and captioned it in Urdu which translates to, "Is it legal to roam around on the pitch wearing heels. Need opinions." Find his tweet below:
کیا پچ پر ہیل والی جوتی پہن کر ٹہلنا قانونی ہے؟؟؟
رائے چاہیے@sohailimrangeo @anussaeed1 @Shoaib_Jatt @hashmi_shahid @MarinaMI_24 @NT20Cup @TheRealPCB #NationalT20Cup #NT20CUP pic.twitter.com/2dF7Jug5SK

— Qadir Khawaja (@iamqadirkhawaja) October 5, 2020
Marina quickly turned the tables and corrected him by sharing another picture from a clearer angle. The picture she tweeted rightly showed her wearing flats on the pitch. This is in contrast to the heels which she wore just for the pre-match discussion. Check her tweet out below:
Half knowledge can be dangerous Qadir. It's flats on pitch and heels in pre match. I am a former Pakistan player, I know the protocols. pic.twitter.com/8DcrG8UWgT

— Marina Iqbal (@MarinaMI_24) October 5, 2020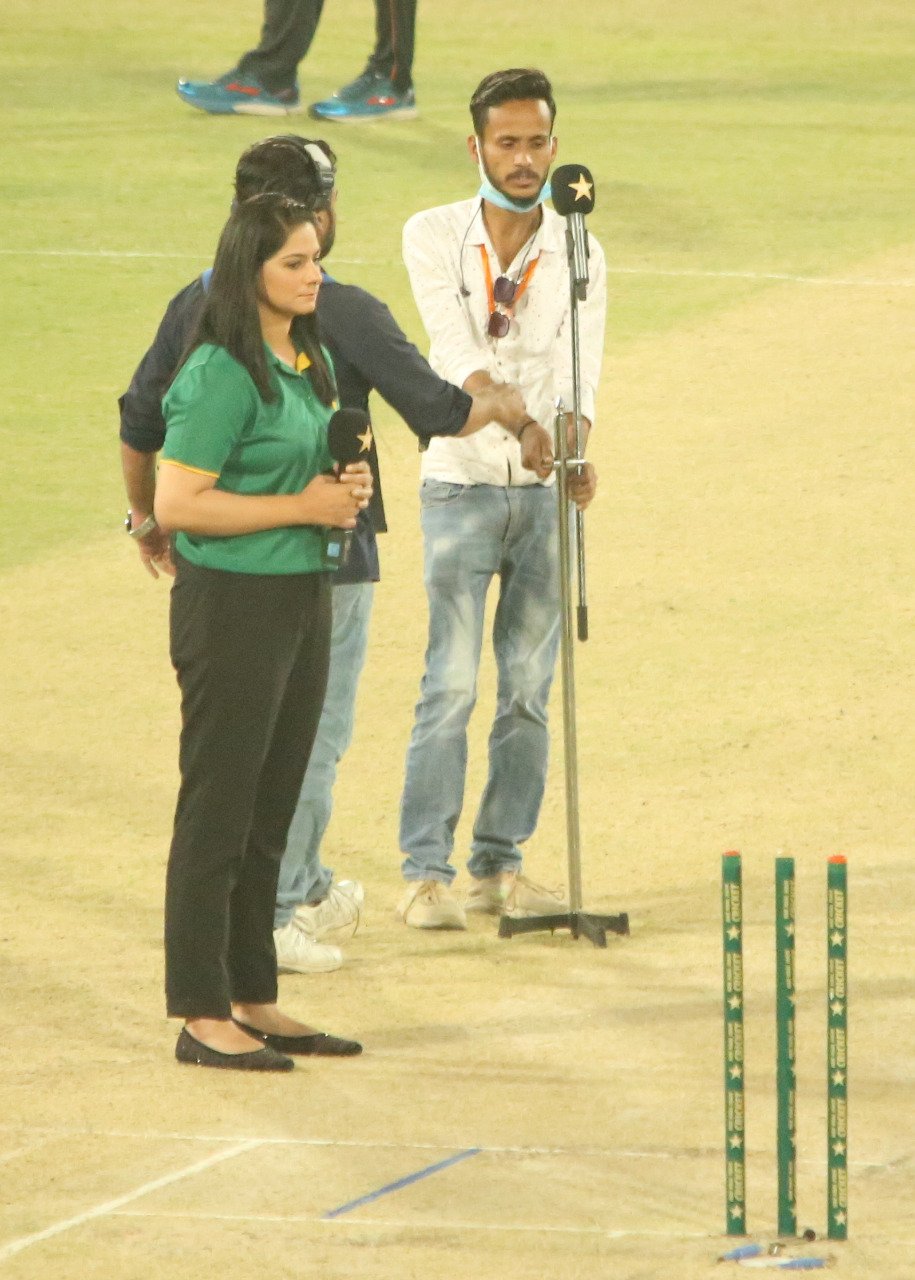 The sports reporter responded as well:
👍Thanks for your explanation…

— Qadir Khawaja (@iamqadirkhawaja) October 5, 2020
His other tweet roughly translates to, "Only an opinion was shared, but some people have taken it to heart …. thank you Marina you have clarified the matter .. by the way, your flats were not visible in the picture which caused misunderstanding."
صرف رائے لی گئی تھی لیکن کچھ لوگ اس بات کو دل پر لے گئے ہیں…. شکریہ مرینہ آپ نے بات کو کلئیر کردیا.. ویسے تصویر میں آپ کے فلیٹ شوز نظر نہیں آرہے تھے جسکی وجہ سے غلط فہمی پھیلی https://t.co/yyyJQxWteR

— Qadir Khawaja (@iamqadirkhawaja) October 5, 2020
Tweeple lauded Marina for her savage reply:-
Responding to journalist in this way move them to think multiple times before posting anything.
👍 For Marina

— Jack (@anas_ibrahim6) October 5, 2020
Wel done @MarinaMI_24 you have shown that how professional you are.👏👏 https://t.co/g8K5EVwQDK

— Danish Alvi (@DanishAlvi3) October 5, 2020
This is priceless!
It's awesome when men try to mockingly one up a #woman they don't know.. but feel they need to "show her a thing or two" anyway.. and then end up getting their asses kicked!#sexism #maleprivilege #misogyny https://t.co/9rse8YwFsw

— Behzad Taimur (@BehzadTaimur) October 5, 2020
more power to you Marina,i hope more women from your country take up journalism as a profession

— Ankush Deshpande (@wacckojacko) October 5, 2020
— Salman (@salmanatlongon) October 5, 2020
Well played Marina, we're all bowled over by your response!
For the uninitiated, Marina Iqbal is a former cricketer who officially played for the Pakistani International Cricket team for nearly 6 years. She made her debut in the year 2009 in a match against Ireland in Dublin. Since then, she'd been a part of 34 ODIs and 42 T20s.