It was a moment of pride to see Indian veteran actor Om Puri featured in the 89th Academy Awards' 'In Memoriam' montage that honours the talents, posthumously. The ace actor passed away earlier this year due to cardiac arrest, which came as a shock to his every one.
Om Puri was featured in the video montage along with legends Carrie Fisher, Prince, Gene Wilder, Michael Cimino, Patty Duke, Garry Marshall, Anton Yelchin, Mary Tyler Moore, Curtis Hanson, John Hurt, among others.
The Oscars posthumously honours talented actors from across the globe, and Mr Puri was one of them. He was quite a name before young guns like Priyanka Chopra and Deepika Padukone stepped into the Hollywood league. In addition to his body of work in Bollywood, he was known for his roles in Hollywood films like 'East Is East', 'City Of Joy', 'The Hundred Foot Journey' and Richard Attenborough's 'Gandhi' which bagged eight Oscars in 1983.
Jennifer Aniston, who got emotional, introduced the Memoriam segment and Sara Bareilles performed the Joni Mitchell song "Both sides now", while they legends were being honoured on screen.
See @SaraBareilles perform the In Memoriam segment on the #Oscars. pic.twitter.com/ql463kTAak

— Alan Henry (@AlanHenry) February 27, 2017
Feeling emotional, Mr Puri's wife Nandita and son Ishaan told Pinkvllla,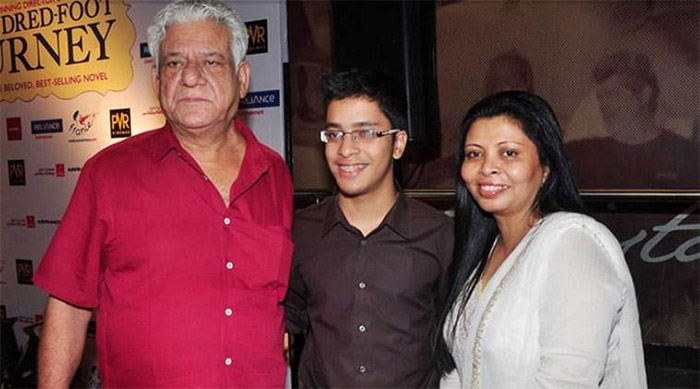 "The only Indian actor to have worked consistently in Hollywood and British cinema for the last 25 years, without a fuss and letting his work speak for itself, today the Academy of Motion Pictures acknowledged his contribution at its 89th Awards. The first and only Indian actor to be acknowledged thus. Thank you, Academy. Thank you, everyone. We miss you, Om. We miss you lots."
Even Twitterati was touched by the gesture and took to the social media to share their reactions,
1. Anupama Chopra was feeling wonderful upon seeing Om ji  being honoured.
So wonderful to see Om Puri up there with all the other great talents we lost. #Oscars

— Anupama Chopra (@anupamachopra) February 27, 2017
2. Nawazuddin Siddiqui was miffed at Bollywood awards functions for not honouring Om Puri.
@TheAcademy #Oscars paid homage 2 late #OmPuri, But in #bollywood award functions nobody converse single word for his contribution… SHAME

— Nawazuddin Siddiqui (@Nawazuddin_S) February 27, 2017
3. Yami Gautam was proud.
Heartening to see Om Puri Ji paid homage along wid other stalwarts at d Oscars! He wised up us all & will continue to do so 😇#ProudIndian

— Yami Gautam (@yamigautam) February 27, 2017
4. Sonu Sood has worked him with him several films.
Thanku @TheAcademy for remembering #OmPuri sir 🙏🏽 we miss u sir. #TheAcademyAwards

— sonu sood (@SonuSood) February 27, 2017
5. Richa Chadha was touched.
So thankful and touched at the memoriam for #OmPuri Saab at #Oscars2017

— TheRichaChadha (@RichaChadha) February 27, 2017
6. Exactly us!
I felt so incredibly emotional and proud when I saw Om Puri being remembered at the #Oscars  ❤

— Narita Deo (@naritadee) February 27, 2017
7. Milap Zaveri, too, tweeted about it.
So good to see the Oscars pay tribute to the late Om Puri.

— Milap (@zmilap) February 27, 2017
8. Resul had won an Oscar for Sound Mixing and Design.
Thank you @TheAcademy for recognizing the amazing contribution of actor #Om Puri in memoriam section

— resul pookutty (@resulp) February 27, 2017
9. Everyone was happy to see Mr Puri in the montage.
I'm so happy they included Om Puri in this segment! Was worried he'd be ignored. #Oscars

— Herman Dhaliwal (@hermandhaliwal) February 27, 2017
10. Truly a moment of pride mixed with sadness of his departure.
When the #Oscars include Om Puri in their tribute 🙏🏽 pic.twitter.com/SWbnquUv20

— Jasmine (@MrsJassyBiebs) February 27, 2017
Known for his style of acting, baritone voice and exceptional emoting skills, Mr Puri is truly missed. He has given us such memorable roles which will be cherished for a really long time.