When I was pretty young, my mum once told me, "No work is small and there's no age for work." (It was long before Raees's ammi jaan could say something similar, TBH). This has stuck with me ever since and is one of the mantras of my life.
No matter what your age be, it is never too late to ask for work or start working. Living by that example is National Award winning actress, Neena Gupta. She put up an Instagram post, where she is asking for work.
"I live in Mumbai and working am a good actor looking for good parts to play." (sic)
Before anyone goes, 'That's so sad' or 'Look, she's asking for work at this age'; without an inkling of doubt, we would like to add that we are really proud of her. At 62, she isn't ashamed to ask for work and, that too, she's asking for 'good parts to play'.
Now how is that not inspiring?
But you know who is prouder than us? Neena's daughter, Masaba. Sharing her mum's post, the fashion designer shared how Neena has shaped up her ideals and handed out GOLD life advice.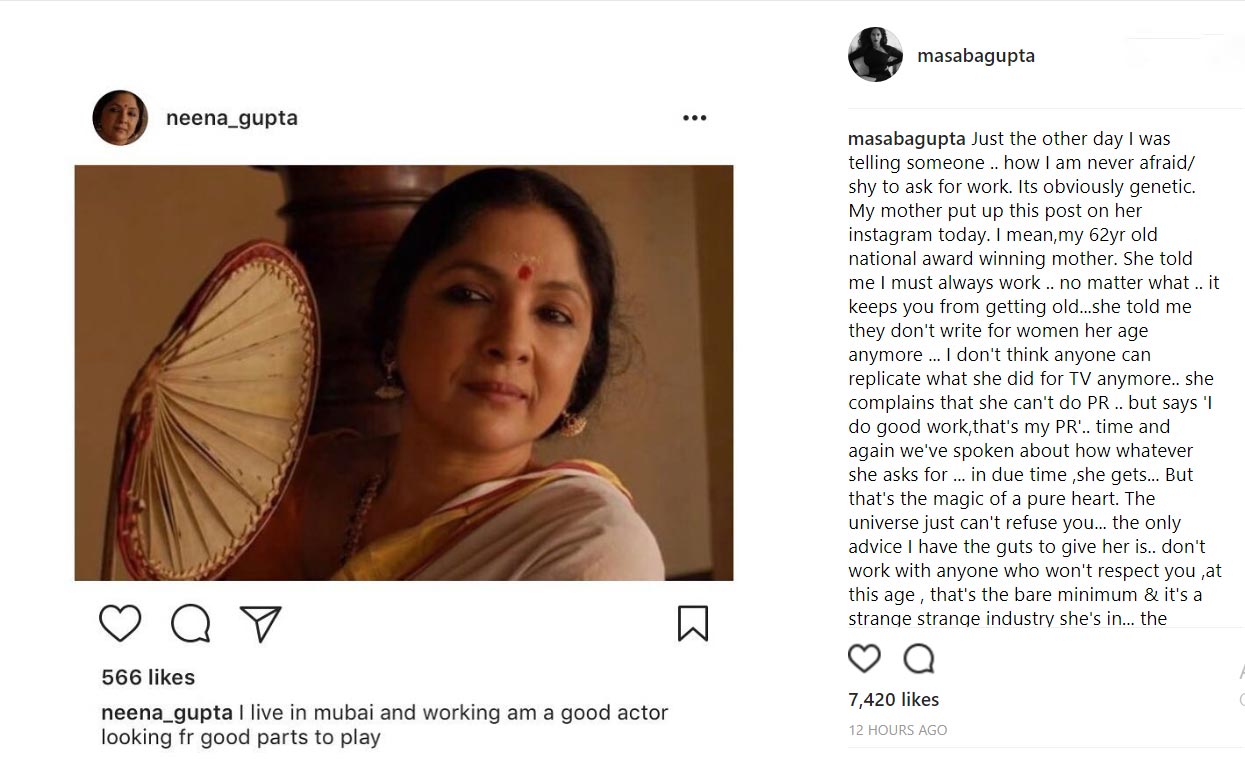 "Just the other day I was telling someone .. how I am never afraid/ shy to ask for work. It's obviously genetic. My mother put up this post on her Instagram today. I mean, my 62yr old national award winning mother. She told me I must always work … no matter what .. it keeps you from getting old…she told me they don't write for women her age anymore … I don't think anyone can replicate what she did for TV anymore.. she complains that she can't do PR .. but says 'I do good work, that's my PR'.. time and again we've spoken about how whatever she asks for … in due time, she gets… But that's the magic of a pure heart. The universe just can't refuse you… the only advice I have the guts to give her is.. don't work with anyone who won't respect you ,at this age , that's the bare minimum & it's a strange strange industry she's in… the advice she gives me in return is..'whatever you do, free ka PR mat khaana, your only someone's kid/wife/niece/sister for this long. Prove yourself. WORK. Walk the talk & fly ♥️?♥️ @neena_gupta #neenaji"
Inspired, are we? Just like Priyanka Chopra, who couldn't help but react.
In an industry like Bollywood, besides nepotism, the only thing that will make you survive is letting your craft and immense talent speak for yourself. Neena is a fine example of that. There are so many Bollywood stars who have survived the industry solely based on their talent, and, are still going strong.
Known for her beautiful roles in films like Mandi, Jaane Bhi Do Yaaron, Utsav, Gandhi, Woh Chokri, etc., Neena has time and again impressed all with her acting calibre. We just hope the post reaches the makers and she is flooded with great roles. And never in her career Neena be named the kamzor kadi. Because she is anything but that.
Kudos!