Disclaimer: Video in the article contains strong language and violence which might be inappropriate for some. Viewer discretion adviced.
People often claim that the situation and safety of women aren't as bad as we think. Then how is it that every day we come across news of women being harassed, abused, and intimidated?
Durga Gawde, an artist and activist from Mumbai, recently shared a video of her being attacked by a man in Goa in the middle of a busy road. The man is seen hitting her violently while an enraged Durga hits and shouts back at him. The video has since then taken social media by storm.
Durga took to Facebook to narrate the entire incident in which was revealed that she was on her way back from the petrol pump with her bike when she spotted the accused talking on the phone while riding a scooter. The man allegedly was almost about to crash her bike when she asked him to get off his phone while travelling on a busy road. This led the man to lose his calm and soon he started hurling abuses at her.
"I did not want to engage so I drove away. He stalked me and cornered my bike and stopped his bike in front of mine such that I had to stop. He proceeded to remove my bike keys and threw them away and then started to hit my bike and intimidate me. I was not scared, I looked straight into his eyes without fear. He then proceeded to grab my crotch and threw my phone and said, 'What will you do now?'. That is when I had had it. I couldn't let someone molest me, I gave him a tight slap and what happened after that you saw in the video", she said.
A passerby recorded the entire incident and later gave Durga the video, suggesting her to submit it to the police which she did. The accused also visited the same police station lodging a complaint about how Durga allegedly hit him and tore his clothes apart. However, even at the police station, the accused didn't stop harassing Durga.
"Even though the cops at the Saligao police station were helpful and seemed to be on my side, while I was giving my statement Brian Franco touched his chest while looking at my low cut gorgeous dress which is very flattering to my breasts and said 'Very nice Very nice!' in front of the cops and proceeded to grab his crotch and shook it while saying, 'Take my cock.' All this in front of the police and the police had to remain neutral. What he did even in the police station is sexual abuse," she said.
According to sources, the man was arrested under sections 354 (outraging modesty) and 354 d (stalking) 323 (causing hurt voluntarily), and 504 (breach of peace) of the Indian Penal Code. But after just 4 days in jail, the accused has been released on bail. Durga is now seeking justice and a prolonged punishment for the man.
The incident has sparked outrage on social media. Durga's post is now flooded with comments lauding her bravery and condemning the man's actions.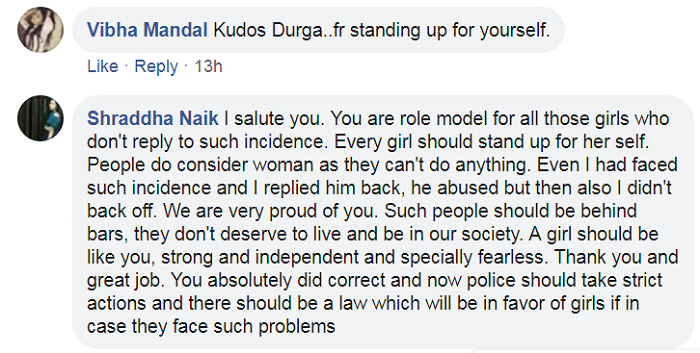 Kudos to you @durgagawde for speaking up for yourself. Brave acts like these move society forward. And cowards like these should be locked up behind the bars.#LockUpBrianFranco #BraveSouls#ItsAboveGender https://t.co/F3SrldVcjH

— Kanika Gupta (@KanikaG2k18) June 6, 2019
This is beyond disgusting!
And since the population of men like Brian Franco is so threateningly large, it is quite important to make her story loud and visible. #DurgaGawde#LockUpBrianFranco https://t.co/L6nYyZ0vSE

— Dr.Laxmi Singh (@melomaniac_21) June 6, 2019
Stand up for yourself!
SO PROUD OF Durga Gawde! Hats off to you!♥️
Brian Franco and people like him need to be in jail. https://t.co/mBOe4pi94E

— Mrigya Sharma (@mrigya_sharma) June 7, 2019
To all those who think that the roads are safer for women, think again.