Filmfare awards are a big deal amongst Bollywood celebrities. All of them deck up and try to look their absolute best for the night. This year too, female actors donned high-slit gowns and the men looked dapper wearing crisp suits. However, Deepika Padukone is in a league of her own.
DeePee arrived wearing baggy jeans, an oversized shirt, and a pair of white sneakers with her hair up in a bun. This look is her usual airport look.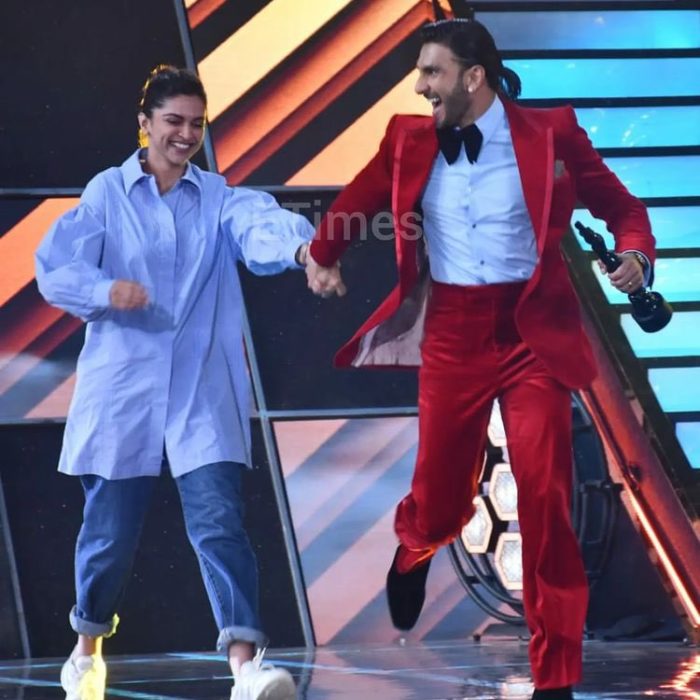 DeePee was apparently backstage waiting to surprise her husband, reported ETimes. As Ranveer Singh received the 'Best Actor' award for '83', he pulled Deepika onto the stage and kissed her on the cheek.
View this post on Instagram
However, fans were in awe of how Deepika Padukone doesn't even need to try. She'll even look gorgeous if she's wearing a potato sack! Here's what they had to say:
my unbothered queen, deepika showed up in jeans & demins,giving no fxks iconic of her🤌🏽 pic.twitter.com/zoOAvc7HhM

— C🧸 (@BinBoleBaatein) August 31, 2022
Deepika in a giant shirt & baggy jeans is still better dressed than 90% of the celebrities who attended #FilmfareAwards yesterday. This is so iconic of her.🤣 pic.twitter.com/7REE5QmwNh

— Lovely (@Lovelydutta6) August 31, 2022
The fact that Deepika was only there to support her husband in baggy jeans and oversized tshirt and still remained the most talked about…y'all see her power?

— Jenni🦄 (@Glitterycrazen) August 31, 2022
Deepika casually dressed up in jeans & denims & showing up at filmfare awards stage, so true of her👸❤️#DeepikaPadukone pic.twitter.com/OEw4P4t6tu

— The Deepika Fan Club (@TheDeepikaFC) August 31, 2022
Deepika Padukone dressed in a giant shirt and very baggy jeans was still the best dressed at filmfare.

— shikha (@elitistsadgirl) August 31, 2022
Deepika going on filmfare stage in mom jeans is just such a pop culture moment pls😭 https://t.co/7o1024f0vn

— Akash (@kashxkumar) August 31, 2022
Deepika literally flew out of her house with her baggy blue jean and shirt on and went straight to filmfare award to surprise her husband, visited animals along her way even hugged some…I swear she the most random person ever😭

— Yeab (@yeab_ema) August 30, 2022
Deepika showing up in sneakers and jeans at Filmfare is what we needed

— veds (@vedsfiles) August 30, 2022
Deepika wore a night shirt and jeans and still slayed

— 🙁 (@VanshikaDhing16) August 31, 2022
Deepika walking on the Filmfare stage in mom jeans and casual dress shirt is such icon behaviour ouff🙇‍♀️💯

— xdilbeparvaahx (@Anantxtara) August 31, 2022
Deepika padukone actually showed up at filmare in jeans and sneakers????
omg i love her.😭

— •swα• ☠ hardik pandya fan. (@swahahahaa) August 30, 2022
If this isn't queen behavior, I don't know what is.