There was a time when Bollywood did not have to rely on sexual innuendos to make people laugh. Some movies could make us literally LOL with their clean humor.
We did not have to put our hands on the kids' ears when a particular word was being said on screen. We watched them in a carefree manner, not cringing at skimpy costumes and rolling our eyes after the bad puns.
These movies were light and even left us with a message after all the laughter died down and we walked out of the cinema. Laughter with a message? Where are such movies at?
1. Chupke Chupke – where the Amitabh-Dharamendra duo worked wonders again.
Popularly known for their action-packed performance in Sholay, Amitabh Bachchan, Asrani, and Dharmendra starred in this intelligent movie that impresses you as much as it humors you.
2. Golmaal – the original one, undisputably one of the funniest Indian movies ever made
The movie officially brought the short kurta in fashion and made fun of the back-then sentiment of the "moonch" being the sign of a real man.
Unforgettable songs, dialogues, and experience in itself.
3. Padosan – the movie that made "Meri Pyaari Bindu" before the item girls did
Every one of the songs in the movie can still be a legit hit even today. The movie was ahead of its time. So much so that it still cracks us up today.
4. Chachi 420 – the desi Mrs. Doubtfire
Yes, the concept is copied from Hollywood, but not everyone was so well-acquainted with English movies back then.
Also, rumors were rife that Kamal Hassan walked through the streets of Chennai unrecognizable in his Chachi costume.
5. Andaaz Apna Apna – the cult classic that we never get bored of even after seeing it a 100times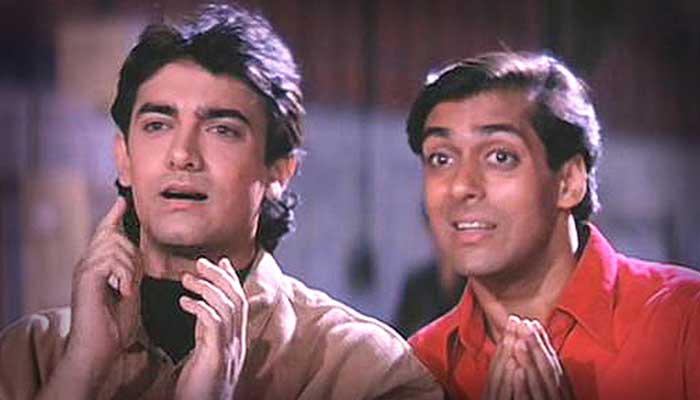 How many times have we quoted this movie's dialogues in conversations about Hindi cinema with our friends? The reason this became a cult classic is because it is so rememberable.
6. Hungama – a simple comedy that made us all laugh
While Andaaz Apna Apna was rememberable, Hungama is a simple movie that makes you laugh at all the right junctions. This is the movie people love to watch on a lazy Sunday.
7. Hera Pheri – a sleeper superhit that still makes us laugh even when we imagine any scene from the movie
The movie is clean – not as clean as Paresh Rawal's dialogues, but even the stereotype was enjoyed universally. Copied or not, this remains to be the one of the most enjoyed comedy movies in Bollywood. An experience in itself.
8. Munnabhai MBBS – never before did a gangster become more lovable to an audience
Circuit stole the show even as Munnabhai reforms himself into a good and responsible citizen and impressed us all. The movie also gave us a surprise talent – Boman Irani.
9. Malaamal Weekly – a comedy that had a very nice lesson at the end of it
How would a simple villager react if he won the lottery jackpot? Malamaal Weekly captures the idea in a humorous way, highlighting the social issues that affect every village.
Earthy and light, it ends with a fitting and signature Priyadarshan climax.
10. Jaane Bhi Do Yaaron – satire at its best
There hasn't been a better satire in Bollywood. This movie was genius. Comprised of a cast in which no stars were present, it was a hard-hitting movie that highlighted almost all the issues that the Indian society faced with brutal humor.
Watch it for the final Draupadi Vastraharan scene.
11. Amar Akbar Anthony – Bachchan, Khanna, and Kapoor in a single movie
It remains one of the biggest blockbusters of Bollywood. It contained many memorable dialogues and also became the gold standard in masala movies in Bollywood.
12. Bheja Fry – we did groan at Bharat Bhushan's humor, but in the end, we would miss him too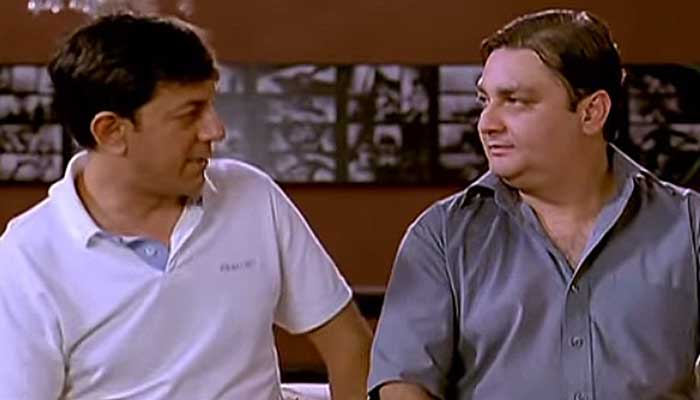 Yes, we would not have survived if we had to spend one night with Bharat Bhushan. He was the personification of mindfuckery at its worst. But seeing Rajat Kapoor suffer him was a joy. It also reminded everyone about that one person in their life who cracked PJs.
13. Hum Hain Raahi Pyaar Ke – the movie made us fall in love with the Aamir Khan- Juhi Chawla duo
It is hard to not fall in love with both Juhi Chawla and Aamir's characters in this movie. Juhi was in her signature bubbly skin for the movie and charmed every adult and kid who watched the movie alike.
14. Chasme Buddoor – "Chamko detergent aur tikiya"
All of us are familiar with the havoc a girl can wreck on the hearts of a group of unsuspecting college boys. Deepti Naval invaded the students' lives to sell detergent and ends up invading Farooq Shaikh's heart instead.
15. Khosla Ka Ghosla – underrated and intelligent comedy with a plot (no pun intended)
Anupam Kher portrayal of a middle-class family man remains one of the best ever. There is no doubt that this small-budget film has a lot of effort gone behind making it.
When will we see more movies like these? Can we make comedy anymore without innuendos, toilet humor, and skimpy silhouette scenes?
We would certainly want to watch more of them!