Most of the things that we watch on TV have been cut and smoothed so that the viewers can enjoy all the good parts. That's because doing anything live is really stressful and extremely hard. There's no room for error, no cuts and even if something goes wrong, you've to deal with it on the spot.
Now, you can practice a lot before you go on air. You can take all the necessary precautions so that there aren't interruptions. However, if you remember one BBC interview, kids don't care if you're live and they'll barge in whenever they like. Well, now it turns out that cats have similar feelings for live TV as well.
In a video that's been uploaded by Dutch journalist, Rudy Bouma, we can see him interviewing a Polish academic. However all the focus shifts to his pet cat who strolls in and steals the show.
Polish academic and former anti-communist opposition activist, Dr. Jerzy Targalski was giving a live interview to Rudy. He was talking on the topic of how various areas of Poland are controlled by security services. But all that seriousness went right out of the window when his ginger cat, Lisio tapped him and climbed on his shoulder as well.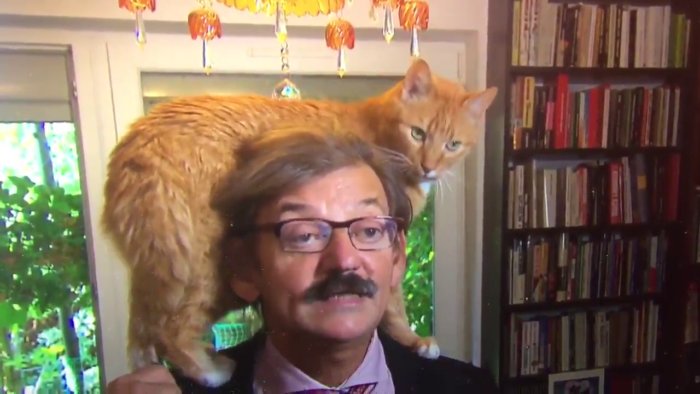 The cute cat went onto lick and rub his pet human's ears and then wrapped his tail around Dr. Targalski's forehead. And while the academic maintained his composure and kept speaking on Poland, his feline buddy majestically surveyed the room as if he was seeing everything for the first time.
You can see the adorable video here:
De Poolse historicus & politicoloog Jerzy Targalski is onverstoorbaar 👇 pic.twitter.com/Gp4aJRhUlS

— Rudy Bouma (@rudybouma) July 5, 2018
The entire internet obviously went 'awww!' in unison and appreciated the lovely bond between the doctor and his cat.
1. He might be a Bond villain.
I know nothing about this man but I bet he's a good person.

— feral (@shuboogie) July 7, 2018
2. By behaviour you clearly mean cuteness.
He's clearly used to this behaviour as he just keeps going?!!

— lizzysawrusrex (@lizzysawrusrex) July 7, 2018
3. Vito Corleone and this person could've been great friends then.
I love men that love cats.

— veganmcser (@veganmcser) July 7, 2018
4. That sounds like a 'Lord of the Rings' character.
"I CLAIN this human! This human MINE! MINE!"

— Perdida 🇬🇧🇪🇸🇪🇺 (@maria_hoskins) July 6, 2018
5. Take my money!
I really wish this cat would host #newsnight

— Tim Stoner (@stonertim) July 6, 2018
Dr. Targalski gives regular interviews at the Polish TV station, Republika and fans of the show are now used to his cat's cameos. However, they believe that this might be Lisio's international debut. And considering how he has managed to be a great show-stopper, we can't wait to see when and how he'll show up again.