Why is the concept of love so screwed up in this country? Is it to be blamed on the years of patriarchy that dictates boys can have whatever they want or is it on Bollywood for perpetuating the "mad love gets the girl" trope? Whichever it is, it is extremely worrying that despite so much being said about violence against women today, not much seems to have changed.
Scorned lovers across the country still believe that they have the right to stalk and harass their exes. And some men with extremely fragile egos see no qualms in thrashing up a woman mercilessly for something she said/did.
This time it's the son of a Delhi Police officer, who's in trouble for physically assaulting a woman and using a video of that incident to threaten his ex-girlfriend.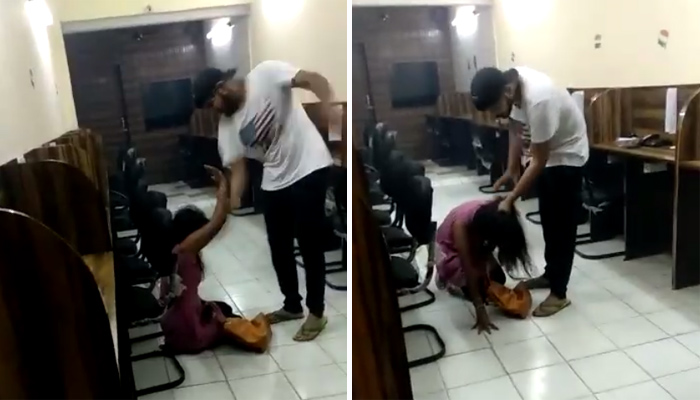 According to India Today, the man in question is Rohit Tomar, son of Ashok Singh Tomar, a Delhi Police officer. A video of him mercilessly thrashing a girl has gone viral on social media.
The incident is said to have taken place in a BPO located in Uttam Nagar area of Delhi, owned by Rohit's friend Ali Hasan.
In the video, he can be seen as dragging the girl by her hair while she repeatedly apologises. The person behind the camera asks him to refrain himself a few times and yet only interferes at the very end when the beating gets out of hand.
Multiple reports are flying around as to why he assaulted the girl. Some reports claim that he did so after she refused to marry him. However, Time of India reports that when the girl threatened to file an FIR against him for trying to force himself on her, he beat her up to silence her.
Meanwhile, yet another report by The Print reveals that Rohit sent this video to his ex-girlfriend to scare her into marrying him. They quoted his alleged ex-girlfriend Jyoti as such:
"He started abusing us and throwing rocks at our house. I hadn't told my family or anyone close to me that I was being harassed, but after they found out, they supported me in filing an FIR."
The 22-year-old make up artist says that things got worse after the FIR as Rohit sent her the now viral video. He threatened her that she would meet a similar fate unless she agreed to marry him.
While the cause is still hazy, Union home minister Rajnath Singh saw the video and urged Amulya Patnaik, commissioner of the Delhi Police, to take strict action.
एक लड़की को एक युवक द्वारा बेरहमी से पीटे जाने का एक वीडियो मेरे संज्ञान में आया है। मैंने @DelhiPolice कमिश्नर से फ़ोन पर इस बारे में बात की है और इस पर उचित कारवाई करने के लिए कहा है।

— Rajnath Singh (@rajnathsingh) September 14, 2018
The Twitter handle of DCP West Delhi tweeted that action was being taken against the 21-year-old:
@DelhiPolice has taken stern action, a case under section 354/506 IPC has already been registered against Rohit Tomar. Further action is being taken to arrest him.

— DCP West Delhi (@DCPWestDelhi) September 13, 2018
Meanwhile, DCP Anto Alphonse says that the girl in the video approached the Uttam Nagar Police station last night after the video went viral. He says:
"We have registered a case of rape and assault on the basis of the statement of the woman."
And though when a team was sent to his residence, they initially couldn't find him as he was absconding, The Hindu reports that Additional Public Relations Officer Anil Mittal confirmed his arrest today afternoon.
Son of a police officer or not, nobody has the right to mentally or physically assault anyone. What gives a man the right to do such deeds and think he can still get away with it? This is an extremely shameful incident and we're glad that adequate measures have been taken.