Bride in a dress, groom in jeans (even a suit if he's feeling too fancy), an exotic location, hugs, kisses, twirls, save-the-date cards and filters – these are somewhat the prerequisites for a pre-wedding photoshoot nowadays. It all looks the same, if we're being honest, with the same angles and the same poses.
However, the pre-wedding photoshoot of this couple has crossed all boundaries with its creativity. The photo-story is so bizarre that it is just mind-blowing. It involves a woman, an animal rescuer, and a snake. A SNAKE!
The shoot is basically a series of photos that tell the story of how the woman and the man meet and eventually fall in love. First, we see the woman taking a casual stroll in the backyard of a house. There she spots a snake, just sitting and chilling.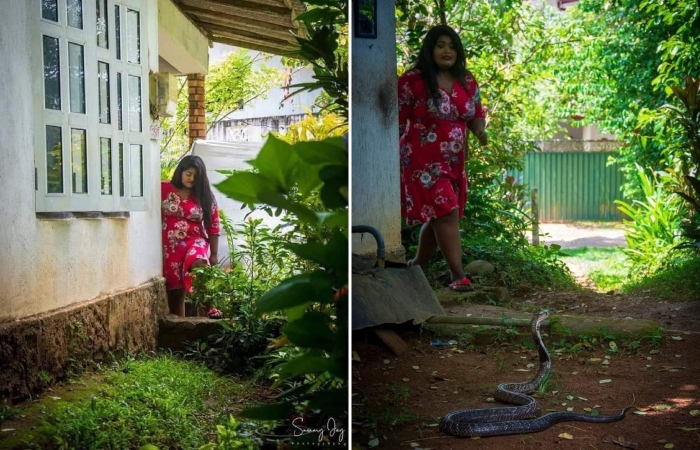 So she does what any sensible person would do next – search for a nearby snake rescuer and ask them to come and help.
And there comes the snake rescuer, charming his way into the girl's life. But first, he must charm the snake.
And so he does, while she watches him do his thing!
Love blooms. He signals her to call him while leaving. And she does after being completely smitten by him.
They meet again, this time for a shot at love…as the snake watches the relationship it ignited.
There are many more pictures in between. They were all uploaded on Twitter by a user @oyevivekk. While we could not find the original source of these pictures, a comment suggested that these pictures were clicked somewhere in Sri Lanka. The watermark on the pictures suggests that they were clicked by a photographer named Sammy Jay.
You can see the full album here:
Pre Wedding Photoshoot ❤️

A Thread: 🧵 pic.twitter.com/8vXpgTRMNK

— vivekk (@oyevivekk) May 27, 2023
Sure, the photoshoot is a dangerous one. But we cannot ignore how creative and different it is! 😀