"Barbecue your whole hogs to your palate, steep them in shallots, stuff them out with plantations of the rank and guilty garlic," – Charles Lamb
Pork is one of the best kinds of meat. From bacon to hamburger, if you're a true meatoholic your lust for hogs knows no bar. But maybe it's time that you look around your home rather than towards foreign invention? So here we present 11 fabulous pork dishes from various parts of India which you need to try if you claim to be a pork-lover.
 1. Pandi curry of Coorg
This slow-cooked spicy pork dish is one of the best from India. Here's a recipe.
2. Mangalorean pork indad
This sweet and savory pork dish from the Mangalorean kitchen is simply brilliant! Here's a recipe.
3. Goan pork Vindaloo
The classic spicy vindaloo, made with the special touch of Kashmiri red chilies, becomes even more fabulous when made with pork. Here's a recipe for this fabulous dish.
4. Naga pork patot diya
This simple banana leaf-wrapped steamed pork dish is delicious. Here's a recipe.
5. Khasi pork jadoh
Heavenly bliss, this Khasi flavoured rice dish is made with pork. Here's a recipe.
6. Tibetan pork ema datshi
This cheese flavoured soupy pork dish tastes best when eaten with senkong, another Tibetan dish made of millet flour. Check out the recipe.
7. Pork momo
Believe me, pork momo is the best kind of meat stuffed dumplings you'll ever have in your life! Here's a recipe.
8. Smoked pork from Nagaland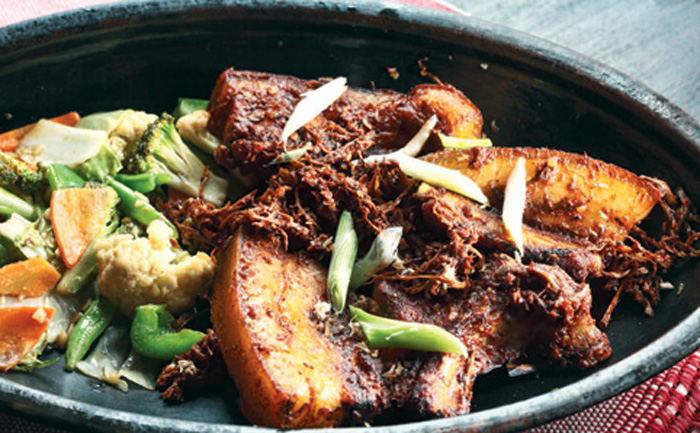 Nagaland, like most of the states from North East, is a heaven for pork lovers. This particular dish is made of smoked pork infused with various flavours. Here's a recipe.
9. Pork with bamboo shoots
You have to try this heavenly combination of pork, bamboo shoots, and authentic Naga flavours! Here's a recipe.
10. Pork sorpotel
This spicy pork dish, often made with the liver, is extremely fiery, but extremely delicious. Here's a recipe.
11. Pork chilli fry, Goan style
Goans love their meat spicy! This dish of roast pork made into chilli fry is quite easy to make, though. Here's a recipe.
Happiness is not happiness without some well-plated pork. Bon appetit. 😀