Dear Shah Rukh Khan,
You've been the one Khan of them all, who entered the film industry without any 'Khandaan' to fall back on and took it by storm. And, after close to three decades of your career in the Indian Film Industry, you are the rightful KING of Bollywood.
But, that's the star bit. People often question the actor in you. Much so, that while self-humouring, you confessed that you look into the mirror and ask yourself if you're the most pathetic actor in the world? Well, I'd like to humbly answer that.
NO! Shah Rukh Khan, you are NOT the most pathetic actor in the world.
You were never in the league. There is another K…k…k… K Khan who has taken that place, long ago. He rules the world of bad actors with just one film to his name. It is deshdroh to even name him. He is insanely stupid and believes in crass-tweet-humour and, basically, when he opens his mouth something nonsensical is bound to come out of it. But, we will talk about him some other day.
Today, it is about YOU. The actor in you. You are an actor, who does things with a lot of conviction.
Be it screaming 'Bhaagooo' in ten different ways…
or nailing that 'baahe failao' pose with utmost ease.
You are that actor who started with theatre. And, it is not easy there, I hear. You are that actor, who has had meandered through the course of life with rocky boulders in its path. But, you've been past that or maybe are still going through, I wouldn't know.
There are not many stars who have achieved what you have. I am not saying they had it easy or questioning their hard work. I am just saying that you have always worked a little extra. Put in a little extra.
Maybe, more than we know and more than you show.
Now, coming to the kind of roles you do. I love seeing you on-screen wearing different hats. But, there's one hat of commercial-masala-films you are often seen 'Don'ning. I don't have a problem with that. Why would I?
You always manage to put the wide grin on your fans' face…
…a tear in their eye.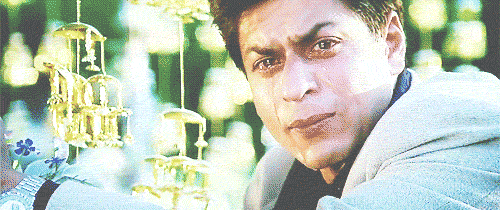 And, a new emotion in their hearts.
But, I would love to see you do more of a 'Swades' or a 'Dear Zindagi' or a 'My Name Is Khan' than a 'Dilwale' or a 'Chennai Express'.
That's just a politically correct personal opinion.
You often bear the entire movie's success on your shoulders (Hope, it doesn't fall heavy on the one you broke a few years ago during 'Ra.One') and add crores to the film's collection with your star power.
And, no. I will not cite the collection figures. l know, you know it at the back of your hand even before you said it on camera.
But, there have been some characters you've played who will be remembered more than the others. You are in every Rahul or Raj I come across. You are the Arjun of Bollywood's Mahabharata, you are the Devdas to every millennial Paro, and you are the Rizwan to every Khan.
Now, if they still say you are a pathetic actor, then let them. Because, as you pointed out, you ultimately can't please everyone. No one can.
Yet, you have the power to influence billions of lives with just one role, one character you portray. I will not ask you to stop making pot-boilers (wide section of our country, loves them, after all) nor will I ask you to do a Chak De! India or Dil Se (you have epitomised them). But, I will ask you, if you're doing three masala entertainers back to back, try squeezing a Dear Zindagi in between the next three. So, not only will you make fans of your stardom, but the fans of your acting prowess happy, too.
I know, I am totally fangirling here. But I believe I am fangirling with a pinch of logic. You are the star I fell in love with as a toddler, you are the star I love till now and even in my sixties (when you'll be in your eighties) I want to love you.
I probably will.
So, yes. You're not as bad at acting as people think you are. I am pretty sure you will surprise all with THE performance that will shut them up for good. Till then, keep flashing that dimpled-charm, keep loving your fans with open arms and keeping being you.
Because "pathetic" you are not Sir, but AWESOME you are. ❤
Yours sincerely,
R
---