Shahrukh Khan has been known to share a very close relationship with the late Dilip Kumar and his wife Saira Banu. Their equation was very warm and respectful and the couple was like family to SRK. During times of illness or personal challenges, SRK was seen visiting and supporting the couple. They often referred to him as their son. A recent note posted by Saira Banu is proof.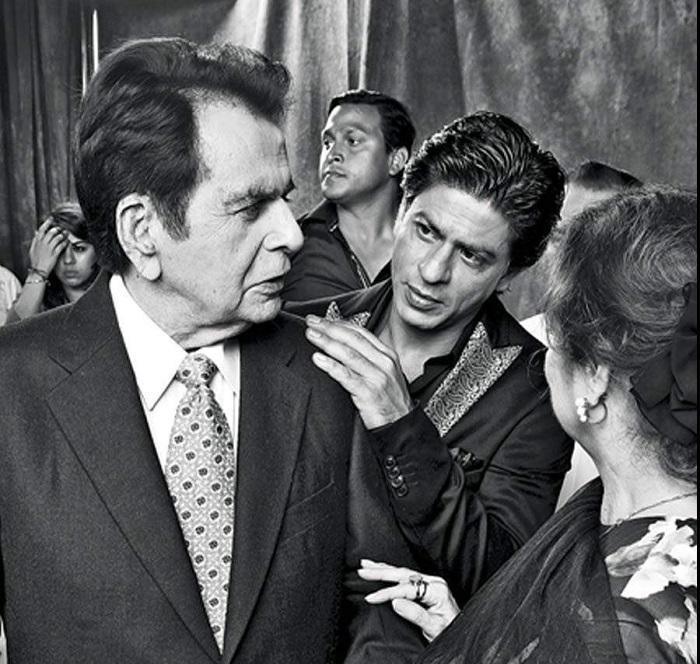 She took to Instagram to share pictures of the actor with her and the late Dilip Kumar and wrote a lengthy yet heartwarming note about their relationship with him over the years.
"The first time I saw Shahrukh was when many stars had met for a function…I immediately remarked that he seemed shy and reticent to come forward….and I noticed that he looked so much like my Shahenshah Dilip Sahib….I said if my son had been there He would have been just like him," she wrote.
She shared a very loving memory of him – the way he used to touch her feet seeking blessing and her putting her hand on his head while brushing his hair, which went on to become their ritual of sorts.
"One vivid memory I have is of a chance encounter with Shahrukh, where he humbly bowed before me, seeking blessings. As I placed my hand on his head and ran my fingers through his hair, I couldn't help but remark how it resembled that of Dilip Sahib. Since that day, whenever Shahrukh and I met, he graciously lowered his head, allowing me to offer him my blessings. Interestingly, on one occasion, I forgot to run my hand through his hair, and immediately after, Shahrukh lowered his head, saying, 'Aaj Aapne Mere Baalon Par Hath Nahin Phera', and without hesitation, I lovingly ran my fingers through his hair, completing our familiar ritual."
Saira Banu also revealed this one incident where Shahrukh Khan graced a special event of their company despite his hectic schedule. It took only one text message from her for him to arrive at her doorstep within an hour.
"He would frequently grace us with his presence at various functions hosted at our house. Once, there was a special event for my company, and I had a strong desire for Shahrukh to do an interview. However, Shahrukh's hectic work schedule seemed almost insurmountable. Yet, with just a single text message from me, I was amazed to find him at my doorstep within a mere hour, willing to oblige and support my endeavour."
She recollected how on the day of Dilip Kumar's passing, SRK was by her side being the beacon of hope that she needed.
"On the 7th of July, when Dilip Sahib slipped into a deep slumber, unresponsive to my voice, leaving me burdened with the ache of his absence, Shahrukh emerged as a beacon of solace. In that moment, his affection for the 'Kohinoor of Hindustan,' Dilip Sahib, shone brightly as he was among the very first to offer his comforting presence in the face of adversity."
#ShahRukhKhan with #SairaBanu at #DilipKumar sahab 's residence earlier today! 🙏🏻 pic.twitter.com/fUgjmvbcVM

— Shah Rukh Khan Universe Fan Club (@SRKUniverse) July 7, 2021
Have a look at her full post here:
View this post on Instagram
A big star with a bigger heart!