Kangana Ranaut's been all over the news for her statements about the Roshans, the Pancholis, the Sumans and a lot more. Riding a fire wagon of words, Kangana has been dropping revelation bombs, one after the other.
While our jaws were not in place upon hearing what she said about Hrithik, we were shook upon hearing what she had to say about her ex-beau Aditya Pancholi.
In a bare-it-all interview with Rajat Sharma, Kangana divulged her equations with the Pancholis. She said,
"I'm a year younger than his (Aditya's ) daughter (Sana). I was a minor. For me, this was all very new – the world that I had come into. I remember going to his wife and meeting her, and I'm like 'Please save me! I'm younger than your daughter. I'm a minor and I can't tell my parents."
Zarina allegedly told Kangana that she's relieved that Aditya doesn't come home anymore. Kangana went on and revealed,
"So then, I was like who is going to help me now? If I go to the cops, my parents are going to take me back and I didn't know which is worse because then there's no way out."
Zarina, who was staying away from the murky mess, couldn't take the allegations and finally broke her silence on the matter. Speaking with Pinkvilla, Zarina dissed Kangana's "claims" and said,
"I was just going through some stories on my mobile and I read Kangana has said 'She (Zarina) used to treat her (Kangana) like a daughter…' This is completely untrue! When I knew she was dating my husband how can I say she's like my daughter? That is ridiculous! Usually, I don't react to such things but these two things have been really upsetting! I was very upset when I read it! She was dating my husband (Aditya) for four-and-a-half-years so how can I say that she's like my daughter? Impossible! On national television, she's going on saying that she's (Kangana) is like my daughter (Sana)… What nonsense is Kangana talking about?"
Zarina quashed Kangana's claim of her seeking help saying why would she help someone who's dating her husband.
"First of all, I never discuss my problems with my own sisters so who is she (Kangana) to me that I will go and discuss with her that if he's not coming home I will be happy. What nonsense is she talking about? I should not say anything about her. These things are really bugging me!"
Mrs. Pancholi further said that she's not dumb enough to treat her like her daughter or discuss her personal life with her.
"I know what happened but I don't react to that and that's a different thing. Sabka life deal karne ke liye alag tareeka hota hai, mera bhi alag hai. I read this on Google alert and I reacted. Otherwise, I am the last person to react."
But Zarina doesn't want to throw dirt at Kangana, she feels then there would be no difference between Kangana and her. She also adds that now that the Queen star has become successful and reached a certain stature, she should behave in a dignified manner and not in this wrong way.
But Zarina did add,
"If she found Aditya to be such a bad person why was she with him? They were together for four-and-a-half years. When I first started hearing what she was saying I felt bad for her actually. This is not the time that she should talk. Abhi kya bol sakte hai… Woh apne marzi ki khudmaalik hai… Aaj tak meine kabhi kisi ka bura chaha…"
Sooraj Pancholi's mom signs off saying that she doesn't wish to dig out old skeletons and will only speak more about it when the time is right.
Soon Kangana's sister Rangoli went on a Twitter rant and questioned Zarina's statements.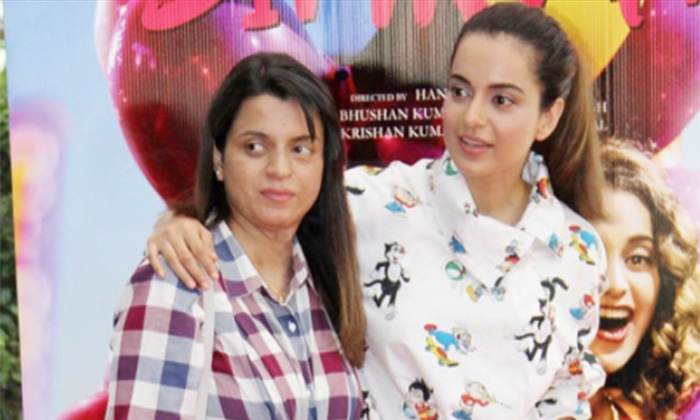 If Kangana mt Pancholi in2005 n lodgd FIRagnst Pncholi in Versva Plice Station in2007 hw cn dey date fr4yrs Zarina g https://t.co/Ytkl9FDkh3

— Rangoli Chandel (@Rangoli_A) September 10, 2017
Sana Pancholi is born in 1985 Kangana Ranaut is brn in 1987 do u hv shame u r a prt of dis exploitation of a grl youngr dan ur own daughter?

— Rangoli Chandel (@Rangoli_A) September 10, 2017
She even said Zarina used to get diamonds and expensive gifts for her sister.
she has pleaded you many times to help bt instead u gave her diamonds and got her dresses frm Bangkok took her to meet Sanjay Leela Bhansali

— Rangoli Chandel (@Rangoli_A) September 10, 2017
U bth sud b behnd d bars, I wan 2 knw if U knw ur husbnd s exploitin dis minr, y wl u giv hr gifts n lure hr by takin hr 2 bg directrs home?

— Rangoli Chandel (@Rangoli_A) September 10, 2017
Rangoli even claimed that it was Zarina who requested Kangana not to go to the cops and wanted some answers.
Y wud u gift Kangana diamonds and clothes frm Bangkok n request her nt to go to cops if you knew ur husband is dating her as claimed by you?

— Rangoli Chandel (@Rangoli_A) September 10, 2017
…..and you sent regular fish biryani to her house and pleaded her not to go to cops.
Why Zarina ji pls answer ???

— Rangoli Chandel (@Rangoli_A) September 10, 2017
The matter is getting murkier by each passing day and new statements from all sides are emerging.