The World Press Photo Contest is a prestigious annual competition that asks photographers from all over the world to submit their pictures across various categories. For the 60th edition of the competition, 5034 photographers from 125 different nations submitted a total of 80,408 pictures.
Specialist juries judged the photographs and results were announced on the 13th of February. Some mesmerising and some haunting, these pictures give a glimpse of the modern world. Check out the winning photographs below.
World Press Photo of the Year
An Assassination in Turkey- Burhan Ozbilici
"Mevlüt Mert Altıntaş shouts after shooting Andrey Karlov, the Russian ambassador to Turkey, at an art gallery in Ankara, Turkey."
Category: General News
1. Offensive on Mosul- Laurent Van der Stockt
"The Iraqi Special Operations Forces search houses of Gogjali, an eastern district of Mosul, looking for Daesh members, equipment, and evidence."
2. Left Alone- Santi Palacios
"An 11-year-old girl from Nigeria (left), who said her mother died in Libya, cries next to her 10-year-old brother aboard an NGO rescue boat. The children had sailed for hours in an overcrowded rubber boat with other refugees during a rescue operation on the Mediterranean Sea, about 23 kilometers north of Sabratha, Libya."
3. Inside the Philippines' Most Overcrowded Jail- Noel Celis
"Inmates sleep on the steps of a ladder inside the Quezon City jail at night in Manila. Conditions are getting worse as police wage an unprecedented war on crime."
Category: Nature
1. Caretta Caretta Trapped- Francis Pérez
"A sea turtle entangled in a fishing net swims off the coast of Tenerife, Canary Islands, Spain."
2. Big Cat in My Backyard- Nayan Khanolkar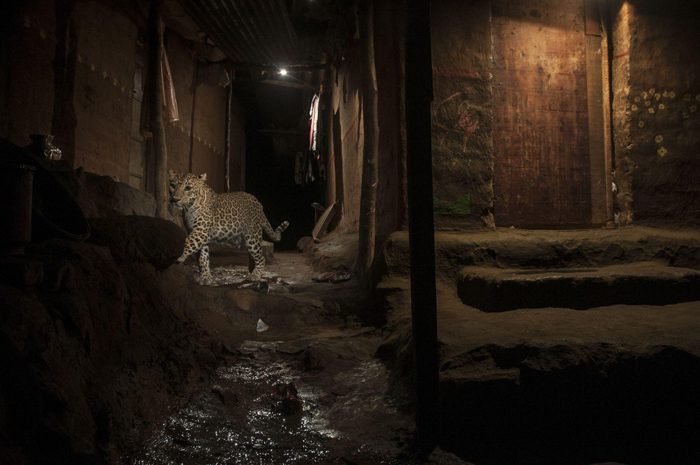 "A wild leopard strolls through Sanjay Gandhi National Park, a protected area in the northern part of Mumbai city, India."
3. Monarchs in the Snow- Jaime Rojo
"A carpet of monarch butterflies covers the forest floor of El Rosario Butterfly Sanctuary, in Michoacán, Mexico, after a strong snow storm hit from 8 to 9 March, 2016. The storm hit the mountains of Central Mexico, creating havoc in the wintering colonies of monarch butterflies just as they were starting their migration back north to the USA and Canada."
Category: People
1. What ISIS Left Behind- Magnus Wennman
"Five-year-old Maha and her family fled from the village Hawija outside Mosul, Iraq, seven days ago. The fear of so-called Islamic State and the lack of food forced them to leave their home, her mother says. Now Maha lays on a dirty mattress in the overcrowded transit center in Debaga's refugee camp. "I do not dream and I'm not afraid of anything anymore," Maha says quietly while her mother's hand strokes her hair."
2. Praying for a Miracle- Robin Hammond
"Hellen (41) lives with a mental health problem. Her illness developed later in life."
3. Fidelity- Kristina Kormilitsyna
"A woman strokes a girl's head as she rests on her lap whilst sitting on a sofa in a police station in Camagüey, Cuba, with a portrait of Fidel Castro hanging above them."
Category: Sports
1. Grand National Steeplechase- Tom Jenkins
"Jockey Nina Carberry flies off her horse, Sir Des Champs, as they fall at The Chair fence during the Grand National steeplechase, during day three of the Grand National Meeting at Aintree Racecourse on 9 April 2016 in Liverpool, England."
2. The Dive- Cameron Spencer
"Gaël Monfils of France dives for a forehand in his fourth round match against Andrey Kuznetsov of Russia, during the 2016 Australian Open at Melbourne Park, Australia."
3. Rio's Golden Smile- Kai Oliver Pfaffenbach
"Usain Bolt of Jamaica smiles as he looks back at his competition, whilst winning the 100-meter semi-final sprint, at the 2016 Olympics in Rio de Janeiro, Brazil."
Category: Spot News
1. Pakistan Bomb Blast- Jamal Taraqai
"Lawyers help their injured colleagues after a bomb explosion in Quetta, Pakistan."
2. Medics Assist A Wounded Girl- Abd Doumany
"A Syrian girl cries out as a wounded child lies next to her at a makeshift hospital. She had been injured in reported government airstrikes on the rebel-held town of Douma, east of Damascus, Syria."
3. Battle for Mosul- Felipe Dana
"A car bomb explodes next to Iraqi special forces armoured vehicles as they advance towards Islamic State-held territory in Mosul, Iraq."
Category: Contemporary Issues
1. Taking a Stand in Baton Rogue- Jonathan Bachman
"Lone activist Ieshia Evans stands her ground while offering her hands for arrest as she is charged by riot police during a protest against police brutality outside the Baton Rouge Police Department in Louisiana, USA."
2. Migrant Crossing- Vadim Ghirda
"A woman is supported by two men while crossing a river, as refugees attempt to reach Macedonia on a route that would bypass the border fence."
3. The Libyan Migrant Trap- Daniel Etter
"Two Nigerian refugees cry and embrace in a detention center for refugees in Surman, Libya."
Category: Daily Life
1. The Silent Victims of a Forgotten War- Paula Bronstein
"At the hospital, Najiba holds her two-year-old nephew Shabir who was injured from a bomb blast in Kabul."
2. Sweat Makes Champions- Tiejun Wang
"Four students of a gymnastics school in Xuzhou, China, do toe-pressure training for 30 minutes in the afternoon."
3. China's Wild West- Matthieu Paley
"An Uyghur woman carries money in her stockings, a common practice. Uygur women, while Muslim, typically do not adhere to the conservative dress code that women in neighboring countries follow. On this train from Kashgar, you see a lesser known side of China. Most of the passengers are Uygur, a Chinese minority who live mostly in the west."
As the saying goes, "a picture is worth a thousand words".
All the pictures and information have been taken from the website of World Press Photo.