People have often come up with bizarre food combinations like 'oreo maggi' with chocolate ice cream or 'popcorn salad' made with carrots, peas, sugar, and mayonnaise.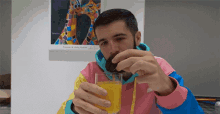 Now, as per a report in NDTV, a food blogger has popularised the food pairing of cut watermelon slices drizzled with American mustard sauce from a particular French brand. As he bites into it, he says, "It so tangy, it's so vinegary and it matches so well with the watermelon's sweet juiciness. Trust me it's so good." Check it out:
American singer Lizzo also tried the eccentric pairing using another mustard brand than the one suggested. She wanted to know if it was "#bussin" or "#disgusting", and her verdict remains unclear as she continues eating it.
The combo's popularity has now sky-rocketed with it becoming a challenge of sorts. The response remains mixed as some people gave it an outwardly negative response, while others didn't mind the taste of the combo.
Here's how some people reacted to these challenge videos:
The ones in favour of the flavour
2. And the ones who found it weird.
I would've never thought of eating these two together. Would you like to give this questionable snack a chance? Tell us.
Cover Image Source- left, right