"Whoever said diamonds are a girl's best friend never had a dog." 
(Yes, I have heard the one that goes like, 'A dog is man's best friend' but why should boys have all the fun?)
Now, I'm not sure which wise soul said the above mentioned (and not bracketed) quote but there is nothing truer than that. I can say so because I'm a girl and no points for guessing, an avid DOG lover! If my caps locking is not stating enough, let me tell you loud and clear- dogs are a far more superior breed than humans will ever be!
In fact, mera bas chale toh, I'd leave the reigns of the world to the four-legged pawdorable creatures with the conviction that they'd do a better job than us. But you know who'd be the perfect fit for the throne? Pugs, who else!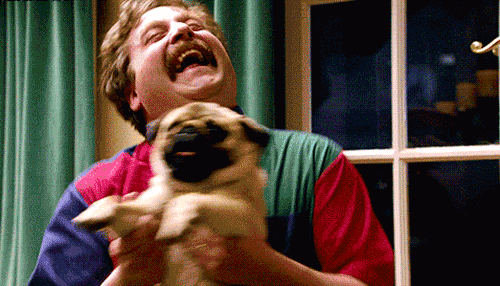 (Yes, that's me only more moustache.)
I mean, have you not seen the 'too-adorable-for-words' face with a nose 'you'd wanna kiss consistently' God has gifted them with? Are you telling me you haven't pestered you parents as kids to get them, babies? Yes, they were relatively unknown then, but the trip to the local cyber cafe wala with my folks to google 'breed of Vodafone dog' was totally worth it.Oh, Did I not tell you?
I hardly knew about them but Vodafone (then Hutch) did us all a favour when it came up with the song 'You and I' and my world has never been the same. Remember the adorable pooch, following its human like a shadow?
You and I, in this beautiful world…
Green grass, blue skies
In this beautiful world…
*I'm not crying, you're crying*
You're wondering- 'why the sudden outburst about the precious pug?' Aren't you? Well, I was at my favourite pass time of binging/re-watching old videos and I stumbled upon this old gem of a video. I sang along; I sang it thrice to my hearts content when I unearthed something even priceless.
I don't know how many of you will believe but, It has been 15 YEARS since we first heard/saw the song. 15 years since we first saw this cutay! Wow.
*screams internally* *and then some externally*
I'm sorry if my melodrama is refusing to mellow down but 15 YEARS, yougaiz. 15 years since I thought to myself- 'wouldn't it be cool if someone followed me earth's end too?' 15 long years since I first saw what friendship (and later companionship, as vocabulary grew) looked like.
Yes, I know a lot of time has passed and many things have changed…From desktops to laptops, books to kindle, shops to ecomm…but one thing that hasn't is our unaltered love for our favourite mascot- the Vodafone pug!
Now, if you're anything like me (and several others I know), you'd know the feeling. On that note, care to relive the nostalgia?
Wh…What is that?
You want a pug now? Awww…worry not for I have just the tip you need. A small guide before you get home a friend for life.
You're welcome! Also, pass the happy feeling. Will ya?
And sorry for the random nostalgic trip down the pug lane. But I'm sure it was worth it. Amirite? 🙂