When it comes to air travel, fliers are looking forward to a unique and memorable experience. Something that they can take back home and look forward to doing again. It's the most elite form of travel, where when it comes to excellence, the sky is literally not the limit. And no other airline embodies this experience more than Vistara.
It was three years ago, in January 2015, that the first Vistara flight soared high in the Indian skies. Ever since, Vistara has been scaling new heights with a superior flying experience as the wind beneath its wings.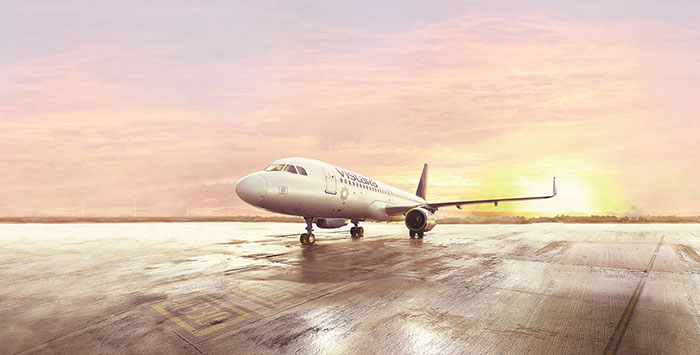 In a mere three years, this joint-venture between Tata Sons and Singapore Airlines has managed to redefine domestic flying and turn it into an experience that its patrons vividly cherish.
And come 2018, Vistara strives to break even more boundaries. In fact, their latest brand commercial featuring Deepika Padukone is a celebration of the brand's three glorious years and the limitless expanse of future possibilities!
The video, with Deepika in a vibrant and playful mood, perfectly captures the confidence and aspirations of Vistara for the coming years. Check it out!
The brand has steadily grown more ambitious, confident, vibrant and bold. And who better to represent these qualities than Deepika Padukone, whose journey of stardom mirrors these qualities.
For Sanjiv Kapoor, Vistara's Chief Strategy & Commercial Officer, Deepika was an obvious choice.
"Deepika was our first and only choice as our brand ambassador. She embodies everything we want to convey about Vistara: that we are classy, charming, stylish yet down to earth. International yet Indian, highly pedigreed but keen to make our own mark in our own way, making our parents proud in the process. And the connection was instant and mutual."
What's more, Ms. Padukone too doesn't shy away from expressing her love for the airline!
"Vistara is undoubtedly the finest airline we have in the country today, and I am delighted to be their brand ambassador. I truly believe that it is poised to become a trend-setting global brand."
At Vistara, the flyer is always the king and the entire flying experience is curated around this one core value.
Whether you're travelling Business or Economy, leather upholstered seats with ample legroom, an ambience that instantly relaxes your senses and a cabin crew that's polite and intuitive about your every need are a Vistara constant.
Vistara's Premium Economy class takes the flying experience to newer heights, offering you a lot more for a little more. Think upfront cabin seating, mood lighting, priority handling, more meal options to choose from, and basically, a whole lot of extra perks at the price of a nominal extra over economy fares.
Chances are, once you fly Vistara, you can never go back to anything else….
As you nestle comfortably in your seat, you can entertain yourselves with some premium magazines and publications at your disposal. Your taste buds also deserve some entertaining, and the delicious gourmet meals that you'll be served onboard will do just that! And with an array of meal options to choose from every time you book, variety becomes the spice of flying Vistara! Coffee lovers in the Business and Premium Economy can also relish an exclusive serving of piping hot Starbucks coffee!
And for those who wish to pursue their love affair with the airline further, there's Club Vistara.
With Vistara, you're not just flying for the sake of it; you're actually enjoying the whole trip through the clouds. So much, that your Vistara experience will make you look forward to flying again.
And, that's where Club Vistara comes in! Pegged as the Fastest Rewarding Frequent Flyer program, it is one of the few programs which offers rewards based on the ticket value and not miles.
You'd think flying amidst the clouds ought to make you feel weightless and free. And that's exactly what you get when flying Vistara—that unique uplifting feeling!
So then, when are we flying?