Vincent Willem van Gogh was a Dutch painter, and one of the most important ones of the 20th Century. His art had far-reaching effects on modern-world art on the whole. His ideas about life and his own take on art made him the all-famous misunderstood genius.
We celebrate some of the things he had written and said over his rather short life of 37 years.
1.
Painting: Couple walking in the trees
2.
Painting: Starry night over the Rhone
3.
Painting: Starry night
4.
Painting: Night café
5.
Painting: Olive trees
6.
Painting: Girl in white in the woods
7.
Painting: Bedroom in Arles
8.
Painting: Almond blossoms
9.
Painting: Still life: Vase with pink roses
10.
Painting: Noon – Rest from work
11.
Painting: Wheat field with crows
12.
Painting: The yellow house
13.
Painting: The red vineyard
14.
Painting: View of the sea at Scheveningen
15.
Painting: A pair of shoes
16.
Painting: Bulb fields
17.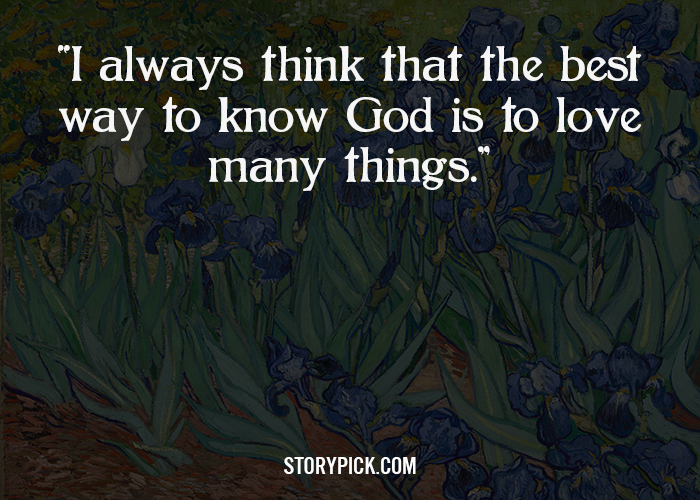 Painting: Irises
18.
Painting: Daubigny's garden
19.
Painting: Sunset at Montmajour
20.
Painting: Wheatfield with Cypresses
The eccentric, yet lovable and incredibly romantic van Gogh was known for his out of the way actions, like eating yellow paint to boost his creativity. His paintings have become epitomes of masterful thought-provoking art and an example of what he always said…
The sadness will last forever.
---
Quotes source: Goodreads
Cover image source