The coronavirus pandemic brought tons of changes to our lives and many industries across the globe. Soon enough, fashion and retail also came up with luxury PPE. For instance, Louis Vuitton came up with luxury face-shields with gold studs worth Rs. 70,000, or how a Surat shop sold diamond masks for weddings worth Rs. 4 lakhs.
And now that the world is in the vaccination stage, a fashion brand called 'REVOLVE' has come up with a 'vaccine-ready' section on their online website. It features shoulder-baring tops of all kinds- from off-shoulder and tube tops to ones that have a slit on one side, News18 reports. Check it out:
Lol that moment when Revolve Clothing has a section of their website for vaccine fashion… you gotta be kidding me!! 😂😂😂 pic.twitter.com/K1WwAHlaJH

— The Real Diana Prince (@wqnder_wqman) March 30, 2021
A representative of the company stated, "REVOLVE is all about being there for our customers when it comes to the important moments in their lives, and with things starting to look up with the vaccine rollout, why not look good while doing it?"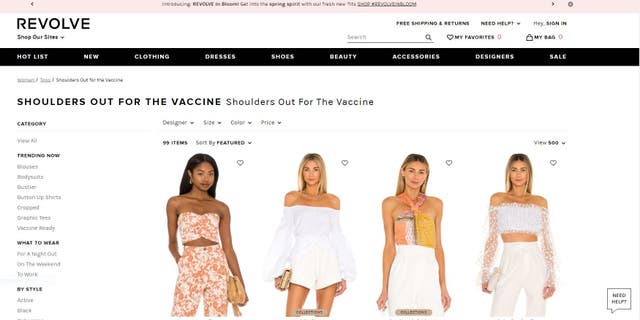 Some people were impressed with the collection and its marketing:
Revolve's vaccine ready section is actually very cute 😩

— Maxine (@MaxineAGrant) April 1, 2021
Might order this for my vaccinations. pic.twitter.com/tduzdEQlTM

— ohchrissavidge (@ohchrissavidge) February 22, 2021
On the other end of the spectrum is Revolve with their Vaccine Ready collection #REVOLVEme
LOVE the humor – it's a great play to the situation we find ourselves in globally. It's funny while being so on the pulse IMO. https://t.co/b9o3yXui3R

— Simona Lisa (@hellosimonalisa) April 1, 2021
Others mocked this category of garments for its bizarre concept and also for being expensive.
Revolve is here to help you get "Vaccine Ready!" All you have to do is purchase a $200 top pic.twitter.com/LdHNS4qLtY

— Whitney – 2020 World Series Champs!! (@fabinfayette) April 1, 2021
When you shop during the WH press briefing and you see that your favorite online retailer @REVOLVE literally now has a section "vaccine ready" with category "Shoulders out for the vaccine"

This isn't a joke 😑
Still ain't getting the vaccine thou pic.twitter.com/yFRyWE5fyQ

— Mona Salama (@MonaSalama_) March 30, 2021
Any marketing trick no matter how bizarre

— 🇺🇸Av8trix✈️🐓🐴🐶🐈🔫🚅🎃 (@av8trix6) March 30, 2021
Among the mixed reactions of critics and admirers, the company has now taken down the 'vaccine-ready' section from their website. Nevertheless, what do you think of their idea? Tell us!