It's not every day you see things that shake your fundamental belief in humanity and its existence. However, the world we live in seems to be in a constant effort of proving the aforementioned wrong. Proving that maybe we lost touch with humanity, with the human that once lived within us.
The recent heckle onboard a United Airlines plane, United Express Flight 3411 is why I say all that I just did. While you were sleeping, a video of a passenger being dragged brutally surfaced and now it has gone viral for all the wrong reasons.
Let me explain it to you with a timeline. 
An Asian man was manhandled in a United Airlines flight and was literally dragged off from the plane because the plane was 'overbooked'. The entire hue and cry was shot by co-passengers who later shared it on Twitter.
@United overbook #flight3411 and decided to force random passengers off the plane. Here's how they did it: pic.twitter.com/QfefM8X2cW

— Jayse D. Anspach (@JayseDavid) April 10, 2017
@united @FoxNews @CNN not a good way to treat a Doctor trying to get to work because they overbooked pic.twitter.com/sj9oHk94Ik

— Tyler Bridges (@Tyler_Bridges) April 9, 2017
The flight was headed from Chicago to Louisville in the US. Many commuters vouched that the airlines offered monetary compensation ($1,000) and a hotel accommodation and were looking for one volunteer to take another flight to Louisville the following day.
Another video of the victim surfaced with a bloodied face,
#flythefriendlyskies my husband was on that flight. Screw you United!! @united pic.twitter.com/4EcxrMy5jZ

— Kaylyn Davis (@kaylyn_davis) April 10, 2017
And it has attracted a lot of backslash for the international carrier. 
1. People are boycotting United Airlines
Great to see how @united treats their PAYING CUSTOMERS. You have lost my business for good. #BoycottUnited #flight3411

— Rj Aznir (@TheTicktocman) April 10, 2017
2. We are late for school, aren't we?
Looking for volunteers.. refused to leave voluntarily…hmm pretty sure that is the opposite of voluntarily tbh #flight3411 pic.twitter.com/fgVOnjQRb6

— Colin Bancroft (@CSBancroft_poet) April 10, 2017
3. SHAME
I will NEVER fly @united after watching video of that man get pulled and dragged off that flight. Shame on you @united!!!!!!!

— Karrueche Tran (@karrueche) April 10, 2017
4. No, ma'am!
Am I the only one to notice they picked a non white person (Asian) to take off the flight! #flight3411

— BjPtrading (@bjPtrade) April 10, 2017
5. We sure do!
United Airlines treatment of Asian Doctor today on flight was reprehensible & utterly disgusting. We lack such basic humanity these days.

— Marco Amato (@MarcoMeansit) April 10, 2017
Meanwhile, United Airlines issued a statement and it is an excuse for an apology.
United CEO response to United Express Flight 3411. pic.twitter.com/rF5gNIvVd0

— United Airlines (@united) April 10, 2017
That isn't it. Another team email penned by Oscar Munoz, United CEO, has found its way to the interweb and the words used are even more problematic.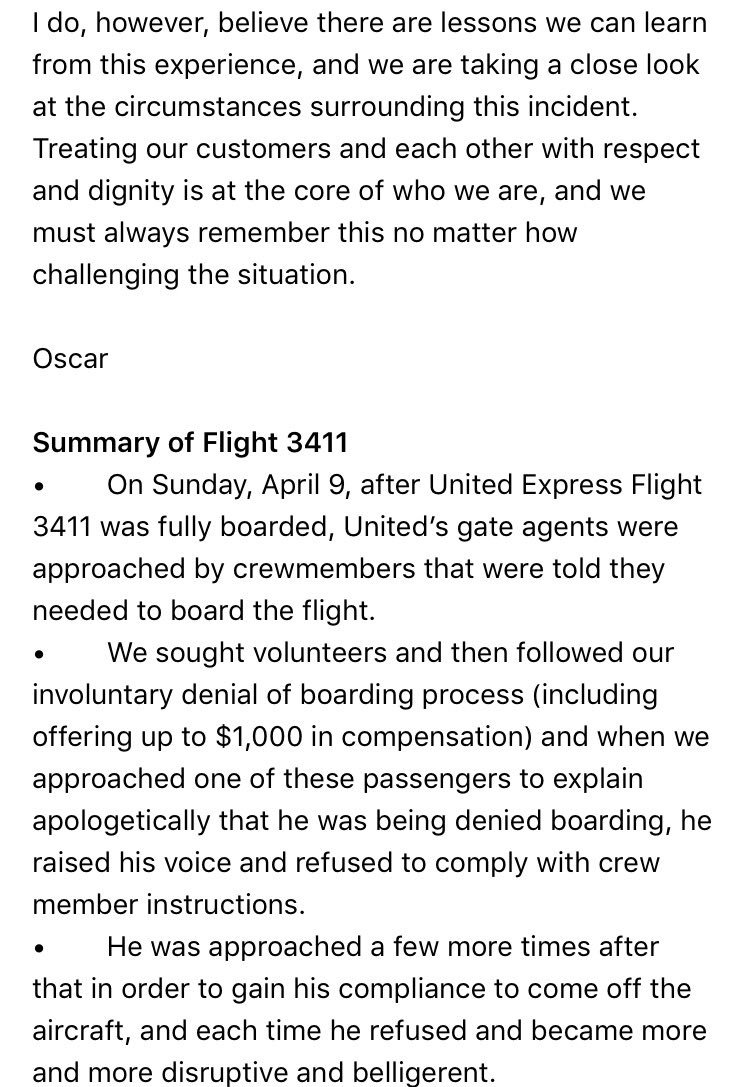 "disruptive and belligerent." 
Is this how we deal with an unfortunate incident of this gravity? By calling the victim names? By defending on staff? Is this really 2017? I have my doubts about it. And about a lot harmony existing at all!
News Source: Indian Express