If you have watched Game of Thrones, (if not, WHY?!) you know it is difficult to form an emotional bond with a character. From Ned Stark to Hodor and Ygritte to Shireen Baratheon, everyone you start liking gets called by the seven Gods above. So if there is a character, loved by all, who has appeared in 54 of the 60 episodes after battling all the conspiracies and the bloodbath, you know he is like none other.
Yes, I am talking about the very witty and wise Tyrion Lannister. Played by renowned actor, Peter Dinklage, Tyrion is a character who has grown manifolds throughout the course of the show. Perhaps the smartest guy in Westeros, he has bestowed upon us some of the best quotes that are valuable life lessons too. Check out the following compilation.
1. Choose your leaders wisely 
2. When your leader is inefficient, you have to take care of yourself
3. So true in today's world
4. Failures make better inspirations
5. An apt commentary on our society 
6. Words of GOLD
7. And that makes one question about your dignity
8. Keep your friends close and your enemies closer
9. Truer words have never been said
10. Embrace life, you have only got one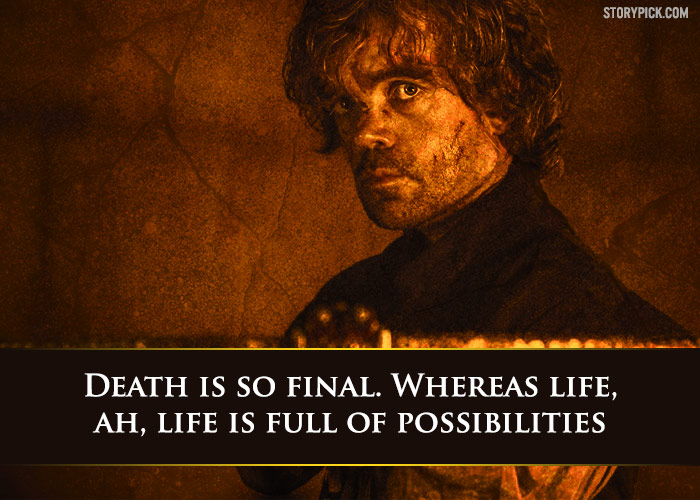 11. Harsh but pragmatic words
12. Mind is the strongest weapon in the world and reading makes it stronger  
13. Being drunk and still counselling the queen, now that is some talent
14. You need brains, even to cheat
15. That's what he does
Tyrion Lannister may be a fictional character from a mythical land on a TV show, but his words hold equal weight in our real modern day lives too.
Poster Courtesy: Sachin Kaushik