75 years later as we celebrate independence from the clutches of the British Empire, we still talk about how the colonization proved to be fatal for the country that saw millions die and is still recovering from the damage done from 1858 to 1947.
However, there are some ignorant supporters of British colonization who think that they did a favor to India by taking over it.
And one among them is an American Television host and Fox News anchor Tucker Carlson who recently, in a monologue, said that the British didn't just 'take things', they 'added' to the country they ruled over.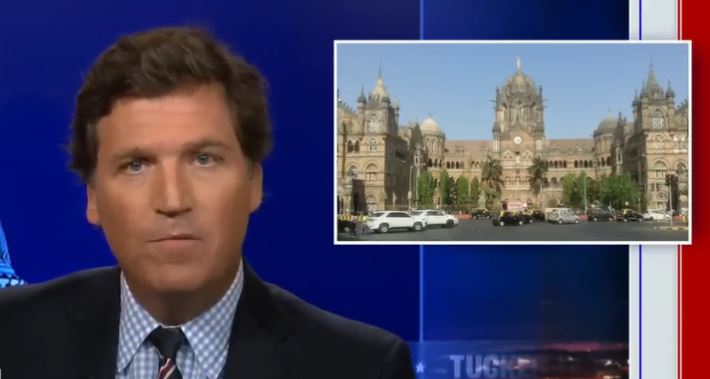 In the video that's now going viral online, Carlson claims that when the British 'pulled' out of India, they left behind "an entire civilization, a language, a legal system, schools, churches, and public buildings all of which are still in use today."
Citing the example of Bombay's Chhatrapati Shivaji station aka Victoria Terminus, he said:
"There's nothing like that in Washington DC right now much less in Cabo or Bagdad. Today, India is far more powerful than the UK, the nation that once ruled it, and yet after 75 years of independence, has that country produced a single building as beautiful as the 'Bombay Train Station' that the British colonialists build? No, sadly, it has not."
He added that the British empire was more than just genocide and prevented the ritual murders of widows in India. In concluding his video about boasting about the benefits of British colonialism, he said:
"We will see many empires going forward but we will never see one so benign."
Watch the entire video here:
Queen Elizabeth II was the last living link to a truly Great Britain. pic.twitter.com/pvbhRCnwm0

— Tucker Carlson (@TuckerCarlson) September 9, 2022
Carlson might have slept like a baby that night thinking how his pro-British Rule monologue would earn him a medal but he conveniently skipped several other facts. But worry not, desis weren't behind in reminding him that the British Raj did us more harm than good.
I think @twitter ought to have an option for something to press when you can't respond without losing your cool. For now I will content myself with😡 🤬 https://t.co/6tWpUuSuMR

— Shashi Tharoor (@ShashiTharoor) September 13, 2022
Forget about what they built, or not, using India's resources, money & skilled craftsmen to further their own economic interests. These photos should act as a reminder of why the colonial powers & their ilk were drawn to India in the first place! https://t.co/TCJLUhD6SP pic.twitter.com/hPvd4M1er5

— Hardeep Singh Puri (@HardeepSPuri) September 13, 2022
Funny, when I travelled all over India, the most stunning buildings I saw weren't built by the British but by Indians themselves!

That was before colonialism, when they could still afford to…

Colonialism wrecked India, it didn't build it. They're only just starting to recover pic.twitter.com/izLwdYTywV

— Arnaud Bertrand (@RnaudBertrand) September 12, 2022
Dear apologist of the empire @TuckerCarlson. Brits put systems and buildings in place for themselves – coz they had never envisioned leaving. The 'benign' brits left India's economy in a shambles, left us with border disputes we are fighting to this day. And killed millions. https://t.co/CDJWMoZNQW

— Sanket Upadhyay (@sanket) September 13, 2022
Hey @TuckerCarlson – your utter ignorance of history is quite staggering. I suggest you read the book "Inglorious Empire" by Shashi Tharoor and then try again. Your racism is off the charts and your stupidity on this particular issue is of Olympic proportions!!! https://t.co/7Xrd97NpwT

— Martina Navratilova (@Martina) September 12, 2022
Dude has a very specific post-colonial Calcutta Club Geriatric Uncle energy https://t.co/IXVLbUc0Tc

— Samit Basu (@samitbasu) September 13, 2022
British "built" — with Indian money and Indian labour. https://t.co/cog8N0SQV1

— naresh fernandes (@tajmahalfoxtrot) September 13, 2022
I mean… pic.twitter.com/Ss7P5b4k2j

— Arnaud Bertrand (@RnaudBertrand) September 12, 2022
Tucker obviously has never heard of the Fisheries building in Hyderabad. pic.twitter.com/N7vbKUDprH

— محسن مرز۱| Mohsin (@mohsinmirza1) September 12, 2022
You know nothing about India and its rich history if you seriously think it was the British who introduced civilisation and language there. India had an ancient, rich and sophisticated civilisation even before anyone heard of the name 'Britain'!

— Jeswin James B (@jeswinejb) September 9, 2022
Your views on India are totally inaccurate. Never support colonizers.

Don't loose your credibility like thishttps://t.co/BVuqI0UIig

— Selvam 🚩 (@tisaiyan) September 10, 2022
Oh right, architecture…Must be worth millions of deaths pic.twitter.com/4zgjAIUIob

— Lex Brody (@LexxBrody) September 12, 2022
In this single Twitter thread, someone did the homework for Tucker Carlson just to explain to him about the Indian civilization and what impact the British had on it.
To @TuckerCarlson
A Thread to cure your Ignorance, and to help west realise that they are not the center of this universe.

❤️ 🇮🇳
1/12@narendramodi

— Vivek Kumar Pandey (@thatvivekpandey) September 10, 2022
You said something of Mumbai CST station.

Have you ever heard of Hawa Mahal of Jaipur, built in 1799 by Maharaja Sawai Pratap Singh.

Look at this architecture 3/12 pic.twitter.com/583L0SJhGr

— Vivek Kumar Pandey (@thatvivekpandey) September 10, 2022
Let's come to Science.
Ever Heard of Aryabhaatta, he invented something called Zero-0, a number that describes west understanding of India 🇮🇳

Sushruta, an Indian wrote on surgery in 5th Century BCE. His book is Sushruta Samhita 5/12 pic.twitter.com/7f507gdjPv

— Vivek Kumar Pandey (@thatvivekpandey) September 10, 2022
Astronomy is dated atleast at 2000BC in our seminal Hindu literature called Rig Veda.

Had it not been paucity of Space, I would have enlightened you How Algebra has its roots in India, from where the work was borrowed and translated by an Arab. 8/12

— Vivek Kumar Pandey (@thatvivekpandey) September 10, 2022
You have heard of Machaiveli and Sun Tsu, ever heard of Chanakya and chanakya Niti.

His work on economics and state craft is mind boggling. 10/

— Vivek Kumar Pandey (@thatvivekpandey) September 10, 2022
If you still don't get it, here's our minister Shashi Tharoor explaining it in 'your' language.
After the death of Queen Elizabeth II, desis took to Twitter saying it was about time the Kohinoor diamond on the Queen's crown, returns to India. Many also highlighted how the British 'stole' several similar precious things from the countries they had ruled back in the day.
It's sad that even after so many decades, people deny acknowledging the ills of British colonialization in the world and are proud of the massacre it created.