Remakes and song remixes have become common in Bollywood. Be it Punjabi songs or old Hindi songs, recreating iconic songs and coming up with their 2.0 version has become a trend these days.  However, only a handful of remade songs are liked by the listeners.
After the remake of the classic song 'Chura Ke Dil Mera', Rohit Shetty's recent release 'Sooryavanshi' features the remix version of the iconic song 'Tip Tip Barsa Pani' from the 90s movie 'Mohra' starring Akshay Kumar and Raveena Tandon.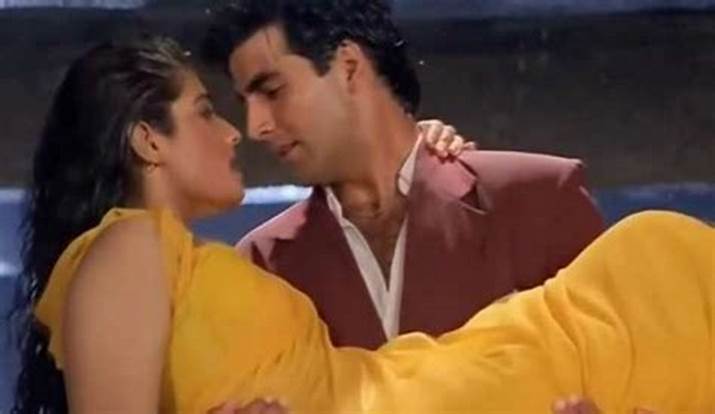 While 'Sooryavanshi' managed to gather mixed reviews online, people weren't impressed by the remake song 'Tip Tip Barsa Paani' that now features Katrina Kaif opposite Akshay Kumar.
Take a look at the 2.0 version of the song:
While Katrina looked scintillating rain-dancing in a saree, Akshay managed to bring the old-world charm to the song. However, in comparison to the OG song, they failed to recreate the magic. This is what people online had to say about it:
I just saw the #TipTipBarsaPani remake. After watching it I am pretty much sure that no one can recreate that magic what #raveenatandon had did. Pani me shirf tabhi lagi thi😛 . She had 103 degree fever at that time, and the performance was still recognised as cult classic. pic.twitter.com/kUVHFszmFH

— Priyanshu🇦🇫 (@itsPriyanshu17) November 6, 2021
quite literally, tip tip barsa pani is ONLY about raveena tandon and her wet yellow sari 💛💛💛 https://t.co/5URYs5zJGQ pic.twitter.com/dZbjZvUUqL

— Abhi, what is this behavior? (@bon_abhijeet) November 6, 2021
Saw the new #TipTipBarsaPaani and while I absolutely stan #KatrinaKaif, let me just say that Tip Tip Barsa Paani is @TandonRaveena and yellow saree, period. The new one has neither :/ Going to go and watch the original now. pic.twitter.com/CV6ijmI4Pq

— Takshi Mehta (@TakshiMehta) November 6, 2021
When it comes to Tip Tip Barsa song, no one can match the energy of Raveena Tandon. NOT A SINGLE PERSON.

— Aakanksha (@kansha_Tweets) November 6, 2021
okay wtf Katrina kaif is beautiful but please have you seen RAVEENA TANDON THAT WOMAN CANNOT BE REPLACED, I am so fucking offended by the tip tip barsa remake, let some good bollywood songs be in peace pic.twitter.com/58vUnF4Mi4

— Sanya Bhargav (@sanyabhargav) November 6, 2021
Original was with you only, right. How did you even agree to this crap remake of legend. 🥴😒

— sailor (@sailorsmoon) November 6, 2021
Baskwas… Why ruin old iconic song.. @TandonRaveena all time Fav … No one can replace … 10000 bar bhi remake ban jaye. Raveena Mam ko koi replace ni kar skata..

— Sanjay Dhiman (@sanjaydhiman161) November 6, 2021
Not even 25% compared to the original , apna kuch bana nahi sakte original ko to baksh do bhai.

— narayan wagh (@narayanwagh0501) November 6, 2021
Its tap tap barsa paani….katrina is good but still tip tip barsa paani will always remain raveena maam song..no two ways abt it..raveena maam wearing yellow saree is tip tip barsa paani..it shoudnt be remade…

— Bhanu (@Bhanu24179883) November 6, 2021
Bollywood has ruined another iconic song. Katrina is looking so dull. Still @TandonRaveena was sooooo good and sexy in this song.

— Shannu (@mohdshamim70_) November 6, 2021
raveena ka koi mukabla nahi,, yelow saree wala grace nahi hai isme, katrina is good dancer but raveena wala feel nahi laa payi,,, its good but previous was best. akshya u r always dashing…

— satish kumar (@satishaaditya) November 6, 2021
Why do you all ruin these iconic songs? If you can't make nice songs, at least not ruin the good ones.

— aakash mehrotra 🏳️‍🌈 (@aakashmehrotra) November 6, 2021
After receiving so much backlash online, do you think it's time music composers refrain from remaking our favorite classics?