Saree.
The most beautiful attire that covers an Indian woman's body with such grace and aplomb that one cannot stop themselves from falling in love with this nine yards piece of cloth. There is a classic way we see that saree is draped by women around us, but draping it itself has a rich history and culture that differs from every region of the country.
Here are a few examples how vividly different ways a saree is worn by different communities and people that span across the land.
1. Andhra Pradesh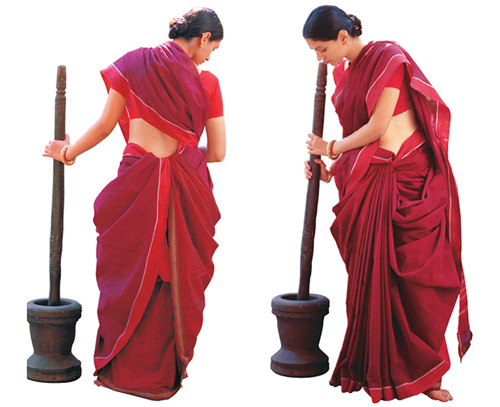 This style of draping yourself in this humble piece of cloth is popularly known as the Boggilli Posi style. It is quite popular in the tribes of Andhra and is primarily worn by the tribes of South Andhra, namely, Golla (shepherd community) and Gudati Kapulu.
2. Assam
This beautiful combination of red and gold is draped around during the celebration of Bihu which is a festival that is similar to Baisakhi, celebrating the ripening of crops and the return of greens to the earth. Women sing and dance wearing this sari to commemorate the season of fertility.
3. Chattisgarh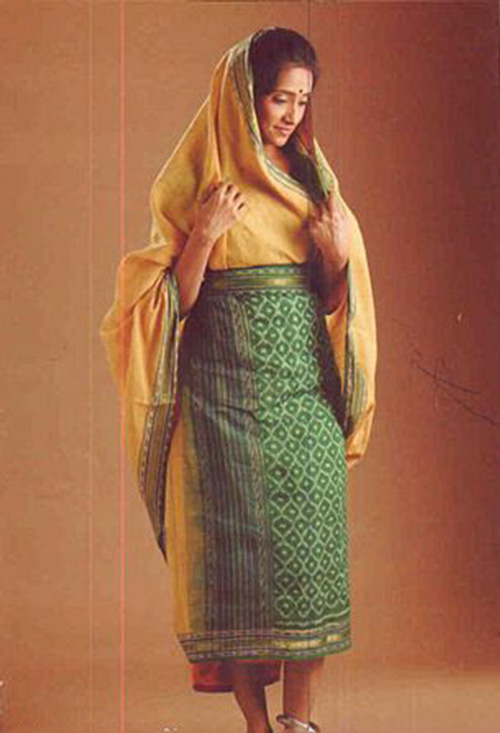 This simple yet elegant way of draping the sari can be attributed to the simple tribal women of the wonderful state which is a treasure of natural beauty that is Chattisgarh.
4. Gujarat
The traditional way of draping the Gujarati saree is synonymous with their outgoing character of the people of the state, allowing one to be very free without the weight of the pallu. This is also a very different way of approach to draping a saree and you'll see women in Gujarat loving this style better than the classic style for even everyday use.
5. Karnataka / Tamil Nadu
This style of draping the saree is seen particularly in the coffee planting elite communities of Karnataka and Tamil Nadu, mostly residing in Coorg and there is a specific status and respect attached to the nine yards. Since women of Coorg wear the saree like this, this style is also known as the Coorgi style of draping the saree.
6. Kerala
The classic gold and white saree which is a ceremonial drape in Kerala for Onam, is traditionally worn like an off shoulder gown with a beautiful and a tight mundu on one's head and exquisite jewellery.
7. Maharashtra
This style of draping the saree is known a Nau-vari which literally translates into nine yards whose key speciality is that it imitates the style of a dhoti around your legs, giving more room for movement. This style is popularly seen in Maharashtra and some rural parts of other states around Maharashtra.
8. Meghalaya
This exquisite style of draping the saree is teamed up with a hat with flowers in it. It is mostly a ceremonial dress in Meghalaya and celebrates nature.
9. Uttar Pradesh
This type of wearing a saree is known as a Seedha pallu which is popular in Uttar Pradesh, Gujarat and Orissa.
10. West Bengal
This quintessential saree which displays the beauty of a Bengali woman with its white cloth and red borders, signifying the might of Ma Durga and the demurity of Gauri in one is a saree to die for. It's a saree which is worn during the Sindoor Khela ceremony of Durga Puja and brings in the whole celebratory mood of the festival.
Accept our diversity exactly the way we can find it in one piece of cloth.