The world is still shaking after the Harvey Weinstein scandal where over 50 women accused the producer of sexual assault. The domino effect of that scandal has lead to more people from the industry to open up about their own struggles. New revelations are being unearthed and victims are finally being cocooned into a safe zone where they have a voice to speak.
Sylvester Stallone, who played iconic roles like the boxer, Rocky Balboa from the seven Rocky films and the soldier John Rambo from the four Rambo movies has been accused of sexual assault.
According to The Daily Mail, Stallone was 40 years old when he allegedly assaulted an unnamed 16-year-old fan in the 1980s. The fan had filed a police complaint with the Las Vegas police department saying that she had been 'intimidated' into having a threesome with him and his bodyguard.
The bodyguard's named is Michael 'Mike' De Luca who was in the bathroom when Stallone and the girl were getting comfortable. The police reports are old but were unearthed and published online on Thursday.
The teenager claims that the actor had sex with her, telling her that she was "very tight" before asking if she had asked if she had had sex with two men at once. She was then "forced" to perform oral sex on the bodyguard. Later she was penetrated by him while she gave oral pleasure to Stallone.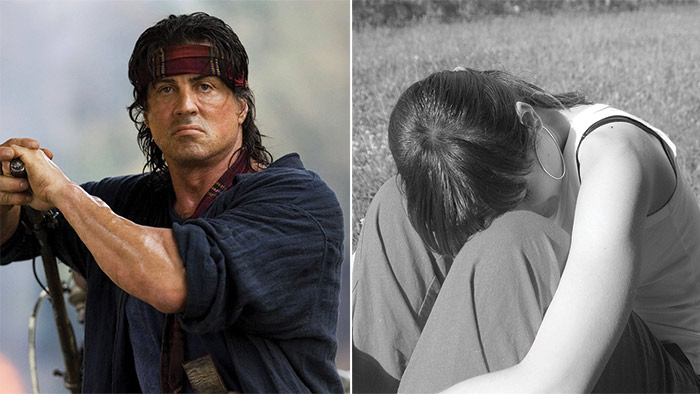 She told the police that she was uncomfortable but couldn't tell anyone because they had told her that they would "beat her head in" if she did. However since the controversy has come to light, Michelle Bega, Stallone's spokeswoman said,
"This is a ridiculous, categorically false story. No one was ever aware of this story until it was published today, including Mr. Stallone. At no time was Mr. Stallone ever contacted by any authorities or anyone else regarding this matter."
The bodyguard, Mike was 27 when the incident happened.
The mystery remains unanswered as to what the truth is. But we hope that justice isn't delayed any further and is served at the earliest.