"I have a hero and I call him dad."
Father's Day is round the corner and I am sure most of you might have thought of doing something special for him. Some would have bought expensive gifts and some might still be clueless. There are so many ways you can make him feel special because very little effort is required to make our old man smile. He is the best and he is our support system. Let's celebrate his day tomorrow. Let's celebrate how lucky we are!
1. Give him a day off. Let him just be…let him do what he loves to, but cannot because of so many responsibilities.
The best gift we can give our dads is a day off from his hectic schedule. Call his boss and take a day off for him! I am sure he would agree to do so. And if your dad IS the boss, ask him to stay back home for a day. He is the king of the house…make him feel like one. Bring his breakfast in bed, do all his chores. Let him laze around. Let him just watch some TV if he wants to.
2. Recreate your most special memories with him. You'll have a good laugh!
Everyone has experiences with their dad they can never forget. Some hilarious incident or something that moved you both to tears. It could be the moment when you had a very serious conversation with him that brought you both so much closer. Or a moment when he had advised you about a phase in your life. Anything that's of great significance. Recreate that experience. Bring back the beautiful memories. Let them flood around you. It's sure to make your dad feel amazing.
3. Surprise your old man by planning a picnic for him. And be careful to be discreet!
Today, pretend like you don't even know it's father's day tomorrow. Be oblivious but not so much that it looks dramatic. Decide on a place where you and your family can take your dad for a picnic. Book a resort where you can spend your time lazily. Or plan a hike. Plan something that is your dad's idea of fun. Since it's Sunday tomorrow, you don't have to hijack him from work. But wake him up and ask him to get ready and come with you. Drive him to the picnic spot and surprise him. I bet he'll love it!
4. Make him a coupon book and make the whole event dramatic.
I am so sure your father will love this. Make a coupon book for him with coupons like, "One car wash", "One chore-free day", "Breakfast in bed", "A day with my daughter", "One day with my buddies" or whatever you think is nice and sweet. Make the whole event dramatic. Tell him the rules of the coupon book and until when he can use it. And tell him that he can ask for anything that day. Pamper him. He'll love it!
5. Give him gifts that encourages his hobby. Gift him a diary if he loves to write. Gift him a painting kit if he loves to paint. It'll be useful for him!
If your dad loves to write, gift him a beautiful diary and a pen. Encourage him to jot down his thoughts. If he loves to paint, gift him a painting kit. If he loves fishing, get him a personalized fishing pole. Remind him that he has a hobby he loves and that he should spare time for his passion.
6. Hang up framed pictures or quotes in his bedroom. And do it before he wakes up. When he opens his eyes, he's in for a little surprise!
This is one of my favourite ideas. Frame pictures of his childhood. Or, frame your childhood pictures with him. You can also display pictures you clicked with him of every year since you were born. Frame beautiful quotes or messages saying how much you love him. Hang all of these up in his bedroom before he wakes up. He'll be shell-shocked when he opens his eyes in the morning. And maybe, a little teary-eyed.
7. A surprise party would be so much fun. Call up his friends and their families and include them. Share stories of your dad and hear their stories!
Plan a surprise party with your family, your dad's friends and their families. Set up a barbecue grill in the backyard. Get drinks and cards. Let the fathers be in a room and have fun. Maybe later in the night, everyone can share their stories with the fathers, the special moments you had, the funny anecdotes. Who wouldn't love this?!
8. Take out the old albums and see the pictures. Watch old video tapes and relive your moments with him!
If your father isn't the kind who loves parties, have some quiet time with him. Bring out the old albums and video tapes and play them. I am sure it will take you back in time and those fond memories will make you guys come a bit more closer to each other. Maybe you'll laugh, maybe you'll cry or just be lost in your thoughts. You probably won't need words to communicate.
9. Write a letter and pour your heart out. Let him know how much you love him!
This is one of simplest ways to make your papa feel special. If you are the kid that isn't very comfortable with sharing his feelings or if you don't live at home, write a letter for him. Pour out your feelings for him. We don't tell him often how much we love him. This is the time. Tell him you value him. Tell him why he matters. Tell him why you are so lucky to have him. He'll absolutely love it. He'll keep your letter safe forever.
10. Play video games with him or cook with him. Do what he loves to do and give him your time!
This is something he is sure to enjoy. Give him your time. Play video games with him. Or, read with him, cook with him. Or simply, just listen to music…the kind that he likes. You can make a collection of his favourite songs and play it. Dance a little with him. Share what's going on in your life. He would love to be a part. He would love to have your time. He would love to know you a little more.
11. Personalized gifts always do the magic. Get him a beer mug or a father's day tee-shirt. He'll love it!
Personalized gifts can be a delight. They make one feel special. You put efforts and thought into it and who wouldn't like that? Gift him an over sized beer mug with some writing over it or a coffee mug with a picture of you and him. Or you can have a personalized pillow, a tee-shirt, anything that he'd love. It'll work like magic!
12. Bake a father's day themed cake or little themed cupcakes. Super cute!
This is one of the cutest gestures. Bake him a special cake…maybe a superman themed cake, or a cake that says "I love you, Dad". You can also bake little cupcakes with a father's day theme. They are adorable and easy to make. He'll love the efforts you are putting into making his day special. Often, the little gestures are all we need to make a bond more special.
13. Have a professional photo session to capture those special moments you share with you father!
This is cool. You can have an amazing photo session with your whole family! Call a professional photographer to make this day even bigger! You'll have a lot of memories that you will relive later in your life. And trust me, even if you click a thousand pictures with your dad, they'll always seem less when he isn't around. Capture all you special moments and store them away!
14. Make him his favourite dishes. Pamper him and spoil him. Make him feel like the king he is!
Treat him with his favourite dishes starting from his breakfast to his dinner. It's okay to be in the kitchen all day. And, it will turn out to be a fun day. Make him his favourite dessert..decorate the table for him. Lay out all the dishes and watch his surprised expressions!
15. Present him with a gift hamper…fill it with all his favourite items. He'll be surprised you remember them!
I am sure you have a list of things that your dad loves. Present him a gift hamper. Gather all the things…he'll love it. You can buy his favourite wine, a tie, a shirt, stationary if he likes, cuff links, a book, anything that he loves. Honestly, more than the things, he'll love the fact that you know what he likes and what he doesn't. And at night, you'll go to bed satisfied with how you celebrated your dad's day.
16. Make a beautiful scrapbook for him. Jot down the memories and add photos. He is sure to be lost in it for a few hours!
Everyone loves scrapbooks. Make him a themed scrapbook, jot down your memories, add photos to it. Write beautiful quotes or poems for him. You can even collect messages from your family members and make it even more amazing. Your dad is sure to be lost in it for a good couple hours. And, he'll always keep it safe and it'll remind him of a wonderful father's day he had.
17.  Hand made cards are the easiest and the most beautiful way to convey your feelings for him. Be creative and write a beautiful message!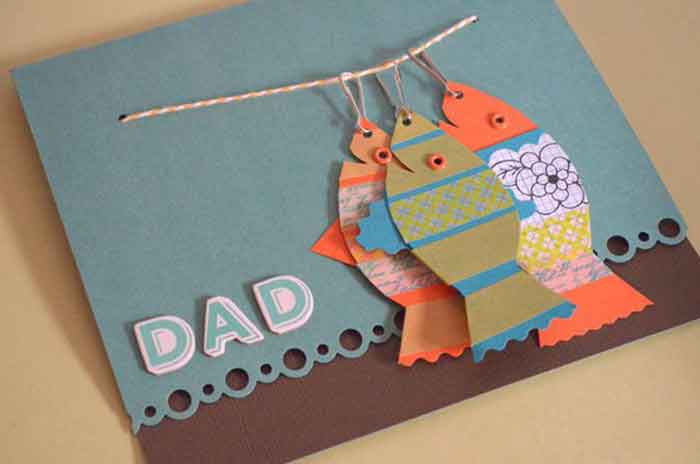 This is the simplest and the most beautiful gesture of all. Bring out those craft papers, colour pens, little things you collected for such occasions. Get down to making a card that your dad will love. Write a beautiful message in it and do not copy it off the internet. Write it on your own..that'll make him feel more special. Write a poem on him or maybe why you are so incredibly fortunate to have him.
18. Use scrabble tiles for a framed photo or make a coaster with that. They look beautiful and he would absolutely love it!
Scrabble tiles can be used for making fun things. You can make a coaster using it or stick it on a picture that you frame. You can also make a name plate with it. Whatever you do, it'll look very beautiful!
Celebrate the day and cherish your time with your dad!