"Let me explain something to you. You might be the President of PepsiCo, you might be on the Board of Directors…But when you enter this house, you are the wife, you're the daughter-in-law, you're the mother. You're all of that. Nobody else can take that place.So leave that damned crown in the garage…and don't bring it into the house."
This was the reaction of Indra Nooyi's 'overwhelmed' mother when she learnt that her daughter would be made the next President of PepsiCo.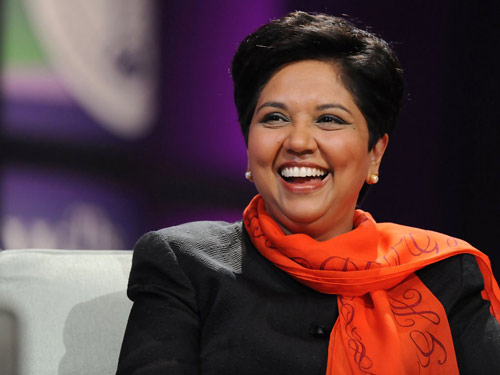 Indra Nooyi is no ordinary woman. Born to a Tamil-speaking family in Chennai, she always managed to make it big. She has, without fail been on the World's 100 Most Powerful Women in The World and in 2014, she ranked 13 in the list. What makes her such a strong woman? What makes the CEO of PepsiCo the influential  woman that she is now?
So, is it tough being a mother and a corporate executive?
No. Not at all.
In a society where gender discrimination still exists, the story of a mother who has achieved the top position in one of the world's leading company might make the loyal follower of miracle jump in disbelief.
The success of Indra Nooyi is not just her own success. As a female CEO, she has always been a source of inspiration to countless women across the globe.
MBA from IIM-C
Coming from a conservative Chennai family, she had a bachelor's degree in Physics, Chemistry, and Mathematics. After obtaining a Post Graduate Diploma in Management (MBA) from Indian Institute of Management, Kolkata and worked for two years in India.
Worked as a receptionist while studying at Yale School of Management
While studying in Connecticut, she used to toil during night-shifts to pay for her college studies and worked as a receptionist from midnight to sunrise to earn money so that she can buy a dress for her first job interview out of Yale where she just completed her Masters.
After changing three jobs in a span of 14 years, Nooyi finally settled with PepsiCo in 1994
Ever since, she has been involved in every major strategic decision the company has made in the past 19 years.
She was promoted as the President in 2001 and later as the first female CEO in 2006
She proved to the entire world that talent, hard work and determination with no big money and solid backing can make it to the top of one of the world's biggest company.
A recipient of the Padma Bhushan award
In 2007, she was awarded the Padma Bhushan by Late APJ Abdul Kalam.
From the humble beginnings and sacrifices to becoming one of the most successful corporate icons, the CEO of PepsiCo, she has certainly come quite far in her life. Undoubtedly, an example to follow.